Shellfish Recipes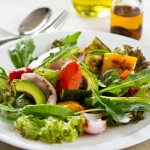 California is known for its amazing food, earmarked by a tradition of fruit, fresh leafy salads, fresh flavors, and organic dishes, although there is plenty of variety in Californian cooking, including fusion cuisine using fresh local ingredients. An attractive presentation is important in authentic California cuisine.
Californians enjoy cooking with lean meats and seafood, fresh fruit and veggies, and anything low in saturated fat and high in nutrition. Japanese, Chinese, Italian, French, and Mexican cuisines have all influenced the fusion cuisine of California.
California Food Pioneers
Alice Waters has contributed to authentic California cuisine a lot. She opened Chez Panisse restaurant in 1971 in Berkeley, CA, and Wolfgang Puck is another name associated with this style of cooking. Daniel Patterson is another name you might know, and he has emphasized foraged foods and vegetables, keeping the traditional emphasis on presentation, along with using locally sourced ingredients.
Continue reading →
Try this seafood fettuccine with lemon and dill recipe if you are out to impress. This is the perfect go-to recipe for a dinner party because it pairs seafood with pasta and it looks like a true gourmet dish on the plate, although to be honest it is really easy to put together. As well as the fettuccine pasta you will need mixed seafood, and for your flavors you will be adding lemon, dill and a touch of Tabasco sauce – flavors which are amazing with seafood.
For this seafood fettuccine with lemon and dill recipe, the pasta is cooked in one pan while the seafood mixture is cooked in another. You then have the choice of either combining them or serving them separately, depending on the look of the dish you have in mind.
Pasta tends to cool quickly and become gummy, so warm the plates up first before plating up the dish. I usually do this by putting them in a 200 degrees F/100 degrees C oven for 20 minutes. Just warm it up then turn it off and pop the plates in there. Not all plates are ovenproof but I think most are.
Continue reading →
Some More Hot Content For You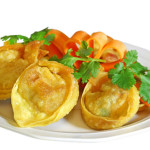 Crab and cream cheese are combined in this easy wonton recipe for a spectacular result. You will need softened cream cheese for these cream cheese wontons with crab so either leave the cream cheese at room temperature for a while or microwave it for 20 seconds.
Feel free to be creative with the wonton wrapper shape when making your cream cheese wontons with crab. You can make scrunched up wontons, triangles or any other shape you fancy. Just make sure they are well sealed so they hold together when they are being fried.
What Kind of Crabmeat to Use
Dungeness crabmeat is the best kind to use, but use whatever type of lump crabmeat you can get. Just make sure you drain it as well as you can, before mixing it with the other ingredients, since it will be packed in water or brine, and that will make your wontons soggy.
The ginger and green onions bring out the flavor of the crab and cream cheese, and plum sauce would be very nice for dipping these wontons into, else you can serve soy sauce, chili sauce or oyster sauce instead for dipping. These cream cheese wontons with crab are very simple to prepare and they only take a few minutes to fry to crispy perfection. Continue reading →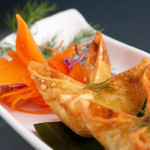 Crab rangoon wontons are always popular at buffets and dinner parties. They make a great appetizer before a meat or poultry main course. You can garnish them with fresh dill if you like. Since dill is traditionally served with fish, this will indicate to your dinner guests that the wontons contain fish or seafood. Crab rangoon wontons are known as crab puffs in Pacific northwest states. They might also be called crab meat cheese, cheese crab wontons, crab pillows or crab cheese wontons. Regardless of how you call them, these crab rangoon wontons are always amazing.
History of Crab Rangoon
Crab rangoon has featured on Trader Vic's menu since 1957. This San Francisco eatery claims the Polynesian-style dish came from an authentic Burmese recipe and was invented there, although modern crab rangoon wontons have evolved from the original spiced crab dish. Cream cheese is not used in Asian cuisine so the filling is unlikely to have Asian roots. Serve these delicious crab rangoon wontons with plum sauce, mustard, sweet and sour sauce or soy sauce, for dipping.
Crab Rangoon wontons are always great to serve as an appetizer or to liven up your buffet table. The combination of crab and cream cheese is simple yet magical and although this is not an authentic Chinese recipe, the use of wonton wrappers to contain the crab and cheese filling is genius, and you are sure to love both the texture and the taste of these magnificent little treats. The kids will love these and so will the grownups. Because the cheese keeps the wontons very moist, you do not need to serve a dipping sauce with these unless you especially want to. Continue reading →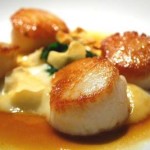 Searing scallops is so simple, and searing them without sticking is just down to ensuring your pan is hot enough when you add them, and also down to adding enough fat. I know firsthand that learning how to sear scallops without sticking can be a frustrating learning curve. Scallops aren't cheap and ruining a batch by cooking them wrong is a costly mistake!
You will need to use oil or butter (I like to use both) to stop them sticking and you will also want to wait until the fat begins to smoke before adding those scallops.
How to Sear Scallops without Sticking Pro Tip: Get the Pan Really Hot!
If your pan is hot enough the scallops will sizzle and spit when you add them and they will be done in just a few minutes, which is why you should prepare your side dishes before you begin cooking them. This dish is ready before you know it! This is an important tip when learning how to sear scallops without sticking – a pan that isn't sufficiently warm will not yield the best result. Continue reading →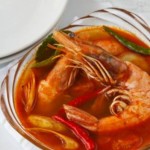 This seafood soup recipe is made from scratch, so you will get all that amazing seafood flavour you love so much. Whether you are using lobster, crab, prawns or a mixture, the flavor is amazing.
The better the seafood broth you use in this seafood soup recipe, the better it is going to taste. Whenever you are basing a whole recipe on a broth you need to make sure you use something of quality. It is so important.
Great Ingredients Blend Together
There are quite a few different ingredients in this seafood soup recipe but use them all and you will be so glad you did. The most important ingredients are the seafood and whatever you use to make the broth. Continue reading →
Other Posts You Might Like