Shellfish Recipes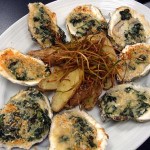 Oysters are great served either cold or warm like in this delicious seafood starter recipe. You can serve this as a canape or as a starter dish for a summer dinner. Oysters are not the cheapest type of seafood but they are special and you do not have to serve a lot to each diner. Make this oysters in chive sauce recipe and you won't regret it.
Oysters in Chive Sauce Recipe: Surprisingly Simple to Make
A lot of people think twice about making oysters recipes because they are thought to be difficult but actually the opposite is true. Oysters are easy to work with. In this recipe for oysters you simply make the sauce and grill the oysters for a couple of minutes. There is nothing more to it. So if you were looking for easy oyster recipes you've found one! Continue reading →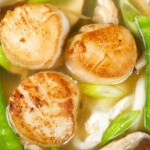 Light and aromatic, this Japanese scallop soup recipe is easy to make and makes a lovely appetizer, lunch or light evening meal. It can be made very quickly using whichever veggies you happen to have.
The base of the Japanese scallop soup is chicken or vegetable stock and miso, then there are udon noodles and scallops in there too. You will be wowed by this recipe and want to make it again and again, because the flavor is so good.
What are Udon Noodles?
Have you tried udon noodles before? They are white, thick and a little chewy. Wheat-based, udon noodles are one of my favorite Japanese exports. You can get them fresh from the refrigerated section in the Asian store, or dried. If you don't have them you can use linguine or another kind of noodle or pasta. Continue reading →
Some More Hot Content For You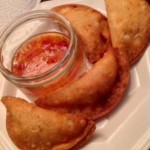 I had a problem a couple days back. I was in the mood for crispy wontons and having recently bought a deep fat fryer and knowing I had some wonton skins in the freezer, I didn't think anything could go wrong. However, the wonton wrappers were broken! I still fancied some crab rangoon wontons though. Can you use gyoza wrappers for wontons, I wondered. Would crab rangoon wontons made with gyoza wrappers actually work? Only one way to find out!
Making Wontons with Gyoza Skins
Gyoza wrappers are round not square and they are thicker than wonton wrappers. When I make gyoza I usually steam them or make potstickers so I was not sure how they would deep fry and couldn't find any info online, so I thought what the heck, I will give it a go!
To cut a long story short, the crab rangoon wontons made with gyoza wrappers were really good and my husband and I both really enjoyed them.
Different Shaped Wontons
Yes the gyoza wrapper is round so you will end up with half-moon shaped wontons, but who cares when they taste this good? These are very quick to prepare and they deep-fry to perfection in just a couple of  minutes. You could probably bake your crab rangoon wontons made with gyoza wrappers too, if you wanted to cut down on the fat, but sometimes deep-frying is unbeatable!
Continue reading →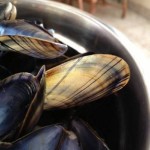 Learn how to cook fresh mussels and you will be able to prepare this delicious seafood whenever you're in the mood. Mussels can be purchased or you can pick your own, depending of course where you live. If you are collecting your own then ensure the water is unpolluted.
Mussels are nicer during the colder months which are not in the breeding season. If you are shopping for them, then shop around and choose ones with tightly closed shells.
When cooked, you will want juicy, plump flesh and the taste of the sea. Mussels are white if male and orange if female, so color does not indicate freshness. Knowing how to cook fresh mussels means you can prepare all kinds of mussel recipes from simple ones with white wine and parsley to bolder mussel dishes, paella and more.
How to Cook Fresh Mussels: Keep Them Fresh
Eat mussels the day you get them unless you are sure how fresh they are. Put them carefully into a sink filled with cold water.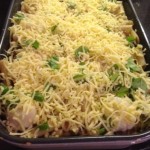 This creamy scallop baked pasta is one of my favorite dishes. It is simple to make and its creaminess makes it wonderful comfort food. I love scallops. In fact, I love all kinds of seafood! This is also a dish my husband enjoys whenever I made it.
The fact that this contains scallops makes it a gourmet baked pasta dish. Every time I make creamy scallop baked pasta, I make it slightly differently, so I offer different options in the recipe so you can tailor it to your own palate.
I like to add spinach or bell pepper, both for color and for nutrients and added flavor. I use frozen scallops because I don't have much option where I live. I like to thaw them overnight in the refrigerator, then pat them dry using plenty of paper towels. Continue reading →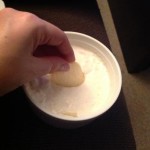 This hot and creamy crab dip recipe is lovely if you want something hot, creamy and with seafood in it. The crab is blended with cream cheese, Parmesan, hot sauce and more, for a hot and delicious dip.
The dip is not too firm or too runny, so you can use it for chips, crudites or anything else. Chips should not snap off when you dip them in because, well, that's just annoying!
Hot and Creamy Crab Dip: Serve It Nice and Hot
Because this is a hot dip, you will need to serve it immediately. Feel free to make it in advance though and pop it in the oven when your guests start to arrive. It will smell good while it heats up in the oven and the top will begin to go golden brown after 20 minutes or so. That is your cue to serve it. Continue reading →
Other Posts You Might Like