Shrimp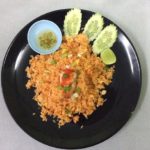 This is a wonderful side dish to have with chicken, pork or another kind of meat, or you could enjoy it by itself for lunch or a light evening meal. Thai fried rice with egg is similar to the Chinese egg fried rice you might be more familiar with. We are just including typical Thai flavors instead of Chinese ones.
This only takes about 5 minutes to make because you are warming up the rice, cooking the vegetables to al dente (which doesn't take long) and cooking shrimp (which doesn't take long either!) If you prefer to use chicken or another protein, shredded cooked chicken can be tossed in at the end with the green onions, and just warmed through. You can also omit the chicken for a vegetarian version of the dish.
What Else is in Thai Fried Rice with Egg?
Known as khao phat in Thai (since khao means rice and phat means stir-frying) this dish is often made with shrimp, chicken or crab, along with onion, garlic and perhaps tomatoes as well.
Traditionally Thai fried rice is made with Thai jasmine rice, but you can use any kind of leftover cooked rice to make it. Fish sauce and soy sauce are typical flavorings, and we also love a little oyster sauce in the mix. A pinch of sugar is good if you want to add sweetness. Continue reading →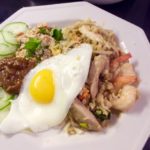 This cauliflower nasi goreng – low carb and tasty – might well earn a place on your regular meal rotation. It's just so special! Nasi goreng is a delicious dish from Indonesia, which I've enjoyed plenty of times since moving to the Netherlands, since the Dutch are very much into Indonesian foods.
Although this is a rice-based dish and you might think no way can that be low carb, swap the rice for cauliflower and it will be! Also, because this is a spicy dish (a dish with spices, not necessary 'hot' if you don't want it to be) you won't taste the cauliflower.
What is Nasi Gorgeng?
The name 'nasi goreng' means fried rice in Malay and Indonesian, and the term can refer to pre-cooked rice with a little cooking fat and kecap manis, which is a sweet soy sauce. Shallot, tamarind, chili and garlic are typical ingredients, along with egg, shrimp and/or chicken. Sometimes salted dried fish are used instead of the other proteins.
This recipe is known as Indonesian although it is also popular in Malaysia, the Netherlands and Singapore. Nasi goreng can be enjoyed everywhere from roadside stands in Indonesia to Jakarta buffet tables or fine restaurants. This is known as the national dish of Indonesia, although I'm not sure what the locals would make of this low carb cauliflower nasi goreng variation. This dish was developed as a way to avoid wasting cooked rice, since frying can stop dangerous microbes propagating especially before refrigeration was commonplace like it is today. Continue reading →
Some More Hot Content For You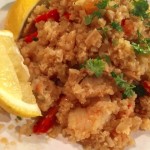 When I worked in Gran Canaria I used to eat paella a lot. In fact I made friends with a local chef who used to make a special batch for me minus the peas (my pet food hate!) This rice-based delicacy was served with half a baguette, plenty of alioli, or ai oli (or garlic mayo) and perhaps a sangria on the side. At that time I had never even heard of a low carb paella using cauli rice because I was enjoying the real thing too much to deviate.
Try as I might, I could never tire of this wonderful Spanish dish. Fast forward a decade and I still love that flavor but my husband is diabetic and rice is a no-no. So I wondered at this point whether cauli rice would work, since it is great for making other cauliflower rice recipes like egg fried cauli rice and lots of other cauli rice recipes.
This is why I tried my hand at a low carb paella using cauli rice a couple of evenings ago. I thought I would add chicken and seafood, along with chicken broth, smoked paprika and saffron to get that authentic flavor, and considering the main ingredient was swapped for a paella rice substitute I have to say it worked really well! Continue reading →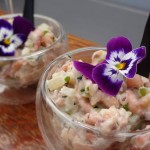 This Old Bay shrimp and apple salad is a gorgeous recipe. It looks really nice served in little glasses with edible flowers as a garnish, but it can also be served over lettuce or baby salad leaves if you prefer. This Old Bay shrimp and apple salad is a nice way to begin any kind of meal, and it is especially good during the summer when you don't want to cook.
We are using shrimp, and you can use little ones or chop larger ones. Make sure they are peeled and deveined first. Canned or thawed shrimp are fine here. You will also need some red apple and onion for crunch. The dressing for our Old Bay shrimp and apple salad is made with mayonnaise, Worcestershire sauce, Old Bay seasoning and lemon juice.
Old Bay Shrimp and Apple Salad Tweaks
If you want, you can add other ingredients to the Old Bay shrimp and apple salad mix. We suggest diced celery, chopped walnuts or diced cheddar cheese. You might even want to add a little fresh dill weed or chopped chives. The recipe is nice as it is, so you might not want to add anything else to it. Also take care not to overwhelm the delicate flavors by adding too many other flavors to the mix.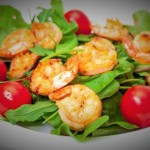 Shrimp is a great addition to salad recipes. It offers a subtle, light flavor and goes well with many other salad ingredients. A base of salad leaves or spinach can be topped with hot, warm or chilled cooked shrimp along with other things like pineapple chunks or mandarin segments for sweetness, walnuts or cashews for crunch, cherry tomatoes for color and anything else you want to add to your healthy easy shrimp salad recipe.
You can cook shrimp in various ways, such as deep-frying, stir-frying, boiling, baking or grilling. If you want to pan-fry the shrimp, they will only take a couple of minutes, as will boiling or grilling, although if you want to grill or bake them, you will need to wait for the grill or oven to heat up first. Then cook them to perfection for your healthy easy shrimp salad recipe.
How Do You Know When Shrimp is Cooked?
Shrimp starts off a grayish color and turns pink when it is ready. When you see this color change it means your shrimp is done.
A healthy easy shrimp salad recipe belongs in various cuisines. You might like to keep the ingredients very simple and add some ranch or caesar dressing for an American flavor, marinate the shrimp in soy sauce to give them an Asian flavor, or even saute them with curry powder and other spices then serve them with a yogurt-based dressing for an Indian taste on your plate. Continue reading →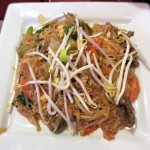 I never get tired of this wonderful dish – it really is the best traditional Pad Thai recipe. The rice noodles, shrimp, tamarind, nuts, lime juice and other ingredients work together in perfect harmony and the flavor is simply wonderful.
The full name of pad thai (sometimes spelt pat thai) is kway teow pad thai, which means stir-fried rice noodles in a Thai style, and it is thought to be a southern Chinese dish which was introduced to Thailand in the mid-20th century.
Pad Thai Noodles
It is important to cook the noodles perfectly in order to make the very best traditional Pad Thai recipe. You will need 'rice sticks' which are dried flat noodles. Some people soak them while others boil them. I've tried both ways and both work fine. Continue reading →
Other Posts You Might Like