Shrimp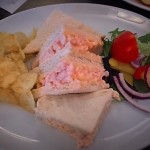 Shrimp, or prawns as they are also known, are great for making succulent shrimp sandwiches. Simply peel and cook them, then toss with mayonnaise, adding in some salt and black pepper for flavor, and spread this over white bread (or whole wheat if you prefer) to make the most delicious little succulent shrimp sandwiches.
These succulent shrimp sandwiches are nice for lunch or as a snack, or you could enjoy them mid-afternoon with tea or coffee. If you have large shrimp, cut them in half. Smaller ones can be left as they are.
You can use thawed, fresh or canned shrimp in this succulent shrimp sandwiches recipe but ensure they are well drained before you start. If you have raw shrimp, bring a pot of water to a boil then drop the shrimp in and cook for a couple of minutes or until they are pink. Continue reading →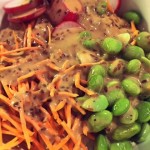 This is my current favorite crunch Asian salad with sesame dressing recipe. It contrasts crunchy and soft ingredients and boasts a wonderful Asian flavor in every mouthful. What really finishes it off perfectly is the roasted sesame dressing. I like to use rice noodles for this, although egg noodles would also work, or even thick udon noodles.
For the vegetables in this Asian salad with sesame dressing, I like to use edamame beans, grated carrot and radish. You can either thaw some frozen shelled edamame beans or use fresh shelled ones, as you prefer.
Buy grated carrot to save time when making an Asian salad with sesame dressing, else you can shred or grate your own in, maybe in a food processor or using a julienne peeler. If you want to use other ingredients instead, consider blanched broccoli florets or asparagus spears. Continue reading →
Some More Hot Content For You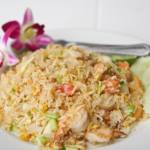 This is very typical food in Thailand, and you can find Thai fried rice with shrimp (or chicken or another protein) served everywhere from a food stand on the street corner to a fine Thai food restaurant. There are different ways to make Thai fried rice with shrimp and you can usually specify which meat you want to have in there. When making Thai fried rice, you can use up any meats or seafood and veggies left in the refrigerator so if you have leftovers it is a great way to use them up.
More about Thai Fried Rice with Shrimp
Unlike Chinese fried rice and some other kinds, Thai fried rice comes with a wedge of lime on the side along with prik nam pla, which is chilies and fish sauce combined together. Use the following recipe as a starting point, adjusting the ingredients to match what you happen to have available.
It is always best to use day-old cooked rice to make your Thai fried rice with shrimp, because freshly cooked rice is too moist and will steam instead of fry. If that isn't possible though, just ensure your rice has time to cool down because this will dry it out quite well.
If you want to make your own prik nam pla (fish and chili sauce) to serve with this (and you really should, for an authentic Thai rice flavor!) then you should put 3 tablespoons of fish sauce in a bowl and add 4 sliced Thai chilies. Squeeze in the juice of half a lime if you like, although the lime is optional.
Continue reading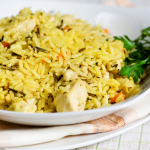 Indian is one of my favorite cuisines and I just love the food. I have traveled around India and tasted the dishes how they are supposed to be made, because westernized Indian food really isn't the same at all. I like to make simple Indian recipes for beginners because I just love the flavors but don't  have all day to cook.
Indian food features all kinds of proteins from pork to chicken, fish, seafood, lamb and eggs, although beef isn't used much in India, not at all in most places, because the cow is seen as holy in India.
Indian curries are cooked over an open flame traditionally, and include plenty of aromatic spices as well as some kind of oil or fat. Boiled or fried rice is a traditional accompaniment, along with flatbreads such as naan, chapatti or roti, breads which are made from flour or wheat dough and served warm with the main dish.
A salad with tomatoes, onion, cucumber and lemon makes a refreshing side dish and helps cut through the spice in the curry, so a lot of simple Indian recipes include it. Yogurt is also a popular condiment, contrasting with the heat of your entrée. Combine yogurt with grated cucumber, onions, cilantro and a pinch of chili powder to make a raita, similar to Greek tzatziki.
Continue reading →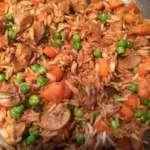 Nasi goreng means 'fried rice' in Indonesian as well as Malay, and it can be fried rice, a meal with stir-fried rice, or a salted dried fish mixture with rice. The main ingredient in an authentic nasi goreng recipe is always the rice, so if you are looking for something to make with leftover rice, keep reading and discover this wonderful Indonesian dish.
Authentic Nasi Goreng Recipe Ingredients
Known as the national dish of Indonesia, the best nasi goreng recipe is whichever mixture you like, perhaps rice with kecap manis (sweet soy sauce), egg, chicken, shrimp, garlic, and shallot, or perhaps you favor mushrooms and peas, or even beef and chilies.
Take a look in the refrigerator and cupboards before making an authentic nasi goreng recipe. If you have rice and some kind of vegetables you can make this. You can even switch the seasonings to make it fit what you have. There is no set recipe because it is a dish of various leftovers.
Beginning life similar to Chinese fried rice – a good way to use up leftover cooked rice – it was discovered that frying it could kill any microbes (which was important before the days of refrigeration). Nasi goreng is traditionally made from rice leftover from the evening before, and served for breakfast in Indonesia, although in the West we tend to prefer rice-based recipes for lunch or as an evening meal.
Continue reading →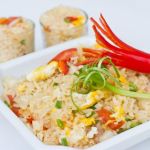 Egg fried rice without soy sauce is a dish lots of people want to make but since soy sauce is one of the key ingredients it can be puzzling working out how to get around that. Fried rice is one of the best-known Chinese dishes, but the authentic recipe is quite different to what you might be used to. For example, have you tried making egg fried rice without soy sauce? That is how it is made in China, well in many parts of the country, and the more authentic option in many cases.
Egg Fried Rice without Soy Sauce: Such a Tempting Dish to Make
Egg fried rice is the dish to make when you want to use leftovers to rustle up something quick and easy, something comforting and tasty, something literally anyone can make regardless of culinary expertise or cooking experience.
This egg fried rice without soy sauce dish is easy, folks, and delicious too! But before you grab your wok and leftovers, you need to know a few tips about how to make the best egg fried rice recipe ever.
Egg fried rice is found all over the globe, either the authentic version or something more tailored toward the country in question. In China, egg fried rice is considered a meal rather than a side dish, and it might be enjoyed for breakfast, lunch or dinner.
Other Posts You Might Like