Shrimp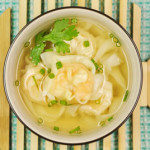 These flavorful pork wontons feature shrimp, ginger, green onion and more. Try pork and shrimp wonton soup for your supper tonight and enjoy the fresh flavors. Pork and shrimp wontons are usually served in authentic wonton soup recipes and if pork and shrimp go together better than you might imagine. If you have ever tried bacon-wrapped shrimp, you will know this is a match made in heaven. Pairing pork and shrimp means you will have a delicious wonton filling for your wontons. In addition to the pork and shrimp, the wontons feature ginger, soy sauce, Chinese rice wine and more, for a traditional wonton feel and a mouthwatering finish.
How to Make Pork and Shrimp Wonton Soup
For this pork and shrimp wonton soup, first you need to make the wonton filling, then fill and seal the wonton wrappers and finally simmer then in chicken stock for a bit. The finished soup is light yet satisfying and if you are looking for wonton soup recipes which are easy enough for a beginner to master immediately, this might be a nice one to start off with. The wonton soup is hearty and satisfying, so it would be perfect for a cold evening, but it is also light and delicate enough to work well as a spring or summer meal.
This free wonton recipe gives you an idea how easy it is to make authentic wonton soup to delight your family, and it is quick to make too. Everyone will love this pork and shrimp wonton soup. The wonton filling mixture should be left to stand for half an hour, to intensify and blend the flavors, but once the chicken stock reaches a simmer, you can drop the wontons in, and they only take about four minutes to cook. The soup is then ready to be ladled into bowls and served piping hot. Continue reading →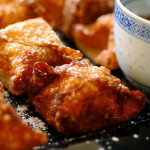 Shrimp or prawns are a very popular wonton filling and who can resist a wonton appetizer recipe – crisp wontons stuffed with a juicy shrimp and water chestnut mixture? The following easy fried shrimp wontons with water chestnuts recipe shows you how to make gorgeous little dumplings which taste amazing.
Replace the sugar with sweetener if you prefer, or just leave it out. You can make these fried shrimp wontons with water chestnuts as sweet or otherwise as you personally prefer. A touch of sweetness in a wonton recipe appeals to a lot of people but not to everyone. The other flavors – the sesame oil, ginger, chili and soy sauce – also add plenty of charm to this lovely, crunchy fried wontons recipe. Soy sauce makes a nice dipping sauce, or you could serve these with oyster sauce if you prefer. Either would work as a tasty dip for these shrimp wontons.
How to Serve Fried Shrimp Wontons with Water Chestnuts
Another option would be making your own dip for the fried shrimp wontons with water chestnuts, but the main thing is getting the wontons just right. You can serve any dip with them. This recipe is simple enough for a wonton recipe beginner, yet the results are every bit as delicious as what you would expect to get in a Chinese restaurant. Making your own wontons is sure to impress your family. Serve these as a snack, an appetizer, or as part of a Chinese dinner. They are beautifully crunchy and the filling is really good. Continue reading →
Some More Hot Content For You

How does shrimp and mushroom stuffed calamari sound to you? The red pepper sauce served with it is beautiful too. This recipe makes sufficient for 4 people and features shrimp, mushrooms, garlic, parsley and breadcrumbs. The sauce is made with red pepper, garlic and oil, to keep things simple. I have various stuffed calamari recipes in my repertoire but this one is always a winner and it's great for any occasion, even a special occasion like a dinner party or special birthday meal.
This is a clear, simple-to-follow video and it is a great introduction to beginner home cooks who wish to make stuffed squid for the first time. Try this shrimp and mushroom stuffed calamari tonight and prepare for your family to be wowed. This is a colorful, attractive dish and I can imagine serving this at a dinner party because it looks impressive and the flavor is incredible.
The mushroom gives such a lovely, earthy flavor to the shrimp and mushroom stuffed calamari dish and the shrimp enhances the seafood appeal. I often add minced or finely chopped mushroom to the filling for the squid just because I love the earthiness and mushrooms goes beautifully with cheese, tomato and other popular ingredients. Use white button mushrooms or any type you like. Continue reading →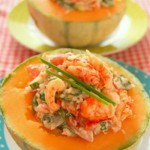 This dairy free cantaloupe and prawn starter recipe is also nut free and soy free, as well as dairy free. The delicious prawn salad is served inside a cantaloupe melon, making this a very attractive starter recipe as well as a delicious one. You can either cut the cantaloupe melons into wedges and serve them with the salad or use this recipe as the centrepieces for a buffet table. This is a colorful and appetizing starter recipe.
Cantaloupe and Prawn Starter: Tweaks You Can Make
You don't have to use the melon at all for this seafood starter recipe if you don't want to and a bed of salad leaves is fine instead. Use baby spinach, meslun, arugula or whatever mixture of crisp seasonal salad leaves you prefer. Continue reading →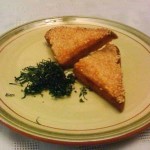 Chinese prawn toast, or Chinese shrimp toast, is very popular and makes a tasty hot starter. You don't have to serve Chinese food as the main course since this Chinese prawn toast recipe goes nicely as an appetizer before a Thai main course, Indian main course or anything else you like.
How Does a Chinese Prawn Toast Recipe Taste?
These little appetizers often have sesame seeds on but that is not essential. The toasts should be crispy without being burned, and taste fishy without being too fishy. Prawn toasts usually feature on Chinese restaurant menus because their wonderful crunch makes them very appetizing. Continue reading →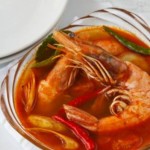 This seafood soup recipe is made from scratch, so you will get all that amazing seafood flavour you love so much. Whether you are using lobster, crab, prawns or a mixture, the flavor is amazing.
The better the seafood broth you use in this seafood soup recipe, the better it is going to taste. Whenever you are basing a whole recipe on a broth you need to make sure you use something of quality. It is so important.
Great Ingredients Blend Together
There are quite a few different ingredients in this seafood soup recipe but use them all and you will be so glad you did. The most important ingredients are the seafood and whatever you use to make the broth. Continue reading →
Other Posts You Might Like