Shrimp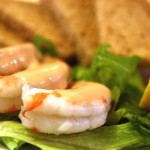 A classic starter recipe, prawn cocktail is delicious and often features as a starter on Christmas day or another special occasion. This salad uses Salad Cream (a British condiment) but you can use mayonnaise in this basic prawn cocktail recipe if you prefer.
Optional Tweaks
There are lots of different prawn cocktail recipes and you can add halved cherry tomatoes or thin cucumber slices if you want. As long as the prawns are well drained, this recipe keeps well in the fridge for a few hours before serving.
This is a very basic pawn cocktail recipe so if you are looking for something more elaborate, you might prefer to look at our classic prawn cocktail recipe instead. Continue reading →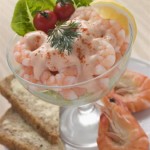 This classic prawn cocktail recipe combines succulent Atlantic prawns with a homemade Marie Rose sauce and more. Shell-on prawns are the best variety to use for both texture and flavor.
Classic Prawn Cocktail: Tips for the Prawns
You can make a nice risotto stock from the shells after peeling them too. Most Atlantic prawns are sold cooked and frozen and the best way to defrost them is to leave the in the fridge for several hours.
Don't defrost them in water because they will lose some of their flavour. When you peel them, you should split them almost in half through their backs and remove the bitter dark vein running through them. This is optional but it does improve their taste. Continue reading →
Some More Hot Content For You
The first time I saw a photo of Vietnamese summer rolls I just thought 'wow'! I love spring rolls (egg rolls) because of their wonderful crispy exterior, but summer rolls are slightly different, still oozing Asian character but featuring a very different coating and a more subtle, fragrant characteristic which you will love.
These are lovely in the summer (hence the name) but perfect served as an appetizer or light meal any time of the year.
What are Vietnamese Summer Rolls?
A summer roll is a Vietnamese dish made by enclosing a filling in a soft rice paper wrap. Typical ingredients used to make the filling include shrimp, pork, rice vermicelli, and vegetables. Continue reading →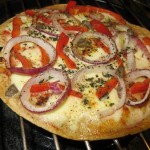 This low carb tortilla pizza is incredibly good and it takes about 10 minutes to make and the same again to cook. Whether or not you have made pizza before, you will find this low carb tortilla pizza incredibly simple, and the sky is the limit as far as toppings are concerned.
Use a low-carb tortilla to make your pizza. I recommend the Mama Lupe ones because they're so good and only 3 carbs (and 60 calories) each. And they are the closest in flavor to regular tortillas. I also tried the La Tortilla brand for my low carb tortilla pizza because those are only 50 calories each but… nope not as good as the Mama Lupe ones.
This low carb tortilla pizza recipe makes a fabulous dinner, and it is also quick enough to make for lunch. Whatever meal you are making this pizza for, you are sure to find it filling and delicious.
Keep some low-carb tortillas in the refrigerator (they keep for weeks in there) and rustle one of these up whenever you're in the mood for some comfort food! Continue reading →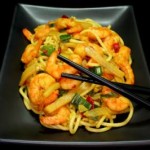 Singapore shrimp noodles are easy to make. Any kind of noodles are lovely for lunch or dinner, and the following recipe shows you how to add a nice typical Singapore flavor to the noodles. You will end up with a complete dish which needs no other accompaniment.
You can swap the shrimp for chicken or tofu if you would rather use one of those, or even combine a few different proteins, and substitute any other vegetables you want if you fancy changing things up a bit.
Added sliced chili is optional but most Singaporeans would want to add it since they love spicy food.
One of the first Singapore meals I ever tried was chili crab, a typical Singapore recipe, and wow was it spicy! I liked it but because I wasn't accustomed to that amount of chili I couldn't really taste the crab, which was a bit disappointing. Everyone's definition of 'spicy' is different too. What is a spicy Singapore shrimp noodles dish for one person might be a mild Singapore shrimp noodles for another. Continue reading →
Other Posts You Might Like