Squid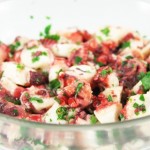 Last night I decided to make seafood so I grabbed some raw squid (calamari) tubes and also 2 cooked octopus legs. I had an idea of how to cook them but wasn't sure how to reheat the octopus without it going tough. I really wanted an octopus and squid stir fry though, so I went ahead with it.
On the package it said to give it a couple of minutes in the microwave but I wasn't keen on that idea. Instead I prepared a stir-fry type dish with the squid, then added the octopus at the end and just stirred it into the rest of the mixture until it was warmed through. It came out really well and octopus and squid stir fry is something I want to make again.
How to Reheat Octopus
The key here is reheating it gently so it doesn't toughen. That means you should get it warm rather than piping hot else you risk that meat toughening up, and let's face it, nobody wants chewy seafood. Of course, the octopus can also be served cold, as part of a salad perhaps. Continue reading →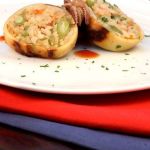 This Italian-inspired risotto stuffed squid recipe makes a delicious dinner and it is impressive enough to serve at a dinner party. Calamari is often battered and deep-fried but in this recipe it is stuffed with tasty risotto and cooked on the grill or griddle, then served in slices for a beautiful presentation.
What Kind of Squid to Use for Risotto Stuffed Squid
You can use whatever size squid you like. Use smallish ones (the width of your palm) and each person can eat 2 or even 3, or use larger ones and 1 per person should be sufficient.
The size of the squid affects the cooking time (bigger squid take longer to become tender) but not the flavor. You might want to garnish the plates with some pan-fried baby squid. Otherwise consider a small salad or your favorite steamed veggies – maybe asparagus.
Continue reading →
Some More Hot Content For You
Hot and sour soup is a lovely Chinese dish, featuring chili, vegetables and more, but this recipe takes the recipe to the next level adding squid to the mix, so you can enjoy the wonderfully soft texture of that in the soup. A hot and sour squid soup might sound like an exotic recipe but it is really easy to make.
Take a look at the following hot and sour squid soup recipe and you will see how anyone could put this together. Feel free to make it as spicy or as mild as you like. If you are feeling under the weather or you think you are getting a cold or the flu, up the spices to help fight it off!
You can make this soup as an appetizer or have it for lunch. If you want to try the classic hot and sour soup recipe you can find a traditionally Chinese and squid-free way of making it at http://victoriahaneveer.com/recipes/soup/hot-and-sour-soup-chinese-style/ Continue reading →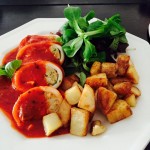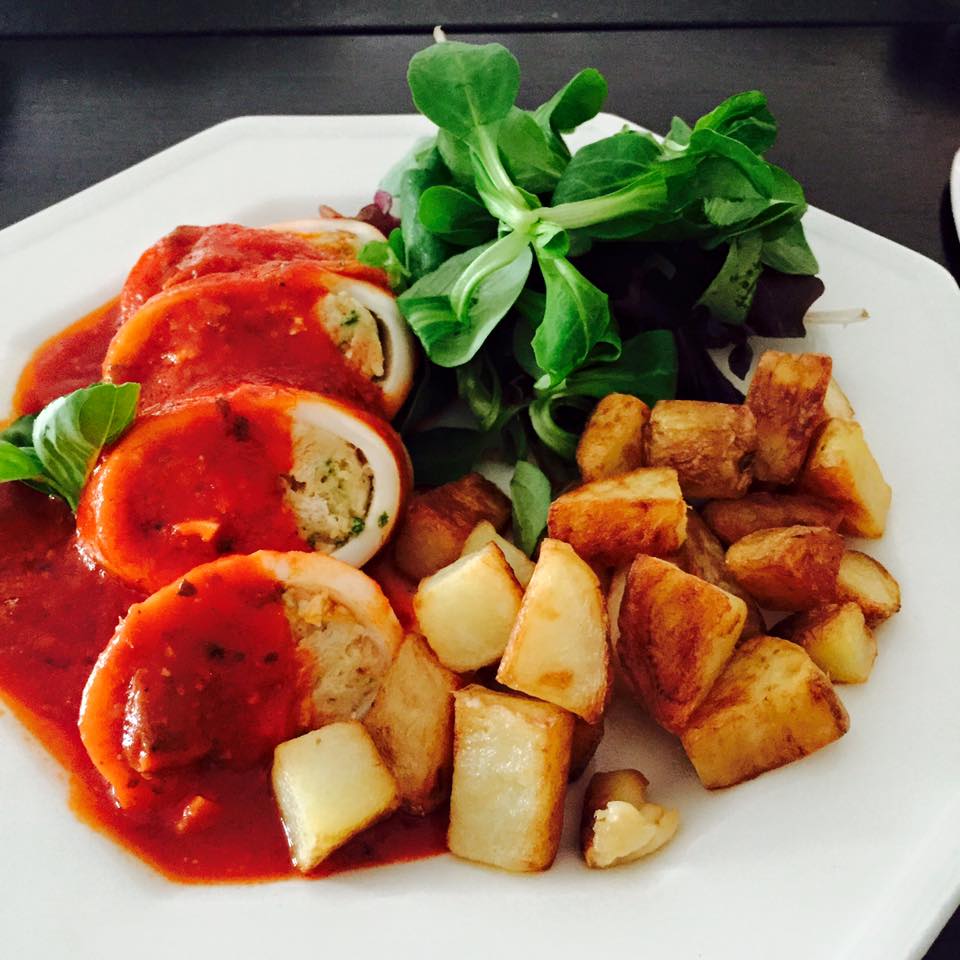 Learning how to stuff squid is very easy, and although calamari is also nice cut into rings, breaded and deep fried, it is especially good stuffed. You can choose from a wide range of stuffed squid recipes and use whichever ingredients you happen to like. Knowing how to stuff calamari tubes is useful to know, just because there are so many great recipes for stuffed calamari out there.
You can buy the bodies (tubes) already cleaned or you can clean them out yourself. I usually buy the frozen tubes because they are very cheap where we live, but if you have a whole squid you also get the lovely tentacles which are nice to use in your stuffed squid recipe, both in the stuffing and also in the sauce.
How to Stuff Calamari Tubes: Do You Need the Tentacles Too?
The tentacles are optional, so just get the ready-cleaned tubes if you prefer. If you are using tentacles, they are nice mixed with breadcrumbs, cheese, eggs and seasonings to make a flavorful stuffing, but if you don't have any tentacles then don't worry about it. Continue reading →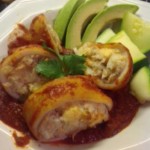 This squid is stuffed with an aromatic garlic, ricotta and Parmesan mixture, and then slowly braised in a delicious tomato sauce. Choose cheese stuffed squid in tomato sauce if you want to impress. This is a classic stuffed calamari recipe and the flavor is so good. Squid has to be cooked very fast or very slow, and in this recipe it is slowly cooked for about half an hour and then you should be able to slide a sharp knife through the squid easily. When you can do this, it is ready to serve.
The nicest way to stuff squid is to slice it into equal sized pieces and arrange them on a plate, so you can see the filling. You could just serve the squid whole but that might be a bit ungainly looking especially if you are using big squid tubes.
Cheese Stuffed Squid in Tomato Sauce Pairings: Satisfying Side Dish Ideas
Toss your favorite salad greens together to make the perfect side dish. Another idea is to serve avocado or other tasty vegetables. Some people like to serve a warm side dish, not a cold one, so consider corn on the cob or broccoli if you like. Continue reading →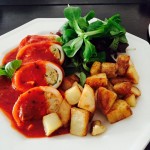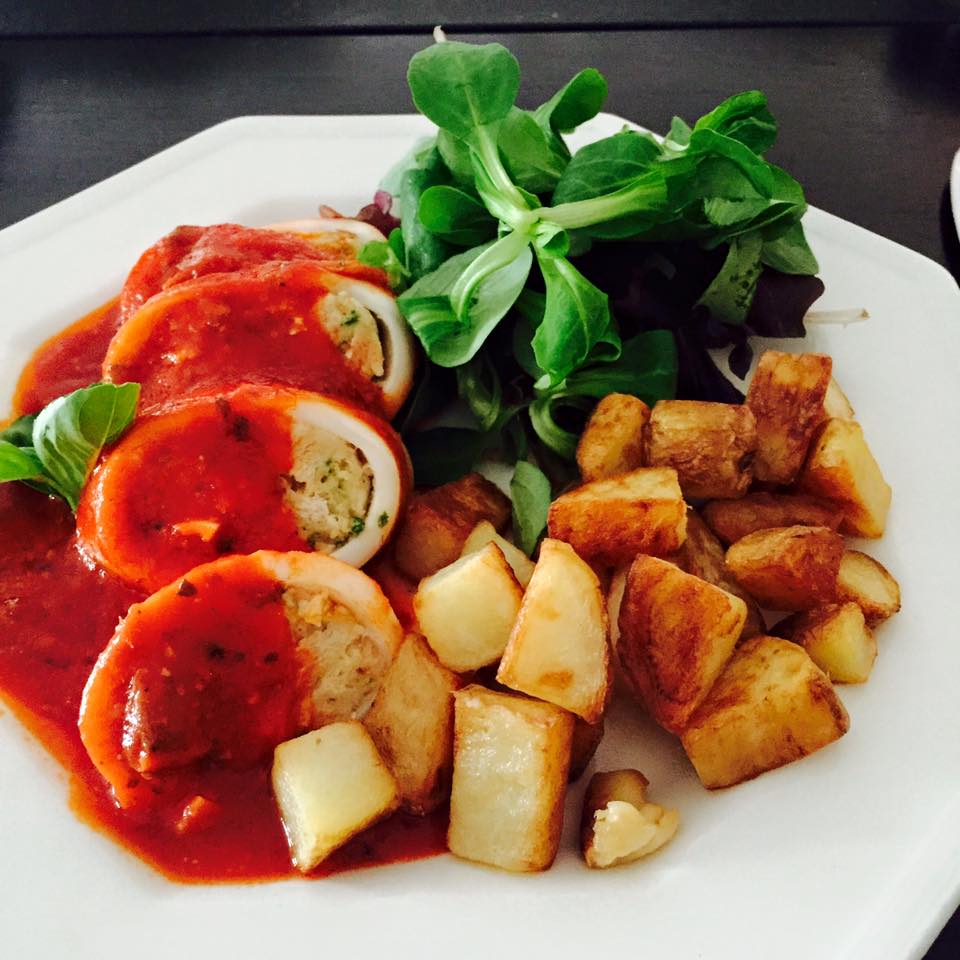 I love making stuffed squid and I enjoy trying out new recipes, but this is the one I usually made because my husband is crazy about it. Use big squid tubes to make this recipe and only fill them two-thirds full so the filling does not expand and come out. This is, in my opinion, the best stuffed squid recipe with sauce. I love the texture, the flavor… everything!
You will need to clean the squid first, unless you are using the cleaned type. I usually get ready-cleaned ones, and I can get a package of 5 frozen ones from the Chinese store. I thaw them overnight in the refrigerator and they are great.
When cooking the squid, cook them until they are tender. This means a knife should slip through easily. Squid needs to be cooked either for a very short time (like a minute) or for a long time (like 45 minutes) because it relaxes then toughens then relaxes again. Squid should never be chewy! Continue reading →
Other Posts You Might Like