Squid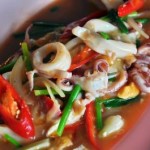 This is not a stuffed squid recipe like many of our other soup recipes with squid but it is too good not to include on here. Oh yes, Spanish squid soup is one of the best soups I know, and it's worth learning the recipe. The recipe features squid of course, and also potatoes, onion and tomato. Aromatic flavor comes from the chilies, thyme, garlic and balsamic vinegar. The green beans are optional but they look attractively colorful so if you want to use them then just throw them in after topping and tailing them.
The Spanish squid soup recipe is very simple to prepare. Once all the ingredients are in there you need to let it simmer for 3 or 4 hours so the flavors can really meld, and so the squid can tenderize.  Just imagine how wonderful this is going to smell while it's cooking! Try serving this with warmed crusty bread, since that is how it would be served in Spain. You will know when it is ready. The squid will be tender not chewy, so just taste a bit and see how it is. If it is not tender enough, give it more time. You need to ensure the squid in this Spanish squid soup is perfect.
Spicing Things Up
It is up to you how much chili you add. In fact you can leave it out altogether if you wish, or use sweet bell pepper instead for a milder result. This is a wonderful way of using squid and if you want a tasty Spanish squid recipe but do not mind it not being stuffed then why not try this? Because of the extended cooking time it's not the kind of dish you can decide to make 10 minutes before eating, but begin it after lunch then let it simmer gently until dinner time. You will be very glad you chose to make this Spanish squid soup because the taste is magical. Continue reading →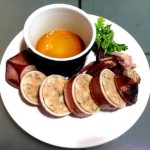 This recipe is a little unusual, at least more unusual than most stuffed squid recipes. Not only does it look delicious but the tangy chili sauce is the perfect partner for the tender seafood, another great reason to prepare this fantastic dish. Squid with pistachio might be hard to imagine but believe me, it's the stuff of dreams!
The squid is stuffed with a pistachio and lemon infused brown rice which is really filling, and the sauce can be served on the side, like you see in the picture, or you can drizzle it over the plates and arrange the squid slices on top, as you wish. If you want to change this recipe a bit you can use fresh breadcrumbs instead of the rice, since that would also be very nice in a squid with pistachio dish.
As well as the ingredients listed you will need some toothpicks to secure the squid before cooking. Remember to stuff them maximum 2 thirds full so they do not explode during cooking. Continue reading →
Some More Hot Content For You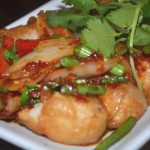 This chili squid with tomatoes recipe is for lovers of all things spicy, since chili is used plentifully. Chili and tomato goes well, which is good because the sauce is tomato-based. You could use fresh tomatoes for this but honestly the canned type are just as good here.
The squid is stuffed with a mixture of egg, bread and cilantro. This is how you make this chili squid with tomatoes a success. The filling should be sticky but not too 'wet' so add the egg a little at a time. If it is not wet enough add extra egg to it. This is a very simple filling so you can appreciate the flavor of the squid without any of the ingredients overpowering anything else.
Chili Squid with Tomatoes: The Sauce and Beans
The sauce goes into the pan while the squid is in there and this is made with tomatoes, chili (as much as you want, although the recipe calls for a couple of chilies) and other ingredients. The green beans are an optional ingredient so feel free to disregard them but I feel they add extra color and nutrition and usually like to add them to the recipe. Continue reading →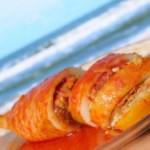 Known all over the world, this wonderful Greek take on stuffed squid is a surefire way to anyone's heart. Greek stuffed squid with parsley will win its way to anyone's heart. Want to impress someone? Easy! Just make this!
Who else cooks seafood with as much passion or commitment as the Greeks? Greek stuffed squid with parsley is sure to be a hit. Well, perhaps other Mediterranean countries too, but this recipe is one of the nicest, and all the passion of the Greeks goes into selecting and preparing the ingredients, and the result is something you can call 'gourmet' and is definitely both well-balanced and highly flavorful.
The Greek stuffed squid with parsley recipe is made in 2 stages. You need to make the sauce and then you need to prepare and cook the squid. The sauce is made with garlic, lemon, white wine and tomatoes, which are all bold, vibrant flavors, and typically used in the Mediterranean region. The squid itself is stuffed with rice, green onions and parsley. This is a really impressive dish to cook. If you are someone who is nervous about cooking squid then stop!
Easy but So Yummy
Seriously, Greek stuffed squid with parsley is so easy to do. Squid needs to be cooked for a minute over a very high heat or braised for 45 minutes or more over a very low heat. If you accidentally overcook your squid using the first method you need to turn down the heat and extend the cooking time. Stuffed squid uses the second method because it is too thick to cook that quickly. Save the one minute method for your calamari rings or small squid strips. Continue reading →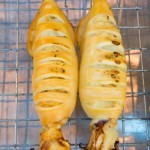 This chorizo stuffed squid recipe really is good. The baby squid are stuffed with chorizo to make this Spanish inspired chorizo stuffed squid meal. The end result is simply amazing. Whether or not you have cooked squid before, you are sure to find this a relatively easy recipe to follow and get right.
Chorizo Stuffed Squid: Hmm, Fish and Meat Together?
Although using chorizo and squid in the same recipe sounds odd, it really is good and the chorizo adds a beautiful salty finish to the seafood. Have you ever tried bacon-wrapped fish or prosciutto-wrapped shrimp? Seriously, pork and fish do go together really well. I wasn't convinced but then a friend of mine made bacon-wrapped cod filet and it was amazing. So I wanted to make chorizo stuffed squid and taste for myself.
You will need to snap toothpicks in half and soak them in water for half an hour before using them to close the squid pockets so they do not char. This recipe takes a while because you need to prepare each ingredient and of course stuff the squid, but it is well worth it. Homemade stuffed squid is always excellent.
Continue reading →
This classic recipe for seafood stuffed squid combines shrimp, fish and squid to make a seafood-rich meal. You will need large squid for this. Each one is stuffed with shrimp, and fish and then you make a sauce using tomato, paprika, bread, wine and onion which goes over the squid. The sauce flavors the squid, adds moisture to the dish and also looks good on the plate when you serve the seafood stuffed squid. Cut the squid into slices to serve for the best-looking result.
The filling for this seafood stuffed squid should match the amount of squid but if you have any leftover squid including the tentacles, you can cut it into rings and scatter it over the stuffed squid before pouring on the sauce if you wish. I hate wasting seafood so if I have any over I just do this. If I have less filling then I just stuff it less. A note about stuffing squid – do not overstuff it else you are asking for trouble! Squid should be about two-thirds stuffed and then you should press it closed to get out the remaining air. Secure the opening using a toothpick. If the filling expands during cooking, there will be sufficient space in there to allow that to happen. Continue reading →
Other Posts You Might Like