Squid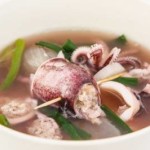 This Thai stuffed squid soup recipe is a favorite of mine. It is very special because of its simplicity. Although this Thai stuffed squid soup dish is rarely found on a restaurant menu you quickly and easily prepare it yourself. You need some chicken or pork bouillon, and homemade is best if possible.
If you do not have homemade bouillon then make sure you use a high quality one. The filling for the squid is made with pork, soy sauce, black pepper and garlic, and you will need smallish squid for this, no more than a couple inches long. When you have stuffed the squid it is time to warm up your bouillon and then you poach the squid in there for 8 minutes. Serve it nice and hot.
Comfort Food, Really!
This Thai stuffed squid soup recipe is great if you have a cold or the flu or you just fancy something warming. It is also really quick to make and if you have the baby squid you probably have all the other ingredients too. Keep some ground pork and baby squid in the freezer and you can make this any time you have a craving for it. Serve this stuffed squid soup as an appetizer or make it for lunch and have it with some salad on the side. If you only have larger squid you can use a couple of those instead but the baby squid gives you a nicer presentation and it just looks more elegant in the bowl.  Continue reading →

How does shrimp and mushroom stuffed calamari sound to you? The red pepper sauce served with it is beautiful too. This recipe makes sufficient for 4 people and features shrimp, mushrooms, garlic, parsley and breadcrumbs. The sauce is made with red pepper, garlic and oil, to keep things simple. I have various stuffed calamari recipes in my repertoire but this one is always a winner and it's great for any occasion, even a special occasion like a dinner party or special birthday meal.
This is a clear, simple-to-follow video and it is a great introduction to beginner home cooks who wish to make stuffed squid for the first time. Try this shrimp and mushroom stuffed calamari tonight and prepare for your family to be wowed. This is a colorful, attractive dish and I can imagine serving this at a dinner party because it looks impressive and the flavor is incredible.
The mushroom gives such a lovely, earthy flavor to the shrimp and mushroom stuffed calamari dish and the shrimp enhances the seafood appeal. I often add minced or finely chopped mushroom to the filling for the squid just because I love the earthiness and mushrooms goes beautifully with cheese, tomato and other popular ingredients. Use white button mushrooms or any type you like. Continue reading →
Some More Hot Content For You

Hearty ingredients like breadcrumbs, cheese, shrimp, tomato and onion are combined for the filling here, along with aromatics like cumin, paprika, cayenne and coriander. The squid are fried in a skillet on the stove and then sliced to serve. Try these stuffed squid tubes and discover just how wonderful homemade calamari recipes can be.
Italian Style Stuffed Squid Tubes
This stuffed squid tubes dish is a very tasty recipe and the use of seasonings and spices makes it an unusual one too because the Mediterranean filling is combined with bold spices to offer plenty of dimension to the flavor. This video is narrated and there are plenty of helpful tips and tricks there to help ensure your stuffed squid tubes come out perfectly. You will want to make this recipe again and again.

Featuring a stuffing made with anchovies, parmesan, garlic, wine, parsley and breadcrumbs, this Greek inspired, simple stuffed squids recipe is hearty and tasty. You can see exactly what you need for this recipe and see how the filling is made in a skillet on the stove in stages.
This is important because it gives the filling plenty of dimension. Stuff your squid then fry them in garlicky oil in the skillet. They will puff up on the stove and when they do it is time to add white wine and cover the skillet. Because this is a stovetop recipe you can watch the squid the whole time.
It is also nice if you are using the oven to cook something else. Use small or medium calamari for this recipe, and cook until they are very tender. This is a professional video which shows even the most beginner cook how to make simple stuffed squids with ease. Watch the video right through and you will soon be surprised to see just how squid is to stuff and cook, so if you avoided squid unless you happen to be at a restaurant and someone else is doing the cooking, give it a change. Homemade stuffed squids are great! Continue reading →

The braised stuffed calamari in this recipe sure looks good. Breadcrumbs, olives, capers, garlic, parsley and more are combined for a tasty filling for your squid. Laura Vitale talks you through everything you need for the recipe and then shows you how to prepare your ingredients to make the filling.
I liked this braised stuffed calamari video because I found it very easy to follow and I love the resulting stuffed squid. I think it looks great! And also because this is so similar to the way I usually make my own squid so Laura Vitale is on to a winner here. Just watch the video through and then as soon as it finishes you will wish to recreate this dish yourself.
The squid for this braised stuffed calamari is stuffed and then added to a tomato sauce on the stove where it can braise until tender. Oh yes, this is usually the way I made my calamari although I have also baked it. But braising it makes it so succulent. You will love the results, I promise you. Continue reading →

This fun video shows you how to make delicious squid stuffed with rice and it is aimed at beginners, so you can see exactly what you need, how to prepare the ingredients and how to stuff and cook your squid to perfection. Stuffed squid recipes are really easy, so long as you know what you need and how to prepare and combine the ingredients, as well as how long to cook it so your squid comes out beautifully tender.
This squid stuffed with rice cooking video is easy enough for complete beginners to master so if you are worried about getting lost in technical cooking jargon then don't, because that is not what stuffed squid is all about. In fact once you have made the recipe you will think 'was that it?' because it is that easy!
This is a rice-based recipe, and other ingredients include tomato paste, onion, parsley, dill and white wine. This is quite a typical Mediterranean recipe and the flavors are bold yet aromatic too, and nothing overpowers the natural flavor of the squid. Continue reading →
Other Posts You Might Like