Low Calorie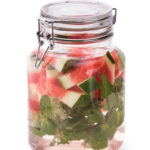 Detox water recipes are all the rage these days, and little wonder when the concept is basically about making plain water delicious so you want to drink plenty of it. Water is absolutely essential but a lot of people struggle to drink enough of it. Once you feel thirsty you are already dehydrated and in need of this watermelon mint detox water or something similar.
The obvious answer to this problem is flavoring regular water (tap water, bottled water, filtered water, whatever you like) with fruit, perhaps adding some kind of fresh herbs or spice to boost the flavor further. This recipe is one of my favorites. We are incorporating watermelon and fresh mint with chilled water to make a gorgeous drink.
What Nutrients Does It Offer?
Watermelon is rich in potassium and vitamin C, while lemon is full of vitamin C and can help cleanse the liver and aid with digestion. Mint stimulates fat digestion and is helpful in eliminating toxins. And as for water, well that's essential to life itself.
You can either make a glass of this watermelon mint detox water or a whole pitcher. You can also tweak the recipe, swapping the lemon for lime, the watermelon for canteloupe or even the mint for half a cinnamon stick. Get creative with your detox water recipes and you are sure to find your perfect blend! Continue reading →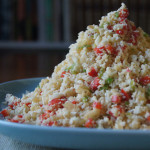 Cauliflower rice, also known as cauli rice, is a low-calorie, low-carb alternative to regular rice. You can make it with a food processor or, if you don't have one, a cheese grater. There are different ways to cook cauliflower rice recipes too, such as on the stove, in the oven, or even in the microwave. Although cauliflower obviously doesn't share the exact same flavor as rice, you can get the appearance and texture very close.
It is well worth knowing how to make cauliflower rice recipes, even if you are not trying to reduce your carb or calorie intake. Cauliflower is rich in protein, thiamin, niacin, riboflavin, phosphorus, magnesium, vitamins C, K, B6, potassium, manganese and pantothenic acid. It is very low in cholesterol and saturated fat.
Whether you are looking for a paleo cauliflower rice, Mexican cauliflower rice or coconut cauliflower rice recipe, or something else, there are certainly a lot of different recipes to choose from, both mild and spicy, traditional and exotic, vegetarian, vegan and anything else you can think of.
Continue reading →
Some More Hot Content For You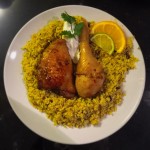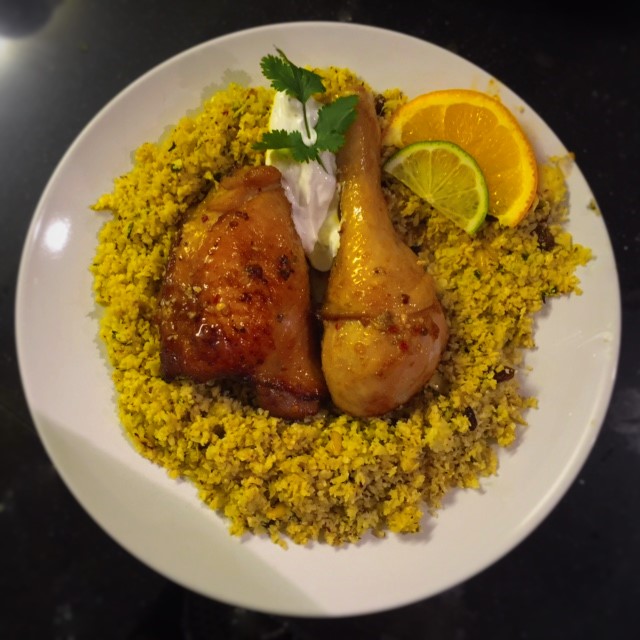 Cauliflower rice, or cauli rice as it is affectionately  known, is a wonderful substitute for rice, offering a mere fraction of the calories and carbs or rice, yet offering a very similar texture and a neutral flavor. You can do so much with it and there are plenty of cauliflower rice recipes to choose from. This cauli rice with orange, lime and cilantro recipe is easy to prepare and it's yummy!
I like to use a medium or strong-flavored sauce to disguise the cauliflower flavor – not that cauliflower has much of a taste at all, but just to make it as rice-like as possible. Try Chinese rice with cauliflower instead of rice, or consider Mexican cauli rice or Italian flavors.
It is easy to prepare this cauli rice with orange, lime and cilantro recipe if you have a food processor. Simply break a fresh cauliflower into florets and whiz them in the food processor until rice grain-sized. If you don't have a food processor that is okay, just use a cheese grater instead. It will take longer and you will get a similar result. Continue reading →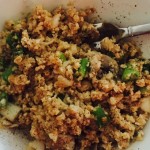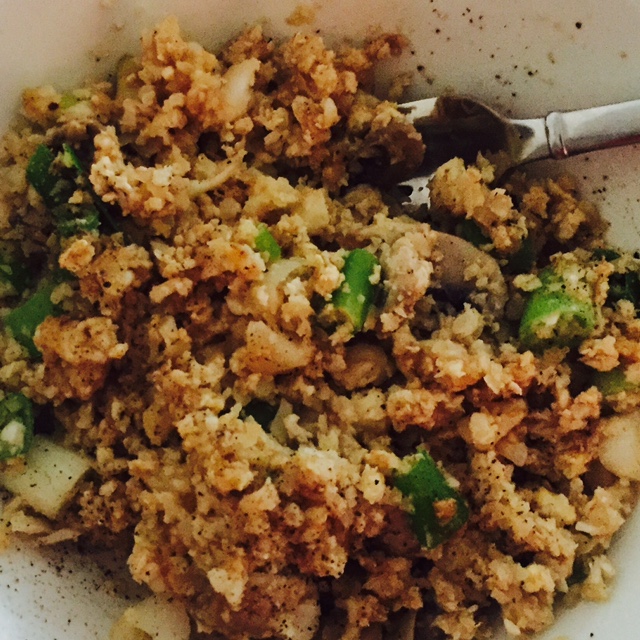 Using cauliflower instead of rice is a great idea if you are looking to cut calories, carbs, or you simply don't want to have rice but you want something similar in texture. Try this egg fried cauli  rice recipe and you will soon see what all the fuss is about!
Pop some cauliflower florets in the food processor, press the button, and a couple of seconds later you will have something resembling rice, which can be transformed into egg fried 'rice' or even something like our yummy Mexican cauli rice recipe (opens in new link) which is low in calories and tastes gorgeous.
Always a Great Meal
I made this egg fried cauli  rice recipe for lunch today and found it quick and easy. This pan-fried cauliflower rice is delicious and you can add anything you like in there. I just used green onion, mushrooms, soy sauce, egg and a dash of sesame oil along with the cauli rice but you may add anything else in there.
Perhaps you have some leftover cooked chicken or shrimp to use up, in which case throw them in and warm them up for a couple of minutes. Did you open a can of corn kernels or peas yesterday? Add a spoonful of those into the cauli-rice mix if you want. Continue reading →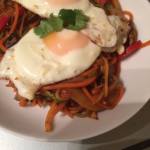 A spiralizer isn't the most commonly talked about kitchen gadget, but it's definitely one that has been gaining popularity recently. If you haven't heard of this interesting invention before a spiralizer is basically a neat, time saving tool that turns vegetables into thin, noodle like strips to use in a bunch of different dishes. There are plenty of easy spiralizer recipes to have a go at too.
If you have ever tried to thinly slice a zucchini using a julienne peeler, or worse – a knife – and given up halfway through because it was taking too long then the spiralizer will be your new culinary sidekick.
The way a spiralizer works is in one of two ways. The first and simpler type, a handheld spiralizer, is used by inserting a vegetable into the end of the device and rotating the spiralizer by hand. Once the vegetable is too short to be held safely, you can use an end piece with a prong to hold the vegetable in place without endangering your fingertips.
Continue reading →
The following crockpot recipes for weight loss are perfect for making in a slow cooker. One of the benefits to using a crockpot is you can tip the ingredients in there in the morning, then go to work or out for the day. When you get home your meal will be ready! This mean you don't have to stand over the stove, nibbling on snacks you shouldn't be having, but you can eat your healthy meal right away.
A crockpot, also known as a slow cooker, is an electrical appliance used to gently simmer food. The temperature is kept low so your food slowly cooks over a period of hours. A basic model should have a low and a high setting while others might have a warm setting or even 'keep warm' which means once your dish has finished cooking it will keep warm. This is why preparing crockpot recipes for weight loss is so easy.
Which Crockpot Recipes for Weight Loss to Make in There
Crockpot recipes for weight loss come in all shapes and sizes including mini ones which you might use to cook a chicken breast for one person or a small amount of hot dip, right up to huge ones to make a batch of soup for freezing in portions or a meal for 8 people.
You can choose from round ones or oval ones which are good for cooking, say, a whole chicken, and you can choose from different brands and price tags depending on the features you want your crockpot to have.
Continue reading →
Other Posts You Might Like