Low Carb
Salmon is a powerhouse of nutrition. This salmon in mustard cream sauce recipe is just one idea for incorporating this juicy fish into a recipe. Wild-caught salmon boasts sweetness as well as a fatty touch which balances things out beautifully for the perfect mouth-feel.
This would be beautiful with any kind of potatoes – mashed, boiled (with dill weed!) or crispy and roasted, along with your favorite green vegetable. Broccoli, zucchini (courgette) and green beans are definite contenders. Personally I love grilled green asparagus, so consider that as well.
If you want to double up on the sauce it would make a fine vegetarian dip for chips, bread or veggie crudites. If you are serving this with mashed potatoes, simply ladle some of the extra sauce over those too. We are going to broil (UK: cook under the grill) the salmon for optimum results, and you will find the other ingredients add plenty of appeal to the overall flavor. Continue reading →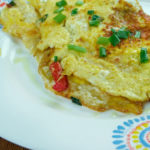 This omelet makes a great side dish for a curry if you don't want to serve rice or naan bread or if you are looking for low carb side dish ideas. You can also eat it by itself as a meal or snack. This is the best Indian omelet recipe to choose if you are looking to spice things up a little and enjoy a brand new flavor.
What is in the Best Indian Omelet Recipe
Along with the eggs which are of course the main ingredient in any omelet, we are using spinach, shallots, cilantro, turmeric and chili.
You can omit the spinach if you want, or replace it with sliced mushrooms. You can also swap the shallots for a small yellow onion or omit the chili pepper if you don't want it spicy.
Making the best Indian omelet recipe is simply a matter of combining the ingredients then cooking the omelet in a skillet. I like to wilt the spinach first but you don't have to do that unless you want it really soft. It cooks in the omelet anyway. Continue reading →
Some More Hot Content For You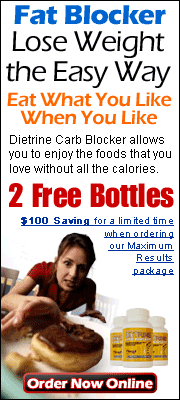 Dieting isn't always easy. If it was, we would all be slim, right? The problem with a lot of diets is you have to deprive yourself of your favorite foods (you know, all those ones that taste good) and feel hungry in order to shed a pound or two, if you're lucky. So what about carb blockers – everything you need to know about these might just convince you to give them a try but honestly, do they really work?
Reducing the intake of carbs is a popular way of lowering weight, and you can try diets such as Atkins to show you how to keep your carbs very low.
The problem with diets like this is they eliminate (at least in the interim phase) healthy carbs such as sweet potatoes and strawberries as well as the bad ones like ice cream and soda.
White rice, white pasta, processed foods, pastries and high-sugar sodas are largely responsible for obesity, at least to a degree.
Nobody ever got fat eating too many strawberries. Well, not unless they top them with mountains of ice cream anyway. Continue reading →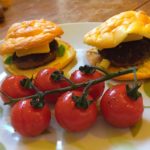 There is low carb bread and there is this very low carb bread recipe. If you've been doing Atkins or low carbing for a while, you will have tried some of the more 'eggy' or 'dense' breads and while they are passable (just!) they aren't exactly a good bread substitute.
Some low carbers will forgo the bread entirely, choosing to wrap their burger or sandwich in a large lettuce leaf instead and while there is nothing wrong with that, sometimes it's nice to have something a bit chewier and more bready, even if it isn't going to be that high-carb processed stuff you used to eat before.
There are various names for the very low carb bread recipe I am talking about – revolution rolls, cloud bread, oopsie bread, each having a slightly different recipe and preparation technique.
Here I am sharing what I found works best of all, and that's a bread which is easy to make, uses clean ingredients (ie, not processed) and is low in carbs but offers a nice taste and chewy bread-ish texture. Continue reading →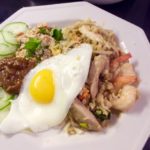 This cauliflower nasi goreng – low carb and tasty – might well earn a place on your regular meal rotation. It's just so special! Nasi goreng is a delicious dish from Indonesia, which I've enjoyed plenty of times since moving to the Netherlands, since the Dutch are very much into Indonesian foods.
Although this is a rice-based dish and you might think no way can that be low carb, swap the rice for cauliflower and it will be! Also, because this is a spicy dish (a dish with spices, not necessary 'hot' if you don't want it to be) you won't taste the cauliflower.
What is Nasi Gorgeng?
The name 'nasi goreng' means fried rice in Malay and Indonesian, and the term can refer to pre-cooked rice with a little cooking fat and kecap manis, which is a sweet soy sauce. Shallot, tamarind, chili and garlic are typical ingredients, along with egg, shrimp and/or chicken. Sometimes salted dried fish are used instead of the other proteins.
This recipe is known as Indonesian although it is also popular in Malaysia, the Netherlands and Singapore. Nasi goreng can be enjoyed everywhere from roadside stands in Indonesia to Jakarta buffet tables or fine restaurants. This is known as the national dish of Indonesia, although I'm not sure what the locals would make of this low carb cauliflower nasi goreng variation. This dish was developed as a way to avoid wasting cooked rice, since frying can stop dangerous microbes propagating especially before refrigeration was commonplace like it is today. Continue reading →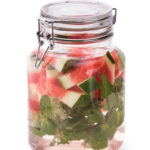 Detox water recipes are all the rage these days, and little wonder when the concept is basically about making plain water delicious so you want to drink plenty of it. Water is absolutely essential but a lot of people struggle to drink enough of it. Once you feel thirsty you are already dehydrated and in need of this watermelon mint detox water or something similar.
The obvious answer to this problem is flavoring regular water (tap water, bottled water, filtered water, whatever you like) with fruit, perhaps adding some kind of fresh herbs or spice to boost the flavor further. This recipe is one of my favorites. We are incorporating watermelon and fresh mint with chilled water to make a gorgeous drink.
What Nutrients Does It Offer?
Watermelon is rich in potassium and vitamin C, while lemon is full of vitamin C and can help cleanse the liver and aid with digestion. Mint stimulates fat digestion and is helpful in eliminating toxins. And as for water, well that's essential to life itself.
You can either make a glass of this watermelon mint detox water or a whole pitcher. You can also tweak the recipe, swapping the lemon for lime, the watermelon for canteloupe or even the mint for half a cinnamon stick. Get creative with your detox water recipes and you are sure to find your perfect blend! Continue reading →
Other Posts You Might Like