Low Carb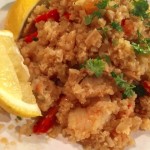 When I worked in Gran Canaria I used to eat paella a lot. In fact I made friends with a local chef who used to make a special batch for me minus the peas (my pet food hate!) This rice-based delicacy was served with half a baguette, plenty of alioli, or ai oli (or garlic mayo) and perhaps a sangria on the side. At that time I had never even heard of a low carb paella using cauli rice because I was enjoying the real thing too much to deviate.
Try as I might, I could never tire of this wonderful Spanish dish. Fast forward a decade and I still love that flavor but my husband is diabetic and rice is a no-no. So I wondered at this point whether cauli rice would work, since it is great for making other cauliflower rice recipes like egg fried cauli rice and lots of other cauli rice recipes.
This is why I tried my hand at a low carb paella using cauli rice a couple of evenings ago. I thought I would add chicken and seafood, along with chicken broth, smoked paprika and saffron to get that authentic flavor, and considering the main ingredient was swapped for a paella rice substitute I have to say it worked really well! Continue reading →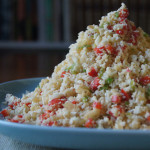 Cauliflower rice, also known as cauli rice, is a low-calorie, low-carb alternative to regular rice. You can make it with a food processor or, if you don't have one, a cheese grater. There are different ways to cook cauliflower rice recipes too, such as on the stove, in the oven, or even in the microwave. Although cauliflower obviously doesn't share the exact same flavor as rice, you can get the appearance and texture very close.
It is well worth knowing how to make cauliflower rice recipes, even if you are not trying to reduce your carb or calorie intake. Cauliflower is rich in protein, thiamin, niacin, riboflavin, phosphorus, magnesium, vitamins C, K, B6, potassium, manganese and pantothenic acid. It is very low in cholesterol and saturated fat.
Whether you are looking for a paleo cauliflower rice, Mexican cauliflower rice or coconut cauliflower rice recipe, or something else, there are certainly a lot of different recipes to choose from, both mild and spicy, traditional and exotic, vegetarian, vegan and anything else you can think of.
Continue reading →
Some More Hot Content For You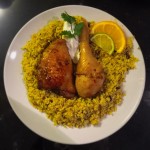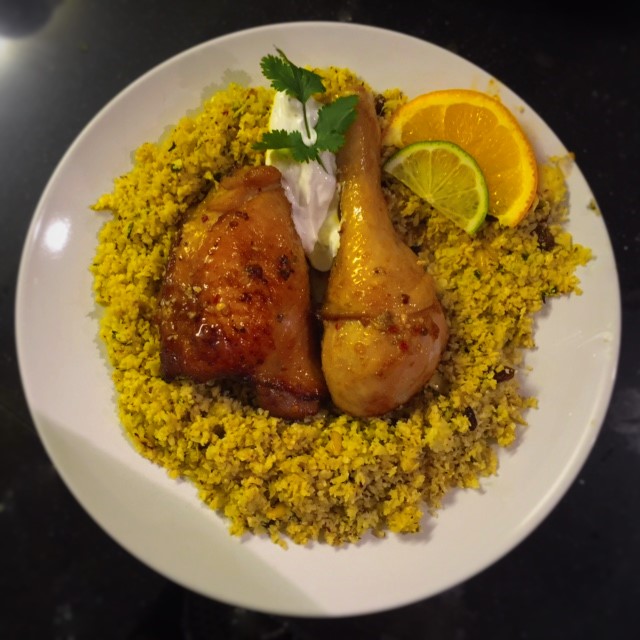 Cauliflower rice, or cauli rice as it is affectionately  known, is a wonderful substitute for rice, offering a mere fraction of the calories and carbs or rice, yet offering a very similar texture and a neutral flavor. You can do so much with it and there are plenty of cauliflower rice recipes to choose from. This cauli rice with orange, lime and cilantro recipe is easy to prepare and it's yummy!
I like to use a medium or strong-flavored sauce to disguise the cauliflower flavor – not that cauliflower has much of a taste at all, but just to make it as rice-like as possible. Try Chinese rice with cauliflower instead of rice, or consider Mexican cauli rice or Italian flavors.
It is easy to prepare this cauli rice with orange, lime and cilantro recipe if you have a food processor. Simply break a fresh cauliflower into florets and whiz them in the food processor until rice grain-sized. If you don't have a food processor that is okay, just use a cheese grater instead. It will take longer and you will get a similar result. Continue reading →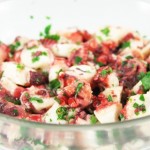 Last night I decided to make seafood so I grabbed some raw squid (calamari) tubes and also 2 cooked octopus legs. I had an idea of how to cook them but wasn't sure how to reheat the octopus without it going tough. I really wanted an octopus and squid stir fry though, so I went ahead with it.
On the package it said to give it a couple of minutes in the microwave but I wasn't keen on that idea. Instead I prepared a stir-fry type dish with the squid, then added the octopus at the end and just stirred it into the rest of the mixture until it was warmed through. It came out really well and octopus and squid stir fry is something I want to make again.
How to Reheat Octopus
The key here is reheating it gently so it doesn't toughen. That means you should get it warm rather than piping hot else you risk that meat toughening up, and let's face it, nobody wants chewy seafood. Of course, the octopus can also be served cold, as part of a salad perhaps. Continue reading →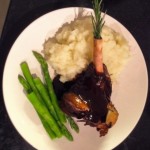 I fell in love with lamb shanks the first time I ever tried them. They are so tasty, so juicy and the flavor is amazing. Lamb shanks are best slow cooked and, although you can do them in the oven, a crockpot or Dutch oven will be your very best friend in the kitchen if you want really great results from this braised lamb shanks in red wine sauce recipe.
One lamb shank per person is enough, and they go really well with mashed potatoes and vegetables (maybe red cabbage, asparagus or carrots) along with your choice of sauce. I like to make lamb shanks in the crockpot and then either spoon the sauce directly over the meat, or else reduce it in a pan to make it thicker.
Tips for Braised Lamb Shanks in Red Wine Sauce
The following braised lamb shanks in red wine sauce recipe is best made in a Dutch oven, a large, heavy-bottomed pot. If you prefer to use a crockpot, sear the meat first, then put everything in the crockpot and cook it for about 8 hours on low or 5 hours on high, or until the lamb is so tender it is almost falling apart.
If you want to leave out any of the vegetables that is fine. At the end, you will need to use an immersion blender (handheld/stick blender) to get the sauce smooth. Add as much hot water as needed. The sauce should be thick but not too thick. Continue reading →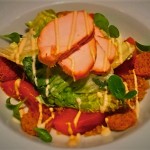 This easy chicken and peach salad takes mere minutes to put together and it's a great way to use up leftover cooked chicken. I've made it with chicken breast but you could use other cooked chicken pieces or some deli chicken slices. You could even use rotisserie chicken to make this (perhaps, still warm – yum!)
This easy chicken and peach salad is made on a bed of iceberg lettuce, but of course you can switch the iceberg for any variety. Baby salad leaves would be good or chopped romaine. I like to add some lamb's lettuce or a contrasting variety as well. Then you have the chicken on top, plus some peach for juicy sweetness, and then some crispy, crunchy croutons for a contrasting savory flavor and different texture.
Easy Chicken and Peach Salad Dressing
The easy chicken and peach salad dressing is an interpretation on Marie Rose sauce or thousand island dressing. The whisky in our easy chicken and peach salad dressing is optional (but throw some in if you have it) or you can use brandy. Actually this sauce is normally served with seafood recipes such as prawn cocktail but it goes just as well with chicken thanks to the chicken's neutral, simple taste.  Continue reading →
Other Posts You Might Like