Low Carb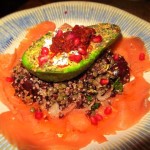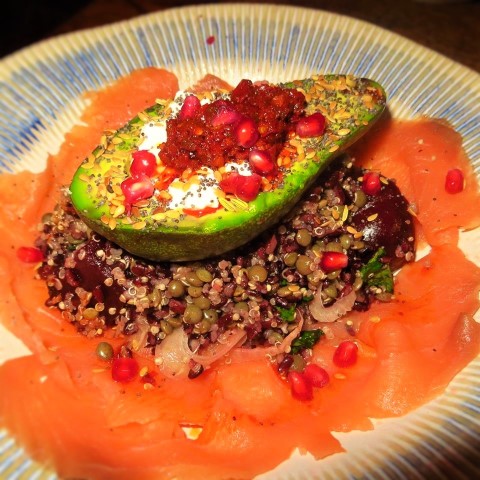 My husband and I had lunch at the Jamie Oliver restaurant in Cardiff last year and it was really good! I had the avocado superfood salad with smoked salmon and it really made an impression. I loved all those flavors and it looked gorgeous too. I wanted to recreate it so I came up with this Jamie Oliver superfood salad copycat recipe. It's not identical but pretty close!
What's in It?
The Jamie Oliver superfood salad copycat salad is made with avocado, beets, grains, kale, toasted seeds, and a tasty harissa and lemon dressing. On top of that you have avocado, pomegranate and poppy seeds. The following recipe is a copycat attempt, in case you wish to recreate some of this wonderful meal, but I can't say it is totally accurate since I'm just going by what I remember.
In the restaurant you can order free-range chicken or smoked salmon on the side, or some feta cheese if you want. I am all for tweaking recipes so take the following Jamie Oliver superfood salad copycat recipe and tweak it to your heart's content. Consider adding walnuts, olives, capers, cucumber, grated carrot, baby spinach, or anything else. Consider this recipe as a starting point and lovingly make this recipe your own. Continue reading →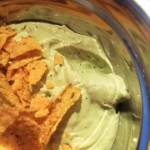 Dips are always fun to make, especially if you have a food processor and can whip them up in seconds! Although sometimes a hot dip is good, such as this hot and creamy crab dip or even our tasty artichoke dip, cool and creamy dips are also good. Try our Greek yogurt avocado dip if you like cool, creamy dips for your chips or crudites.
When I made this particular recipe I enjoyed it with Doritos, but you could serve this with crackers, vegetable crudites, melba toast, baguette bread slices, corn chips, potato chips, or anything else you want to dip in there. I made this in literally 3 minutes and the flavor was amazing. I wasn't planning to eat all of this Greek yogurt avocado dip but, uh, well you know how it is!
What You Need to Make Greek YogurtAavocado Dip
You will need some Greek yogurt, an avocado, some lime juice, and salt and black pepper to taste. If you want, you can swap the Greek yogurt for sour cream or use half and half. I've made it both ways, and both are good. Serve this as a Greek yogurt avocado dressing over salad if you want. If you prefer a thinner consistency, add a splash of milk (only a little bit because you don't want it too thin). Some cilantro in the Greek yogurt avocado dip is also nice, or you could put a small pinch of garlic powder in there. Even some hot sauce for a special zing! Continue reading →
Some More Hot Content For You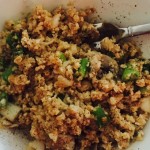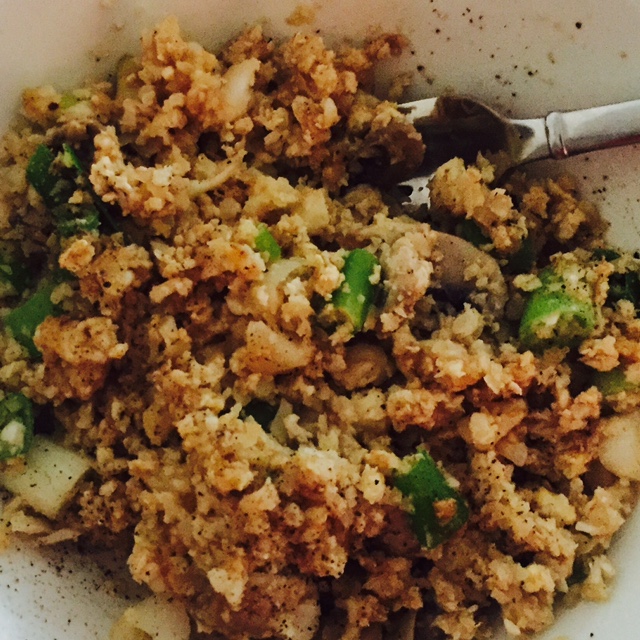 Using cauliflower instead of rice is a great idea if you are looking to cut calories, carbs, or you simply don't want to have rice but you want something similar in texture. Try this egg fried cauli  rice recipe and you will soon see what all the fuss is about!
Pop some cauliflower florets in the food processor, press the button, and a couple of seconds later you will have something resembling rice, which can be transformed into egg fried 'rice' or even something like our yummy Mexican cauli rice recipe (opens in new link) which is low in calories and tastes gorgeous.
Always a Great Meal
I made this egg fried cauli  rice recipe for lunch today and found it quick and easy. This pan-fried cauliflower rice is delicious and you can add anything you like in there. I just used green onion, mushrooms, soy sauce, egg and a dash of sesame oil along with the cauli rice but you may add anything else in there.
Perhaps you have some leftover cooked chicken or shrimp to use up, in which case throw them in and warm them up for a couple of minutes. Did you open a can of corn kernels or peas yesterday? Add a spoonful of those into the cauli-rice mix if you want. Continue reading →
Knowing how to make cauliflower rice is very handy whether you are looking for a low-carb substitute for rice, you are trying to cut down your calories, or you simply want to use up a cauliflower or sneak some added nutrients into your meal. Try this Mexican cauli rice dish for yourself and you'll be amazed how good it is.
This Mexican cauliflower rice recipe is simple to prepare, and it is something you can tweak to your heart's content. The first thing you need to do of course is transform your raw cauliflower into rice-sized pieces, and the easiest way to do this is to put it in the food processor with a blade attachment and whiz it for a few seconds.
How to Make Cauliflower Rice
If you don't have a food processor though, you can do it in the blender or else use a box grater to do it by hand. You can use the whole cauliflower apart from the leaves and the woody part right in the center. Don't use thawed cauliflower for Mexican cauli rice because it is too mushy to separate into the rice-shaped bits. Continue reading →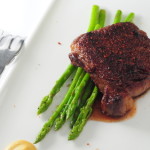 Steak is a popular protein on low carb diets because it is nutritious, filling and versatile. You can marinate it, use a spice rub or sauce, grill, barbecue or pan-fry it, or prepare it in another way. Plain steak and vegetables can become a bit boring and tedious though, which is why knowing how to make an easy low carb steak marinade recipe can breathe new life into your evening meal, adding tasty, spicy accents.
The following low carb steak marinade recipe is made with basil, onion, garlic, salt, black pepper, red pepper flakes, balsamic vinegar, and olive oil. You will need to let the steak soak in the marinade to soak up all the wonderful flavors. If you wish to tweak the recipe, swapping the balsamic vinegar for red wine vinegar, the onion powder for minced fresh onion or the red pepper flakes for a few drops of Tabasco sauce, that is fine.
Marinating Times for Low Carb Steak Marinade
We recommend about 4 hours as a good amount of marinating time, but overnight is also good. If you're marinating a fine cut of steak such as strip steak or filet mignon, half an hour is sufficient, while tougher cuts like flank, brisket or skirt steak can be left in the mixture overnight.
Serve the finished steak with low carb side dishes such as creamed spinach or bacon-wrapped avocado unless you want to try a low carb potato dish, in which case Carisma potatoes might tempt your taste buds. This low carb steak marinade is sure to impress you. Continue reading →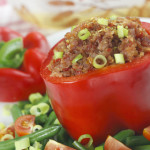 I've always been a fan of stuffed peppers, especially when beef, rice and cheese come together with seasonings to offer a rich and satisfying filling. But this time I wanted to make something without the rice and cheese, and I was curious how to flavor the beef sufficiently so that could be the main ingredient. That is how the idea for these curried beef stuffed peppers was born.
The following curried beef stuffed peppers recipe is made with spices and seasonings to add a light curry flavor to the beef filling, along with walnuts, raisins and other ingredients to add flavor accents. The overall effect is amazing and I am keen to make these curried beef stuffed peppers again soon.
I served the curried beef stuffed peppers with green beans on the side and actually they didn't look much on the plate but, trust me, they are filling! The following recipe makes 2 servings and the amount of filling should be just enough to fill the peppers. Mine was perfect – neither too much nor too little, but of course it depends on the size of your peppers.
Other Posts You Might Like