Meat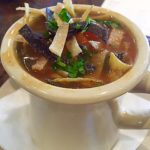 Chicken tortilla soup is one of my favorite soups. I love everything about it – the juicy chicken, the tomato-ey broth, the crisp tortillas on top, the cheese, just… everything! I like to keep my soup recipes simple, so you will see the following is as streamlined as I could make it. Grab the ingredients you need and make this. I promise, whether you want a light lunch or simple supper, you're going to love it. There are lots of different chicken tortilla soup with Rotel tomatoes recipes to try but I happen to like this one just because it is so easy.
What You Need to Make It
Along with the cooked chicken and Rotel tomatoes you will need refried beans, chicken broth, corn and either some fried tortilla strips or broken tortilla chips, whichever you have.
If I am jazzing this up, I might add a scoop of sour cream and some avocado on top, and I like to add a good amount of shredded Mexican blend cheese as well. Those additions to the basic recipe make all the difference, but they are purely optional. So just add what you want to have.
This chicken tortilla soup with Rotel tomatoes makes a great meal and it's surprisingly filling too. There are crockpot chicken tortilla soup recipes too, but honestly if you're using leftover shredded chicken you might as well simply mix the ingredients together in a pan and cook the soup in a matter of minutes. Continue reading →
I first tried this amazing corn pie in Chile and immediately fell in love with it. The ingredients might sound a little strange but it's really good, I promise! Some people use beef while others use chicken. The corn topping on this pastel de choclo recipe is crisp, sticky and sweet and the eggs, black olives and other ingredients lend authenticity.
Side Dish Options
What is a good side dish for our pastel de choclo? Well, I like it with a simple tomato, garlic and onions salad on the side, or you might want to steam some broccoli or another favorite vegetable instead. This keeps well in the refrigerator for a few days and is easy to reheat in the microwave.
What Kind of Corn to Use
Although some people prefer to use fresh corn when making a pastel de choclo recipe, I usually just use the canned kind which is fine in this corn pie as long as you drain it properly. Feel free to adjust the amount of sugar. It helps with the caramelization but my husband is diabetic so I usually use half sugar and half sweetener. Continue reading →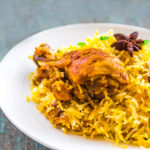 This tasty Indian dish, chicken biryani with drumsticks, offers an incredible flavor and it is not difficult to prepare. I had my first authentic Indian biryani when I was backpacking around India and the flavor really blew me away.
This recipe originated in the Indian subcontinent or Persia, and it is enjoyed all over Central and South Asia, as well as in the Middle East. Rice, spices and meat and/or vegetables are the main ingredients.
Biryani may be compared to pulao rice but biryani is usually cooked with layered meat and rice and pulao is not layered at all. Chicken biryani with drumsticks is usually a main dish while pulao tends to be more of a side dish.
How Biryani Gets its Flavor
Popular ingredients in an Indian biryani recipe include clarified butter (known as ghee), coriander, cinnamon, cardamon, cloves, ginger, garlic, onions, and nutmeg, but every recipe is different. Saffon can be added to the dish, and some will use turmeric or yellow food coloring to color the rice. Continue reading →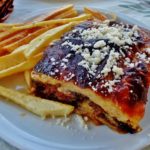 I have to say this moussaka with potatoes and eggplant is one of my absolute favorite dishes. Moussaka is popular in countries of the former Ottoman empire. There are lots of regional and local variations. This dish might be made with potatoes or eggplant, or both, and usually with ground lamb too.
Moussaka is eaten cold in Arabic countries, sauteed and served casserole style in Turkey, and layered and served hot in the Balkans. A lot of moussaka variations have an egg-thickened milk sauce on top, or a bechamel (flour-based) sauce.
Origin of the Word Moussaka
The word moussaka comes from mousakás, a Greek word, which came from the Turkish musakka and the Arabic musaqqa'ah, meaning chilled. The dish is usually based on ground meat, sauteed eggplant and tomato.
The Greek version has meat, eggplant and a bechamel sauce and it is baked in the oven. It is thought the Greek version dates back to the 1920s. The sliced eggplant layer on the bottom is topped with a ground lamb and tomato layer, and then you also have onion, garlic, allspice, cinnamon and black pepper in there for flavor. On top is a bechamel sauce layer. Continue reading →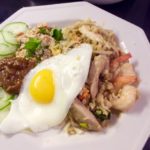 This cauliflower nasi goreng – low carb and tasty – might well earn a place on your regular meal rotation. It's just so special! Nasi goreng is a delicious dish from Indonesia, which I've enjoyed plenty of times since moving to the Netherlands, since the Dutch are very much into Indonesian foods.
Although this is a rice-based dish and you might think no way can that be low carb, swap the rice for cauliflower and it will be! Also, because this is a spicy dish (a dish with spices, not necessary 'hot' if you don't want it to be) you won't taste the cauliflower.
What is Nasi Gorgeng?
The name 'nasi goreng' means fried rice in Malay and Indonesian, and the term can refer to pre-cooked rice with a little cooking fat and kecap manis, which is a sweet soy sauce. Shallot, tamarind, chili and garlic are typical ingredients, along with egg, shrimp and/or chicken. Sometimes salted dried fish are used instead of the other proteins.
This recipe is known as Indonesian although it is also popular in Malaysia, the Netherlands and Singapore. Nasi goreng can be enjoyed everywhere from roadside stands in Indonesia to Jakarta buffet tables or fine restaurants. This is known as the national dish of Indonesia, although I'm not sure what the locals would make of this low carb cauliflower nasi goreng variation. This dish was developed as a way to avoid wasting cooked rice, since frying can stop dangerous microbes propagating especially before refrigeration was commonplace like it is today. Continue reading →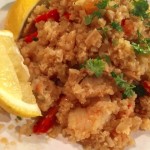 When I worked in Gran Canaria I used to eat paella a lot. In fact I made friends with a local chef who used to make a special batch for me minus the peas (my pet food hate!) This rice-based delicacy was served with half a baguette, plenty of alioli, or ai oli (or garlic mayo) and perhaps a sangria on the side. At that time I had never even heard of a low carb paella using cauli rice because I was enjoying the real thing too much to deviate.
Try as I might, I could never tire of this wonderful Spanish dish. Fast forward a decade and I still love that flavor but my husband is diabetic and rice is a no-no. So I wondered at this point whether cauli rice would work, since it is great for making other cauliflower rice recipes like egg fried cauli rice and lots of other cauli rice recipes.
This is why I tried my hand at a low carb paella using cauli rice a couple of evenings ago. I thought I would add chicken and seafood, along with chicken broth, smoked paprika and saffron to get that authentic flavor, and considering the main ingredient was swapped for a paella rice substitute I have to say it worked really well! Continue reading →