Beef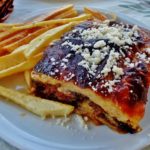 I have to say this moussaka with potatoes and eggplant is one of my absolute favorite dishes. Moussaka is popular in countries of the former Ottoman empire. There are lots of regional and local variations. This dish might be made with potatoes or eggplant, or both, and usually with ground lamb too.
Moussaka is eaten cold in Arabic countries, sauteed and served casserole style in Turkey, and layered and served hot in the Balkans. A lot of moussaka variations have an egg-thickened milk sauce on top, or a bechamel (flour-based) sauce.
Origin of the Word Moussaka
The word moussaka comes from mousakás, a Greek word, which came from the Turkish musakka and the Arabic musaqqa'ah, meaning chilled. The dish is usually based on ground meat, sauteed eggplant and tomato.
The Greek version has meat, eggplant and a bechamel sauce and it is baked in the oven. It is thought the Greek version dates back to the 1920s. The sliced eggplant layer on the bottom is topped with a ground lamb and tomato layer, and then you also have onion, garlic, allspice, cinnamon and black pepper in there for flavor. On top is a bechamel sauce layer. Continue reading →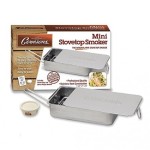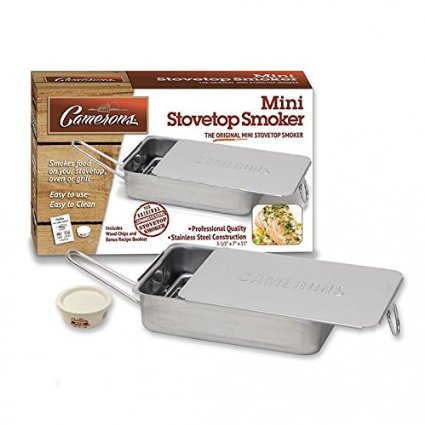 An indoor smoker is a wonderful buy if you want to smoke your own food but you either don't want to do it outdoors, you don't have a backyard, or the weather isn't really on your side. There are different types of indoor smokers to choose from but you can get one for under $50 and the results of your indoor smoker recipes will be really impressive.
Bring all the delicious flavors of wood smoking indoors and try smoking a whole fish filet or ham. You can also smoke ribs, salmon, chicken, sausages, tofu, cheese, nuts, garlic, salt (yes, smoked salt is amazing!), Cornish hens, and much more.
No oil or fats need to be added when making indoor smoker recipes, and you don't have to add salt or flavoring either. The food smokes in its own juices so it stays nice and moist.
Choose from many types of wood chips to get the perfect taste from your indoor smoker recipes, and consider combo-cooking, which means smoking the food first then finishing it off on the grill or oven to get it crispy. Continue reading →
Some More Hot Content For You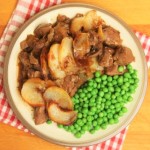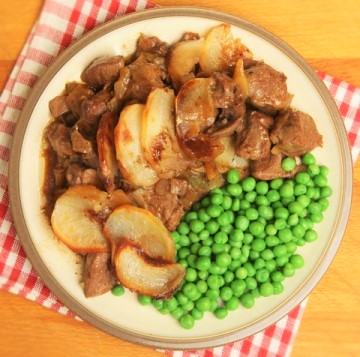 This Lancashire hotpot with beef is a wonderfully warming dinner, and it is so easy to make. Beef (or lamb) and potatoes come together with a red wine based sauce to make this hearty dish. Served with peas or another green vegetable, this makes the perfect cold weather dinner for the whole family to enjoy. Lancashire hotpot with beef leftovers warm up nicely for lunch the next day.
As well as the beef and potatoes, we are using carrots (if you like) along with onion, beef stock, red wine, and some thyme to add a nice earthy, herby flavor. This is a good recipe for the cooler months when you crave something that is really going to 'stick to your ribs' and warm you up nicely.
History of Lancashire Hotpot with Beef Recipe
The original recipe would have used dripping or lard instead of the vegetable oil, so use that if you prefer. The recipe dates back to the days of heavy industrialization in Lancashire, England. Although lamb or mutton would have been the meat of choice back then, beef also works fine if you prefer to use it.
Turnip and leeks often feature as well as the meat, potatoes and carrots. Sometimes bacon is even used as the meat (or you can add some ham or bacon in addition) and some people like to make a pastry topping before baking the Lancashire hotpot with beef. Any of these variations are fine.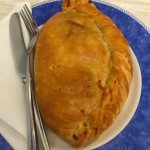 One of the most famous dishes to come from Cornwall, England (well apart from tea and scones of course) is the Cornish pasty. This delicious snack can be enjoyed hot, warm or chilled, and the beef and vegetable filling complements the flaky pastry perfectly. Knowing the traditional recipe for Cornish pasties means you can prepare this delicacy for your family at home.
Traditional Recipe for Cornish Pasties Dough
We are making the pastry for our Cornish pasty (pronounced PAH-stee) recipe as well as preparing the filling. For the pastry you will need flour, butter, egg yolks, salt and baking powder. It helps to have a food processor to prepare the dough, unless you want to do it by hand and use a lot of 'elbow grease'! The dough is then rolled out to your desired thickness and used to make rounds which are then filled with the filling. Then the dough for this traditional recipe for Cornish pasties is complete.
We are keeping things traditional for the filling, using beef, potatoes, onion, rutabaga (swede), salt and black pepper. Don't be tempted to put extras in there. This pie is best when the original recipe is used and don't worry – it will boast plenty of flavor. Continue reading →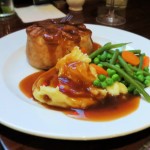 This British beef and ale pie is a gorgeous recipe and it makes a filling lunch or evening meal, served with plenty of mashed potatoes, carrots and peas or carrots on the side. We are using shortcrust pastry here which is sturdy rather than flaky, along with braising or stewing steak. The flavors inside come from Worcestershire sauce, tomato, ale or stout and beef stock.
Start with Great Pastry
Although you can make your own shortcrust pastry for this British beef and ale pie if you want to, it is much quicker and easier to use readymade shortcrust pastry, and it tastes about the same too. You will be lining the pie dishes with pastry, adding the prepared filling and then putting pastry lids on to enclose the tasty filling.
You will need six 4-inch (10 cm) wide by 1 1/4 inch (3 cm) deep individual pie dishes to make these pies. Another idea is to make the whole thing in one large tin then you can serve the British beef and ale pie in slices rather than making individual ones. Continue reading →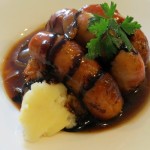 What is bangers and mash, you might be wondering, and how do you make a British bangers and mash recipe? Well, one of the most popular examples of British comfort food, bangers and mash is a dish of bangers (sausages) with mash (mashed potatoes). It is usually served with thick brown onion gravy drizzled over the top.
I like to use plenty of onions in this British bangers and mash recipe or even forgo the sauteed onions and make a delicious onion gravy. You can use any gravy you want, either making it the lazy way with gravy granules or, if you prefer, making your own from scratch.
What Kind of Sausages for a British Bangers and Mash Recipe?
Choose big, fat sausages for making a British bangers and mash recipe. It is not a recipe for chipolatas or dainty little cocktail sausages. Although you can use pork sausages, beef ones are really good here, or you might like to try venison sausages to take this dish a little more upmarket; if so, add some minced garlic to the mashed potato.
Do you want to serve something with this British bangers and mash recipe? Consider broccoli, green beans or another green vegetable to round out the meal. Carrots would also work here.
For the drink, what about a cold apple cider or glass of beer? A light, fruity red wine (very lightly chilled) would also work if you are serving this British bangers and mash recipe and you want some wine. This makes an excellent weekday recipe for the whole family. It serves 8 so you can halve the recipe unless your family is huge or you are having friends over too!
Other Posts You Might Like