Beef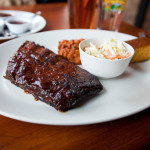 If you're looking for a great ribs recipe but using the oven instead of the grill, this oven baked short ribs recipe is certainly worth considering. It's easy to make and the kitchen is going to smell incredible when you make this wonderful meal.
What You Need for Oven Baked Short Ribs
We are baking the ribs in the oven and adding a delicious sauce made with peach preserves, lemon juice, sugar, vinegar, paprika, black pepper, and Worcestershire sauce. These oven baked short ribs are really tasty and falling-apart tender. The whole family will enjoy this succulent treat.
What Kind of Ribs to Choose
We are using meaty bone-in beef short ribs to make this oven baked short ribs dish, but if you are using boneless short ribs you might need to use more ribs or reduce the amount of sauce, depending on how meaty they are.
Serve your oven baked short ribs with cornbread, corn on the cob, potato salad, green salad, steamed asparagus, broccoli salad, pasta salad or anything else you want on the side, although some good old Southern side dishes are always a great bet with such a recipe.
Knowing how to make cauliflower rice is very handy whether you are looking for a low-carb substitute for rice, you are trying to cut down your calories, or you simply want to use up a cauliflower or sneak some added nutrients into your meal. Try this Mexican cauli rice dish for yourself and you'll be amazed how good it is.
This Mexican cauliflower rice recipe is simple to prepare, and it is something you can tweak to your heart's content. The first thing you need to do of course is transform your raw cauliflower into rice-sized pieces, and the easiest way to do this is to put it in the food processor with a blade attachment and whiz it for a few seconds.
How to Make Cauliflower Rice
If you don't have a food processor though, you can do it in the blender or else use a box grater to do it by hand. You can use the whole cauliflower apart from the leaves and the woody part right in the center. Don't use thawed cauliflower for Mexican cauli rice because it is too mushy to separate into the rice-shaped bits. Continue reading →
Some More Hot Content For You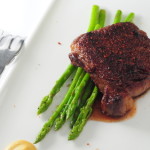 Steak is a popular protein on low carb diets because it is nutritious, filling and versatile. You can marinate it, use a spice rub or sauce, grill, barbecue or pan-fry it, or prepare it in another way. Plain steak and vegetables can become a bit boring and tedious though, which is why knowing how to make an easy low carb steak marinade recipe can breathe new life into your evening meal, adding tasty, spicy accents.
The following low carb steak marinade recipe is made with basil, onion, garlic, salt, black pepper, red pepper flakes, balsamic vinegar, and olive oil. You will need to let the steak soak in the marinade to soak up all the wonderful flavors. If you wish to tweak the recipe, swapping the balsamic vinegar for red wine vinegar, the onion powder for minced fresh onion or the red pepper flakes for a few drops of Tabasco sauce, that is fine.
Marinating Times for Low Carb Steak Marinade
We recommend about 4 hours as a good amount of marinating time, but overnight is also good. If you're marinating a fine cut of steak such as strip steak or filet mignon, half an hour is sufficient, while tougher cuts like flank, brisket or skirt steak can be left in the mixture overnight.
Serve the finished steak with low carb side dishes such as creamed spinach or bacon-wrapped avocado unless you want to try a low carb potato dish, in which case Carisma potatoes might tempt your taste buds. This low carb steak marinade is sure to impress you. Continue reading →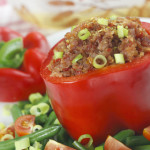 I've always been a fan of stuffed peppers, especially when beef, rice and cheese come together with seasonings to offer a rich and satisfying filling. But this time I wanted to make something without the rice and cheese, and I was curious how to flavor the beef sufficiently so that could be the main ingredient. That is how the idea for these curried beef stuffed peppers was born.
The following curried beef stuffed peppers recipe is made with spices and seasonings to add a light curry flavor to the beef filling, along with walnuts, raisins and other ingredients to add flavor accents. The overall effect is amazing and I am keen to make these curried beef stuffed peppers again soon.
I served the curried beef stuffed peppers with green beans on the side and actually they didn't look much on the plate but, trust me, they are filling! The following recipe makes 2 servings and the amount of filling should be just enough to fill the peppers. Mine was perfect – neither too much nor too little, but of course it depends on the size of your peppers.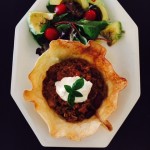 I love chili con carne and find myself making it often, either as a tasty treat for myself or as a shared meal for my husband and I. I usually make a big batch of it so I can enjoy it for lunch the next day, and the next! My husband is diabetic, so I needed to find a tasty low carb diabetic chili recipe which would taste good and look appetizing, and that is when I came up with this one.
The ingredients are nutritious and the flavor in this diabetic chili recipe is wonderful. You can tweak this diabetic chili recipe to your heart's content, swapping the ground beef for chicken or pork, adding more spice (or less!) or swapping the tortilla bowls for homemade tortilla chips. You can use your favorite type of low carb tortillas to make any of these. You could even use a pizza cutter to slice tortillas into strips and scatter those over the finished dish. Now is this diabetic chili recipe sounding tempting?
I have a couple of crockpots – a huge one and a medium (OK small) one, and it's the smaller one I use for making this diabetic chili recipe. I saute the meat with onions and garlic, then stir in the other ingredients and transfer the whole lot into the crockpot. I find 4 hours is enough to cook the chili and get all the flavors rich and perfect if I cook the diabetic chili recipe on HIGH or perhaps 8 to 9 hours on LOW. Which I choose just depends what time of the day I get the mixture in the crockpot.
Continue reading →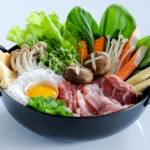 One of my favorite Japanese dishes has to be sukiyaki. This is similar to shabu-shabu, and is a hot pot style dish with thinly sliced beef and vegetables in a sweet, tangy sauce. You can also get vegetarian sukiyaki recipes. This versatile and easy sukiyaki recipe is perfect for cool winter evenings, and you can present or even cook it in a pot in the middle of the dinner table. The ingredients are usually dipped into raw, beaten eggs before being eaten, although this is not so prevalent outside Japan. An easy sukiyaki recipe is usually a winter dish in Japan, often served at year-end parties.
Thinly sliced beef is usually the meat that goes in there, although pork is more popular in some regions of Japan. Tofu, green onions, mushrooms, shirataki or jelly noodles, and Chinese cabbage are popular additions to a traditional sukiyaki recipe.
Different Kinds of Easy Sukiyaki Recipe
There are 2 main styles of sukiyaki – the Eastern Japanese style known as Kanto and the Western Japanese style known as Kansai. In the Kanto style, sake, soy sauce, mirin, sugar and dashi are heated in a pot then the meat goes in, then the other veggies. In the Kansai style, the meat goes in first, then the sauce, and then everything else. Continue reading →
Other Posts You Might Like