Beef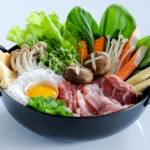 One of my favorite Japanese dishes has to be sukiyaki. This is similar to shabu-shabu, and is a hot pot style dish with thinly sliced beef and vegetables in a sweet, tangy sauce. You can also get vegetarian sukiyaki recipes. This versatile and easy sukiyaki recipe is perfect for cool winter evenings, and you can present or even cook it in a pot in the middle of the dinner table. The ingredients are usually dipped into raw, beaten eggs before being eaten, although this is not so prevalent outside Japan. An easy sukiyaki recipe is usually a winter dish in Japan, often served at year-end parties.
Thinly sliced beef is usually the meat that goes in there, although pork is more popular in some regions of Japan. Tofu, green onions, mushrooms, shirataki or jelly noodles, and Chinese cabbage are popular additions to a traditional sukiyaki recipe.
Different Kinds of Easy Sukiyaki Recipe
There are 2 main styles of sukiyaki – the Eastern Japanese style known as Kanto and the Western Japanese style known as Kansai. In the Kanto style, sake, soy sauce, mirin, sugar and dashi are heated in a pot then the meat goes in, then the other veggies. In the Kansai style, the meat goes in first, then the sauce, and then everything else. Continue reading →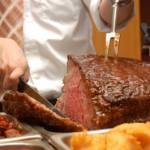 Prime rib is often called the king of beef cuts, and if you like your beef juicy, tender and delicious, you might like to learn more about how to cook prime rib yourself at home. Also known as a standing rib roast, prime rib is marbled with fat to keep it succulent, and it is very easy to cook too.
You just need to start it in the oven on a high temperature to brown it nicely, then turn the oven down so it can finish cooking without the meat drying out. The center of your prime rib roast should be pink or red while the thinner tail-ends will be brown and more done. This is good because people get to choose if they want their meat medium-rare, medium or well-done because you end up with all three.
How Many Does Prime Rib Feed?
A full rack of prime beef gives you 7 ribs and this is enough for about 15 people. A lot of people like to cut a roast in half to cook separately or in 2 ovens, and that's because a full rack is huge and might not fit in the oven unless you happen to have a big oven. The following recipe says 5 ribs but go ahead and choose the size that is best for your needs. Learning how to cook prime rib also involves planning how much you're going to need.
Although some people plan one rib feeding 2 people, that is a lot of meat, and 1 rib per 3 might be closer unless you are feeding a very hungry crowd of people with big appetites. Don't confuse the term 'prime rib' with the USDA term of 'Prime' because most 'prime ribs' are Choice quality not Prime quality. You can get prime rib in Prime quality (it's more marbled and costs about half as much again) but your butcher might have to order it specially for you. This is all part of knowing how to cook prime rib.
Continue reading →
Some More Hot Content For You
The following crockpot recipes for weight loss are perfect for making in a slow cooker. One of the benefits to using a crockpot is you can tip the ingredients in there in the morning, then go to work or out for the day. When you get home your meal will be ready! This mean you don't have to stand over the stove, nibbling on snacks you shouldn't be having, but you can eat your healthy meal right away.
A crockpot, also known as a slow cooker, is an electrical appliance used to gently simmer food. The temperature is kept low so your food slowly cooks over a period of hours. A basic model should have a low and a high setting while others might have a warm setting or even 'keep warm' which means once your dish has finished cooking it will keep warm. This is why preparing crockpot recipes for weight loss is so easy.
Which Crockpot Recipes for Weight Loss to Make in There
Crockpot recipes for weight loss come in all shapes and sizes including mini ones which you might use to cook a chicken breast for one person or a small amount of hot dip, right up to huge ones to make a batch of soup for freezing in portions or a meal for 8 people.
You can choose from round ones or oval ones which are good for cooking, say, a whole chicken, and you can choose from different brands and price tags depending on the features you want your crockpot to have.
Continue reading →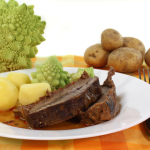 Coffee might sound like a strange ingredient to combine with beef, but it does lend this crockpot coffee braised beef dish a very rich and tasty flavor which complements the meaty beef taste. This recipe can be made in the crockpot and you don't need many ingredients for it.
To make this crockpot coffee braised beef you will need a boneless beef chuck roast weighing about 3 pounds, or slightly over, along with coffee and garlic. Throw in some water, cornstarch, salt and pepper, and those are the only ingredients you need.
Just add your crockpot coffee braised beef ingredients to the crockpot then you can use the cooking liquid to make a tasty gravy which goes over it. I love this with mashed potatoes and vegetables, perhaps carrots and parsnips, or something green like green beans or broccoli (if I were a fan of peas I might choose those). It would also be nice with roasted potatoes.
Continue reading →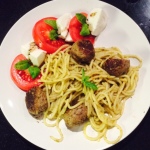 This is a great pesto spaghetti recipe to make if you are in the mood for Italian but also looking for something you can just throw together and have on the table half an hour after you thought of making it!
Spaghetti and meatballs is a typical Italian dish which combines pasta and meat in a simple way, and although a tomato sauce is often served with such a dish, pesto spaghetti is also nice and it is what we are using here, although you can switch one for the other if you like.
We are making baked meatballs and you can prepare the pesto spaghetti while the meatballs are baking, then have everything together at once. Make sure you have some extra fresh basil sprigs for an attractive garnish and consider what you want to serve on the side, or whether you want to omit a side dish and instead serve a tasty side dish such as this delicious Italian bruschetta recipe.
Pesto Spaghetti & Meatballs: Which Meat to Use
Here in Holland you can't get ground pork for whatever reason (don't ask me, I only live here!) so we use half and half (which is half beef and half pork) and that seems to work just fine, but you can use beef or pork if you prefer, or even ground turkey if that is what you like.
Continue reading →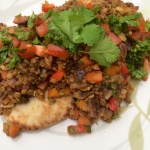 This Indian ground beef recipe is just amazing and I have made it 5 or 6 times. Despite beef not being the most popular meat in India (the Holy Cow and all that) it works beautifully with this recipe and these seasonings, so if you are into beef and you want to make something Indian, consider this recipe.
The ingredients in this Indian ground beef dish work amazingly together and the finished dish is just heaven on a plate.
You will cook the beef and onion, then add chickpeas, curry powder and stock. This mixture is served spooned over naan bread with a fresh tomato and cilantro salad.
Continue reading →
Other Posts You Might Like