Beef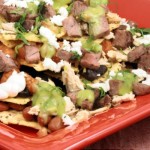 So you want to make the best loaded nachos comfort food? You've come to the right page. Very few dishes offer as much as nachos do, and that includes the wonderful flavors combining spicy with creamy with mild, as well as textures because you have all kinds of those, ranging from soft to crunchy. Nachos can be served as a snack, appetizer or meal, and homemade nachos are, of course, the best!
The following best loaded nachos comfort food recipe combines nachos with beef, homemade pico de gallo, cheese, spices, and more. But this is your recipe so you could take inspiration from the photo and use leftover roast beef instead of the ground beef if you want, or swap the guacamole for chopped avocado, or use queso fresco instead of cheddar.
Just use any toppings you want on this best loaded nachos comfort food and you are sure to end up with a wonderful result. Nachos are typical comfort food and everyone gets excited when you are making them. They are also very cheap to make. Continue reading →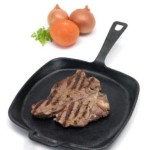 T bone steak is relatively lean and extremely tasty. Choose one with a nice red color and a bit of marbling and then you can pan fry it for amazing results. If you usually grill your steaks, consider pan-frying instead because you will still get a really good flavor, plus 'grill marks' if you are using a griddle pan (a ribbed pan) and if the weather isn't quite warm enough to fire up the grill, you can still cook your T bone to perfection. Learn how to cook a T bone steak in a pan and you can prepare a side dish in the oven at the same time, and always know how to make juicy, tasty steak.
Cooking the T bone steak in a pan means you can bring out its wonderful flavor and sear it beautifully. The T bone comes from beef top loin and it is so named because of the shape of the bone. One steak offers about 300 calories, 20g of protein and no carbs.
The hot surface of your pan will sear the steak and you do not have to add extra fat to the pan when cooking a T bone in this way if you use a cast iron pan or griddle pan.
How to Cook a T Bone Steak in a Pan – An Important Tip
It is important to let a steak come to room temperature before cooking and that applies to all steaks and all cooking methods, so it is good practice. Either let it sit on the counter for about 45 minutes or wrap it tightly and let it sit in room temperature water for half an hour if you're in a rush. Continue reading →
Some More Hot Content For You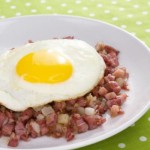 This corned beef hash recipe is fantastic and it is versatile enough to be breakfast, brunch, lunch, or just a comfort food snack if you are in the mood for it. The twist is the cream in the recipe and even though that might sound like an odd ingredient for corned beef hash it totally transforms it from good to great, so give this recipe a try and this might be how you make your corned beef hash from now on.
As well as the potatoes and corned beef you will need butter and cream to add a luxurious mouth feel, onion and bell pepper to add nutrients, color and crunch, and some eggs if you wish to garnish your corned beef hash with fried eggs (and that really finishes the dish off beautifully!)
Once the potatoes have been cooked to just tender, you need to drain them well. While the last drops are draining off, you can pulse the corned beef in your food processor, not for long, just until it is chopped coarsely. Continue reading →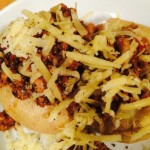 Chili is always good, especially when served on a baked potato with some grated cheese on top, and perhaps also some sour cream or guacamole if you like it. Try chili with baked potato for lunch and see how satisfying this dish is.
Chili is versatile enough to be tweaked a lot, so not only can you choose how spicy you want it but you can also choose the ingredients which go in there, such as kidney beans or another kind of bean, garlic, even some grated Mexican chocolate or cocoa powder if you wish.
This recipe shows you how to make a simple chili con carne recipe using ingredients guaranteed to come together seamlessly and offer an abundance of flavor. Feel free to make your own tweaks.
A vegetarian might prefer to use Quorn or TVP rather than the meat, while someone who isn't keen on beans might prefer to leave them out and perhaps add some chopped red bell pepper to the chili mixture instead. The choices is yours. Continue reading →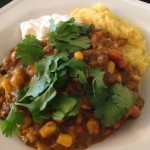 This is a 4-step guide to making curry, and you can make it as mild or as spicy as you wish. Follow the steps learning how to create your own curry recipe and you will end up with the most delicious dish. There is nothing to worry about when making such a dish and it is best to get creative. So read through this to find out the 4 stages of curry making, then get yourself into the kitchen and prepare something wonderful – no need to follow any recipe to the letter!
Step 1 in this how to create your own curry guide is all about softening any dense ingredients which will take a long time to tenderize. If you are using tough cuts of meat then you can also par-cook those in another pan.
Step 2 in our how to create your own curry guide is about getting the initial flavor of your curry ready and you may choose from any of the spices or seasonings or just use a tablespoon or two of ready-made curry paste if you prefer. Continue reading →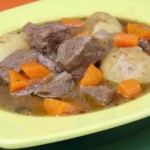 Not being able to eat gluten doesn't mean not being able to enjoy beef stew, and it is perfectly possible to make this tantalizing dish without the gluten. This crock pot beef stew gluten-free dish is a wonderful dish for the cooler months.
It is tasty, filling and packed with amazing flavors. The whole family will enjoy this crock pot beef stew gluten-free recipe and you will find it easy to put together.
This stew boasts beef, potatoes, carrots, celery and onion, as well as carrots for sweetness and color. Beef broth (choose a gluten-free one of course, or use a homemade one) and bay leaves add more accents to the flavor, as does garlic. Continue reading →
Other Posts You Might Like