Beef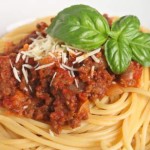 This easy spaghetti Bolognese sauce is so good. Once you have made it you will never want to use a jar of spaghetti sauce again! Making your own is always best and this recipe is so easy as well. Featuring ground beef and red wine for a full flavor, this easy spaghetti Bolognese sauce also includes garlic sausage or bacon, as well as garlic and mushrooms, for a gourmet flavor.
In fact this easy spaghetti Bolognese sauce would be special enough to serve at a dinner party. Everyone loves Italian food and serve this over fresh spaghetti with a sprig of green basil on top for a beautiful meal. Serve a glass of Italian red wine on the side to add to the Mediterranean feel of the meal, and perhaps offer some tiramisu for dessert just to make the meal even more memorable.
See How Easy It Is
Most of this easy spaghetti Bolognese sauce recipe is just a question of adding the ingredients to a dish and pressing 'cook' on the microwave. That is honestly how easy it is. Once this is cooking in there, put on a pot of pasta and then serve everything together, with some freshly grated parmesan for sprinkling over the top. Yum! Continue reading →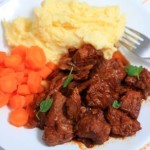 This microwave beef stew Belgian style is one of the best stew recipes I have tried. Living so close to the Belgian border we can simply go over any time we crave this full-flavored stew and satisfy our cravings, but it is just as easy to make yourself at home, so read on and discover how the Belgians make a tasty beef stew.
The following recipe shows you how to make this dish in the microwave which is perfect if you do not want to stand over the stove, stirring, or use a crockpot. The end flavor is just the same as the slow-cooked version but it is much faster.
Microwave Beef Stew Belgian Style: What Kind of Beef to Use
The recipe features braising steak, which might be labeled skirt, flank or stewing steak (any tough, cheap cut is good for making this rustic stew) as well as onions and garlic. Beef stock, light ale, herbs and a pinch of brown sugar contribute towards the distinctive flavor. Continue reading →
Some More Hot Content For You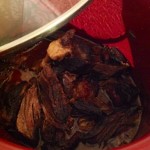 I often make this dish because it is so simple, and all you need to make it are 2 ingredients – beef and BBQ sauce. Any tough cut of beef which needs to be braised or slow cooked will work, so opt for braising or stewing steak, or something like skirt or flank. You will also need a crockpot and it is up to you whether you want to cook this 2 ingredient crockpot BBQ beef recipe on high, medium or low.
How Long Should 2 Ingredient Crockpot BBQ Beef Cook?
Use high and the beef will be done in about 5 hours. Double that for low, and guess somewhere in between the 2 for medium. Of course, the exact time depends on your crockpot and the meat you are using, but once you can easily pull the meat apart using a pair of forks it is ready to serve.
You can also keep this on your crockpot's 'keep warm' setting for hours. Once the beef is tender it will not toughen if you keep it warm or cook it a little longer, making this 2 ingredient crockpot BBQ beef recipe rather foolproof! Continue reading →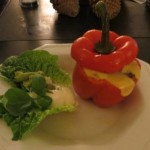 You will find these beef and cheese stuffed bell peppers to be really filling. If you are not sure that one stuffed bell pepper is going to be sufficient for your meal, don't worry, because it will be! I love making beef and cheese stuffed bell peppers. Sometimes I use a rice based stuffing but the beef and cheese option is also very nice. It is filling and if you are keeping an eye on your carbs then that is another reason to make these.
Stuffed peppers look attractive and while some people throw the top away I like to cook it in the baking pan with the stuffed peppers and then put it back on at the end. I just like the presentation done that way.
Make the Stuffed Peppers Unique
Feel free to experiment with the filling in these beef and cheese stuffed bell peppers. If you want to use ground pork instead of ground beef, or use Swiss cheese or cheddar, just go ahead. You can also make the filling spicy if you want. There is no right or wrong way of making these, and you can just use this recipe as a guideline and make the dish however you want. Continue reading →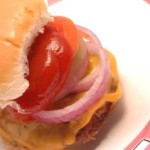 Sometimes nothing can beat the comfort food appeal of a juicy, freshly cooked hamburger. If you make cheeseburgers at home, you might be interested in learning a few handy cheeseburger tips to ensure your burgers always come out perfectly.
One of the most important parts of your cheeseburger is the meat you use for the patty. For the best results, you should choose 80/20 ground meat. That means it is 80% lean and 20% fat. If you use lean, or worse still extra-lean, meat, you will end up with a dry burger, and that is never attractive. Fat isn't the enemy. Serve your burger with some salad or a vegetable side dish to balance out the meal.
One of the best cheeseburger tips: the cheese is just as important as the meat, but there is no reason why you must use American sliced cheese. Experiment with some different kinds, like halloumi, feta, white cheddar, fontina, Asiago, or a Mexican cheese blend, to add a brand new taste. Blue cheese can be really good in there too. Continue reading →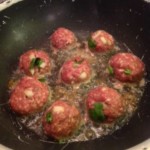 This is a wonderful recipe and it is also low in carbs. I love this Asian meatballs with sweet chili sauce recipe because I never get tired of the taste. I used to own the site Crackslaw.com where you could find out how to make all kinds of crack slaw recipes, something else that offers a wonderful Asian flavor. I've since moved them all on to this blog, so look at our low carb category and you will find plenty more ideas.
Anyway, back to the Asian meatballs with sweet chili sauce. I had some ground beef to use up and some other bits and pieces and I asked my sister for inspiration and she came up with the idea to make these delicious meatballs. Luckily I had all the ingredients I needed.
What Meat to Use
The meatballs can be made using ground pork, beef or even chicken or turkey if that is what you have. You can add as much or as little flavoring as you wish. Some people just like to roll the ground meat into balls and fry those, but I like to add a few seasonings to them. Continue reading →
Other Posts You Might Like