Chicken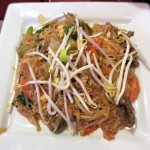 I never get tired of this wonderful dish – it really is the best traditional Pad Thai recipe. The rice noodles, shrimp, tamarind, nuts, lime juice and other ingredients work together in perfect harmony and the flavor is simply wonderful.
The full name of pad thai (sometimes spelt pat thai) is kway teow pad thai, which means stir-fried rice noodles in a Thai style, and it is thought to be a southern Chinese dish which was introduced to Thailand in the mid-20th century.
Pad Thai Noodles
It is important to cook the noodles perfectly in order to make the very best traditional Pad Thai recipe. You will need 'rice sticks' which are dried flat noodles. Some people soak them while others boil them. I've tried both ways and both work fine. Continue reading →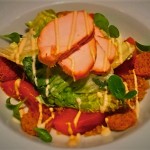 This easy chicken and peach salad takes mere minutes to put together and it's a great way to use up leftover cooked chicken. I've made it with chicken breast but you could use other cooked chicken pieces or some deli chicken slices. You could even use rotisserie chicken to make this (perhaps, still warm – yum!)
This easy chicken and peach salad is made on a bed of iceberg lettuce, but of course you can switch the iceberg for any variety. Baby salad leaves would be good or chopped romaine. I like to add some lamb's lettuce or a contrasting variety as well. Then you have the chicken on top, plus some peach for juicy sweetness, and then some crispy, crunchy croutons for a contrasting savory flavor and different texture.
Easy Chicken and Peach Salad Dressing
The easy chicken and peach salad dressing is an interpretation on Marie Rose sauce or thousand island dressing. The whisky in our easy chicken and peach salad dressing is optional (but throw some in if you have it) or you can use brandy. Actually this sauce is normally served with seafood recipes such as prawn cocktail but it goes just as well with chicken thanks to the chicken's neutral, simple taste.  Continue reading →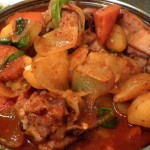 Chicken is a popular ingredient in Mediterranean cuisine, and this Spanish inspired recipe makes the most of chicken thighs, a naturally juicy, flavor-packed part of the bird. Chicken thighs tend to be more economical than chicken breasts, and they also offer more juiciness and a richer flavor, so you have a win-win situation if you choose to buy them and use them in this Spanish paprika chicken recipe. Look out for discounted ones because they freeze beautifully.
What to Use in Spanish Paprika Chicken
We are adding onion and garlic to our Spanish paprika chicken, along with red wine vinegar, tomato paste, mustard, paprika, chicken stock and sherry, plus potatoes (or, if you prefer, use half potatoes and half carrots).
You can tweak the ingredients for Spanish paprika chicken if you wish, if you don't have something or want to throw something else in there. The chicken stock can be switched for mushroom or vegetable stock. You can also throw in some button mushrooms or bell pepper strips which need to be used up. Any of those would be fine. Continue reading →
This wonderful recipe for tandoori chicken in the oven is made with chicken pieces. You can use drumsticks, breast halves, leg quarters or chicken thighs, either bone-in or boneless to make tandoori chicken in the oven. The marinade is made with yogurt (use whole or nonfat, as you prefer) along with lemon juice, garlic, chili paste and a variety of aromatic spices, Leave the chicken pieces in the marinade overnight for the best results.
Once the chicken is marinated and you are ready to cook it, get the oven nice and hot, then arrange the chicken on a rack over a roasting pan so all the parts of the chicken are exposed to the heat and so any marinade can drip off and on to the roasting pan underneath.
Tandoori Chicken in the Oven Side Dishes
Our tandoori chicken in the oven recipe goes very nicely with homemade raita (stir some grated cucumber and fresh mint into yogurt), your favorite green salad or green vegetable, and perhaps also some delicious white rice or naan bread. Consider garnishing the finished tandoori chicken in the oven recipe with some slices of raw onion and lemon wedges, or else a sprig of cilantro or parsley instead.
This is a simple recipe to prepare, and as long as you plan ahead, to allow yourself sufficient marinating time, you should really enjoy the results of this tandoori chicken in the oven recipe.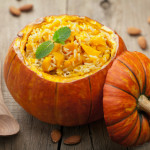 This is such a great recipe for the fall (or maybe you call it autumn, depending where you're from) and the juicy chicken, sweet pumpkin, comforting rice, and other tasty flavors in here combine beautifully to make this gorgeous chicken pumpkin risotto.
To make a flavor-packed risotto, stick to delicate, fragrant flavors, and you will experience this timeless Italian dish the way it was meant to be enjoyed.
That Wonderful Risotto Texture
To get the texture of the chicken pumpkin risotto just right, use risotto rice (arborio or carnaroli perhaps) and keep adding the liquid in small amounts, letting the rice absorb the liquid before adding more. The rice is done when it is al dente, which means it still has a little bite to it. You might not need to use all the hot stock.
We are going to be cooking the pumpkin and chicken first, then sauteeing the onion and garlic in olive oil. Next the rice goes into the mixture, and you can add the wine, then the chicken stock bit by bit, letting the rice soak up the liquid.
Finally the chicken and pumpkin go back into the chicken pumpkin risotto and you can stir in the parmesan. Use freshly grated parmesan, not that cheap powdery stuff (which isn't actually parmesan at all).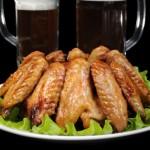 These baked chicken wings are so good. If you are in the mood for chicken wings but you don't want to fry them, try this recipe instead because they come out just as crispy as fried wings but are healthier because they aren't going to be submerged in fat.
A Flavorful Coating for Baked Chicken Wings
The coating is made with flour, paprika, garlic salt, pepper and cayenne, and the wings are cooked in a little butter to crisp them up and stop them sticking to the baking dish. Swap the cayenne pepper for Hungarian paprika if you want, or the garlic salt for regular salt and a pinch of garlic powder, and the flavor of our baked chicken wings will be very similar.
This baked chicken wings recipe can be doubled or tripled easily enough if you want to feed a crowd rather than just make a snack or meal for a couple of people. The chicken wings refrigerate well and they even stay crispy so you can enjoy them cold the next day with a salad perhaps, or take some to work with you.
Easy and Sure to Be Popular
This easy baked chicken wings recipe is one you will find yourself making often because the chicken is so flavorful and it comes out moist and juicy. Also, this is a good recipe if you are watching your figure because it's healthier than fried chicken.
Continue reading →