Chicken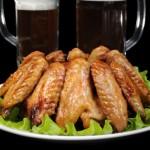 These baked chicken wings are so good. If you are in the mood for chicken wings but you don't want to fry them, try this recipe instead because they come out just as crispy as fried wings but are healthier because they aren't going to be submerged in fat.
A Flavorful Coating for Baked Chicken Wings
The coating is made with flour, paprika, garlic salt, pepper and cayenne, and the wings are cooked in a little butter to crisp them up and stop them sticking to the baking dish. Swap the cayenne pepper for Hungarian paprika if you want, or the garlic salt for regular salt and a pinch of garlic powder, and the flavor of our baked chicken wings will be very similar.
This baked chicken wings recipe can be doubled or tripled easily enough if you want to feed a crowd rather than just make a snack or meal for a couple of people. The chicken wings refrigerate well and they even stay crispy so you can enjoy them cold the next day with a salad perhaps, or take some to work with you.
Easy and Sure to Be Popular
This easy baked chicken wings recipe is one you will find yourself making often because the chicken is so flavorful and it comes out moist and juicy. Also, this is a good recipe if you are watching your figure because it's healthier than fried chicken.
Continue reading →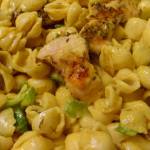 Pasta is not the first ingredient that should come to mind when you think about Indian cuisine because of course it is an Italian ingredient. However that is the beauty of fusion cooking. This Indian pasta salad offers some exciting flavors, all of which go together nicely. When combined they offer an exotic flair in what would otherwise just be a basic pasta salad.
You can find all kinds of ingredients in this Indian pasta salad which come together wonderfully. The neutral flavor of pasta along with its firm al dente texture means a spicy, aromatic dressing is sure to suit it instead of clashing. In the following recipe we are teaming our pasta and chicken breast with a fragrant Indian inspired dressing.
Taking inspiration from the classic English Coronation chicken recipe, this salad boasts plenty of exotic flair. Learn more about how British Indian cuisine began and grew and you will soon see how such dishes gained such popularity in the UK.
Serving Tips and Tweak Ideas for Indian Pasta Salad
This Indian pasta salad pairs well with a bunch or red grapes. Alternatively you could serve it over a bed of lettuce, or even just as it is for a 'lunch in a rush' at your desk. Feel free to tweak the ingredients. Perhaps you prefer to use turkey (or have some left over) instead of chicken. Maybe you'd like to swap the celery for green bell pepper or the slivered almonds for cashews.
Some More Hot Content For You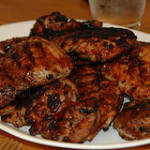 Chicken thighs are a wonderful option. Not only are they cheap and easy to find, but they are also very tasty, boating plenty of flavor. You can make all kinds of delicious boneless skinless chicken thigh recipes and you are sure to adore the taste. Unlike chicken breast, which can dry out quickly, the higher fat content in chicken thighs keeps them succulent and moist. They are forgiving even if you overcook them a bit. If you spot some on sale in the grocery store, grab them because there are plenty of wonderful boneless skinless chicken thigh recipes you can rustle up using chicken thighs. You can expect a great flavor from a good chicken thigh recipe and anyone can cook this juicy cut of poultry to perfection.
Chicken Thighs vs. Chicken Breast
Chicken thighs are dark meat which means a lot of people assume they are less healthy than chicken breasts, although actually these 2 cuts of chicken don't differ much in nutritional content. Any kind of meat from an animal is high in protein, which is important for muscle building, cell regrowth and immune function – yet another reason to make boneless skinless chicken thigh recipes.
There are no carbs in chicken, although using a sweet marinating liquid might change that. Chicken thighs do have more fat than chicken breast (almost double) but remove the skin from chicken thighs to reduce it. Chicken thigh recipes easy as they are, are worth making because of the wonderful flavor, plus you can get all that for a fraction of the cost of buying chicken breast.
Continue reading →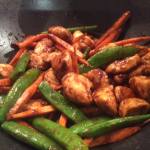 This easy Chinese chicken stir fry is the simplest Chinese recipe ever, and once you make it you will certainly want to make it again and again. We are using chicken and vegetables, along with a flavorful sauce, and this makes a wonderful dinner served with rice, noodles or your favorite Asian side dish.
You will need skinless, boneless chicken breast to make this easy Chinese chicken stir fry, along with vegetables (either snow peas and water chestnuts or carrots, or anything else you like, such as mushrooms, bamboo shoots, broccoli or bell pepper).
The sauce for the easy Chinese chicken stir fry is up to you. I like to combine 2 tablespoons of hoisin sauce with a tablespoon each of soy sauce and oyster sauce, but use whatever you had. Perhaps you want to use another kind of Chinese cooking sauce or simply add a splash of teriyaki, a splash of soy sauce and a few roasted sesame seeds. You can really go to town and get creative here because anything goes.
Continue reading →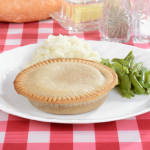 Pot pies make a great meal and, being English, I have tried lots of British pot pie recipes. Although some people claim pot pies are not English, I beg to disagree. English chicken pot pies are not only 'a thing' but they are yummy! In the UK if you eat 'pub grub' or a simple meal in a pub, you can expect at least one kind of pie on the menu. My own favorite is beef and ale pie, although chicken makes a nice change, either paired with corn or with mushrooms. I like either mashed potatoes or fries with mine, along with baked beans or some kind of vegetable.
Although large pies which you can cut into wedges are nice, individual ones are just as easy to make and they look attractive on the plate. You can make English chicken pot pies any size you want.
Ingredients for English Chicken Pot Pies
In the following recipe we are using chicken breast but you can use chicken thigh if you prefer the richer flavor. You can also swap the peas and corn for mushrooms and leek, or tweak the filling, perhaps adding black pepper, a little honey and maybe even some white wine if you want.
Continue reading →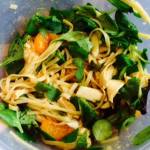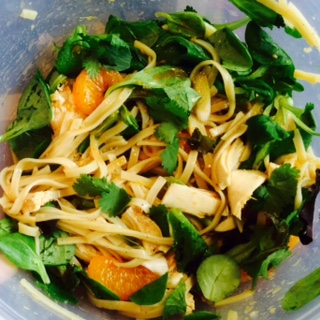 Chinese chicken salad is a tasty, nutritious option and it makes a wonderful lunch. Perhaps you usually have ranch dressing, blue cheese dressing or Italian dressing over mixed leaves and you are getting tired of it.
Or it could be you are simply looking for new lunch inspiration. Whichever is the case, this Chinese chicken salad is very simple to prepare and the flavors work wonderfully together.
What is Chinese Chicken Salad?
You can use a julienne peeler to cut the vegetables into matchstick shapes, or if you don't have one cut them by hand. We are using romaine and baby leaves in this dish too, along with grilled chicken, edamame beans, green onion and mandarin segments. The dressing is especially delicious, made with soy sauce, hot sauce, garlic, honey, mustard, rice wine vinegar, and herbs.
Continue reading →
Other Posts You Might Like