Lamb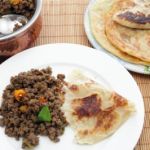 This lamb coconut curry with sweet potato recipe uses ground lamb rather than stewing lamb, and also includes sweet potato and peas, if you like, along with coconut milk, garlic, ginger, and curry powder to season it and add the flavors. This is a winter warmer and something lovely to enjoy on a chilly evening, to make a change from the beef or chicken curry recipes you usually prepare.
An easy curry recipe to make, this lamb coconut curry with sweet potato dish is sure to appeal to all the family, and if you wish to tweak it, for example by swapping the sweet potato for pumpkin, the peas for garbanzo beans, or hot curry powder instead of the mild kind, go ahead and you can really make this recipe your own.
I have made this lamb coconut curry with sweet potato a few times and really love it. It is good with rice or you could serve it with paratha or naan, or another Indian bread variety. The savory flavor of the lamb is incredible with the sweet potato, contrasting wonderfully, and there are various textures to enjoy in this dish too.
Continue reading →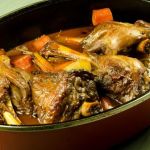 Lamb shanks are a wonderful thing to serve on a cold day, so as fall arrives and winter rolls in, stock up on these meaty treats and you can braise them to make the most delicious meals. Braising means slow-cooking in liquid, and you can choose from beer, wine or other liquids. There is plenty of meat on a lamb shank and the flavor is phenomenal. I especially love this braised lamb shanks in red wine recipe because the flavors are so amazing.
So Much Appeal in this Dish
Lamb shanks smell incredible while they cook and the flavor will drive you half-crazy with anticipation! The following braised lamb shanks in red wine recipe is easy to make and the ingredients are easy to find. The lamb is browned then cooked with onion, carrots and celery, garlic, bay leaves, peppercorns, and red wine.
Use a casserole dish on the stove and in the oven, or else use a heavy pot on the stove and transfer the mixture into an ovenproof casserole to bake. It just depends what you have to hand.
Braised lamb shanks in red wine is excellent served with mashed potatoes and this recipe makes 4 portions, but you can always double it if you are feeding a crowd. Once you have experienced the amazing flavor of this braised lamb in red wine recipe you will certainly want to make it again.
Some More Hot Content For You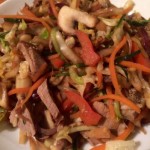 This recipes uses leftover lamb, but you could use any leftover meat to make it. Just chop it into small pieces and then you can add it to the recipe. The vegetables add flavor and color to the dish, and you can feel free to use your favorites. I love lamb crackslaw because it's tasty and oh so filling.
If you want to swap the carrot for broccoli, for example, go ahead. This could be served with a starch on the side, but I usually just have it as it is, because it is satisfying enough like that. In fact it is really filling.
This recipe is really appealing and even if you are not following a low carb diet you will love it.
Hoisin sauce does contain sugar, so avoid this dish during induction, or use a sugar-free, low-carb Chinese cooking sauce instead. Continue reading →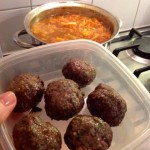 I love this Lebanese lamb meatballs recipe. I've only made the meatballs once so far but it's something I'm definitely going to make again!
These Lebanese lamb meatballs boast plenty of herbs in the form of parsley and mint. You might be surprised at the amount of herbs in these meatballs but, believe me, the combination works really well.
Ground lamb is something I don't use that often, just because the only place I can get it where I live is the Cash and Carry and that's not somewhere I go much, but when I do use it I like to make something special, perhaps some comfort food like shepherd's pie, or else something Greek or Middle Eastern like this Lebanese lamb meatballs dish.
Mouthwatering Middle Eastern Cuisine
Middle Eastern dishes with lamb work especially well because fresh herbs and spices, which feature in a lot of the recipes from the region, work so nicely with the flavor of the lamb. Continue reading →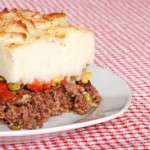 If you are in the mood for shepherd's pie and wondering whether it can be made if you don't have an oven, the answer is yes, you will be pleased to hear. Try this stovetop shepherd's pie for dinner. The kids will love it and so will you!
Shepherd's pie is like cottage pie but made with lamb (hence the shepherd reference) rather than beef. This is something which appeals to kids and adults alike, because everyone loves the harmony you get when combining the juicy meat mixture with the wonderful potato topping.
Some home cooks will make their stovetop shepherd's pie recipe quite basic, topping a gently flavored meat mixture with mashed potatoes, while others like to add diced vegetables to the meat mixture, and even baked beans or other kinds of beans.
Gravy combines with the meat mixture to ensure it is moist and rich tasting. Is your mouth watering yet? That's what happens when you think about stovetop shepherd's pie! Continue reading →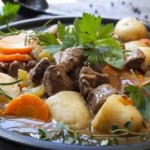 When the cold months are here, nothing is as comforting as an Irish lamb stew recipe with bacon. There are different Irish stew recipes to choose from, but the main ingredients stay the same, and those are lamb, potatoes and carrots, as well as a delicious sauce/gravy.
This Irish lamb stew recipe with bacon is nice served with a generous chunk of bread for sopping up all those wonderful juices. You can make a huge pot of it and let people ladle some into their bowls. Most of the family will want a second bowlful because this is such a tasty meal.
Something great about traditional Irish stew is its simplicity. You do not need lots of different ingredients to make it because all the flavor comes from the meat and vegetables. If in doubt, why not make a pot full of this. Everyone is sure to be blown away by the amazing taste. Continue reading →
Other Posts You Might Like