Pork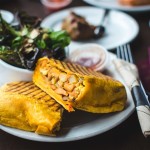 A beloved Mexican and Tex-Mex food, a burrito makes a great lunch, dinner or snack. And this is the best breakfast burrito recipe I ever tried! One modern trend is all about presenting this hearty delight first thing in the morning and calling it a breakfast burrito. So you can have your breakfast all rolled up neatly burrito-style. A breakfast burrito recipe will contain typical breakfast ingredients like potatoes, bacon, eggs, mushrooms, whatever else you like. These fillings will be hot and cooked, enclosed in a soft flour tortilla.
Burritos are wrapped or folded to enclose the filling, unlike a taco which is usually folded in half around the filling. Some people like to steam or lightly grill the tortilla to softed it, so it wraps around the filling more easily. Order a regular burrito in Mexico and you can expect meat and refried beans to be your typical filling. Head north of the border into the US though and you will find a wider variety of fillings like rice, beans, lettuce, salsa, cheese, sour cream, guacamole and, where breakfast burritos are concerned, even bacon, eggs and hash browns – hey, why not!
The word burrito translates from the Spanish to mean 'little donkey' and it is thought the name comes from the look of the bedrolls and packs donkeys used to carry. Try this best breakfast burrito recipe when a bowl of cereal simply isn't enough to prepare you for the day ahead. Continue reading →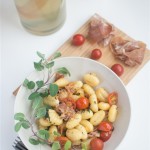 Gnocchi makes a change from pasta or pizza but is just as Italian. So if you are in the mood for Italian food but not something too, well, obvious, consider gnocchi! This dish, which comprises potato gnocchi, cherry tomatoes and mozzarella, is also known as gnocchi alla sorrentina. Gourmet gnocchi makes such a nice dinner. It's the perfect balance between satisfying and delicate.
I like to add prosciutto to the dish but you could add serrano ham or regular ham instead (the thinly shaved kind) or else just leave it out, for a vegetarian result. You could even get creative here, adding shredded cooked chicken or similar, as a way of using up leftovers from last night's meal.
What is Gnocchi Exactly?
Gnocchi is like a little dumpling made of potato and flour. You can make your own or grab a package from the pasta and rice aisle in the grocery store. Obviously it's far easier just to grab some ready-made. If you add plenty of fresh ingredients you can restore a homemade flavor to the dish. We are adding cheese, tomatoes and ham, and this adds plenty of flavor and color, and it's also really easy to make this simple Italian staple into a gourmet gnocchi meal ready to knock your partner's socks off with big, bold flavors!
Serve this with some crusty bread, preferably ciabatta or another kind of Italian bread if you can get it, along with butter. Add a baby leaf salad and some kind of basic dressing like extra-virgin olive oil and red wine vinegar or balsamic vinegar, and you have a delicious entree which everyone will love. This certainly makes an exciting change from the usual pasta recipes. Continue reading →
Some More Hot Content For You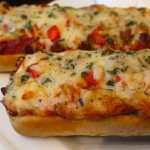 Pizza comes frozen or from the pizza delivery place or from your local Italian restaurant. But wait, what about the best pizza? Well that would be the kind you make yourself at home! Honest, it's so quick and easy to make pizza yourself and you don't even have to make the dough. This homemade pizza on French bread will have the kids (and grownups) beating down the kitchen door, it smells so good!
The quickest pizza recipe probably has to be this tortilla pizza but next up you have baguette pizza or French bread pizza, which is French bread, French stick or baguette bread (however you call it) topped with tomato sauce and pizza toppings to make the most amazing appetizer or main dish.
Why Use French Bread as a Pizza Crust
French bread makes a great pizza crust since it is naturally crispy on the outside and soft in the middle. It really is so delicious! Top with your favorite sauce and toppings and you will find just anything goes. Get as inventive as you wish with a homemade pizza on French bread.
In addition to French bread being crispo and tasty, it holds the sauce and toppings really well, so the next time you fancy Italian food but not spaghetti carbonara or traditional pizza, consider this French bread pizza recipe and rustle up something quick, easy and above all… tasty! I like shrimp on mine, or maybe tuna or another kind of seafood. I just like seafood pizza. Oh, and smoked salmon – that is good too!
Continue reading →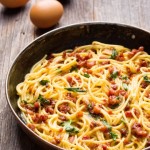 This is a classic Italian dish made with spaghetti, bacon and eggs. There are different variations – some people add cream or cream cheese, some will add parsley or another herb, and others will use whole wheat spaghetti over white spaghetti. However you prefer it, an easy spaghetti carbonara recipe is well worth adding to your culinary repertoire.
The following recipe is really simple, even if you are a newbie in the kitchen, and the flavor is amazing. This is good served with mixed salad leaves dressed with vinaigrette. Learning how to make spaghetti carbonara is a great idea if you want to serve something impressive but only have 2 pots on the stove.
When I made this easy spaghetti carbonara, I chose to add some cream cheese. It wasn't necessary (I mean, it would've been good without it) but I wanted some creaminess in there. The authentic spaghetti carbonara recipe is made without the addition of cream or cream cheese, but if you want to add some, well it's your dish! I also added turkey because I had some to use up and that was great in there. Continue reading →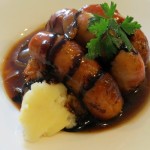 What is bangers and mash, you might be wondering, and how do you make a British bangers and mash recipe? Well, one of the most popular examples of British comfort food, bangers and mash is a dish of bangers (sausages) with mash (mashed potatoes). It is usually served with thick brown onion gravy drizzled over the top.
I like to use plenty of onions in this British bangers and mash recipe or even forgo the sauteed onions and make a delicious onion gravy. You can use any gravy you want, either making it the lazy way with gravy granules or, if you prefer, making your own from scratch.
What Kind of Sausages for a British Bangers and Mash Recipe?
Choose big, fat sausages for making a British bangers and mash recipe. It is not a recipe for chipolatas or dainty little cocktail sausages. Although you can use pork sausages, beef ones are really good here, or you might like to try venison sausages to take this dish a little more upmarket; if so, add some minced garlic to the mashed potato.
Do you want to serve something with this British bangers and mash recipe? Consider broccoli, green beans or another green vegetable to round out the meal. Carrots would also work here.
For the drink, what about a cold apple cider or glass of beer? A light, fruity red wine (very lightly chilled) would also work if you are serving this British bangers and mash recipe and you want some wine. This makes an excellent weekday recipe for the whole family. It serves 8 so you can halve the recipe unless your family is huge or you are having friends over too!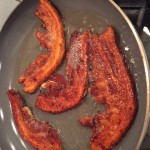 I've been living in Holland for several years and cooked speklappen, also known as speklapjes, for my husband a number of times. Speklappen or speklapjes (the same thing) means pork belly slices. You can get these quite cheap and they are easy to cook. Also, you can use them in a number of different recipes including the following Dutch speklappen or speklapjes recipe.
The best way to cook these is in a little oil. Get the oil hot in a skillet or frying pan, then add the speklapjes in one layer and fry them. You will see them turn golden brown and crispy. Flip them halfway through  cooking so they cook evenly on both sides.
You can then toss them in your favorite Asian sauce and serve them over egg noodles or egg fried rice, or else have them over mashed potatoes with gravy, or just serve them as they are with your chosen side dishes. That's how simple it is to prepare a Dutch speklappen or speklapjes recipe which the whole family will enjoy.
Other Posts You Might Like