Pork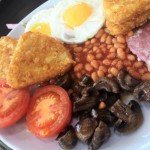 An English breakfast, often known as a full breakfast in England, is a breakfast meal which usually includes back bacon, fried, scrambled or poached eggs, sausages, and sometimes tomatoes, mushrooms, hash browns (yes they're American not English, but popular these days!), black pudding, baked beans, toast or fried bread, and tea or coffee. Want to know how to make an English breakfast yourself? Read on for some tips.
Bubble and squeak (mashed potatoes and cooked vegetables mashed together and fried) sometimes feature, while in the North you might get fried or broiled oatcakes instead of fried bread or toast.
How to Make an English Breakfast as an All Day Breakfast
Some pubs and cafes in England offer an 'all day breakfast' so you can enjoy this tasty meal whenever you like, whether you wake up late but not late enough for lunch, or you just crave a delicious English breakfast later on in the day. Another name for this type of breakfast in the UK is 'fry up' because most items on the plate are fried. Learn how to make an English breakfast and you can make this today. Continue reading →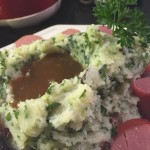 Dutch kale stamppot is a dish I make often, first because my husband is Dutch and grew up with it, and second because it's hot, comforting and delicious! Perhaps you have tried other Dutch recipes such as our slavink recipe, or maybe you are new to this cuisine. Either way, you will find Dutch kale stamppot with sausage very simple to prepare.
You will need mashing potatoes (I use low GI Carisma potatoes because my husband is diabetic) along with kale. Those are the main two ingredients in kale stamppot, known in Holland as boerenkool stamppot.
In addition, I recommend some smoked sausage, known locally as rookworst. This has a similar texture to a thick frankfurter. Use another kind of sausage if you prefer, or even franks if that's all you can get where you are, but look out for the typical Dutch rookworst sausage, because I can't imagine a better match than stamppot and rookworst! Yes, the sausage really makes the Dutch kale stamppot what it is.
Some crispy bacon makes a nice garnish too, although that's optional in this Dutch kale stamppot recipe. The potatoes and kale are drained and mashed with butter, salt, pepper and a splash of vinegar if you like. I like to add raisins too but that's optional. Continue reading →
Some More Hot Content For You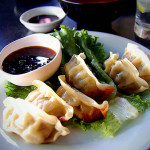 It is fair to say that potstickers are well-loved, and no wonder, when they boast such an incredible flavor in every bite. One is never enough. If you know something about potstickers history or you just like to eat them, you might already know through history potstickers have gone by a variety of names, including guotie, Peking Ravioli, pork dumplings, and wortip. Potstickers are both pan-fried and steamed.
Once the little dumplings are filled they are pan-fried on one side and then steamed in water or broth, so they end up crisp and browned on one side but easy to remove from the pan with a spatula. Try not to overcook them though, because then they will stick!
Curious Potstickers History
These little treats have been around since the Chinese Song dynasty, which dates back to 1280AD) although the exact origins are not known. According to legend however, they were invented when a chef in China's Imperial Court accidentally burnt some dumplings. Oops! Continue reading →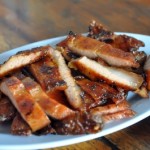 Pork tenderloin suits flavors like fruit, apple or even ginger, which is why we are using ginger in this roasted pork recipe. Along with thyme, the ginger gives the pork a really good flavor, and after the pork is cooked, we are giving it a couple of minutes under the broiler just to crisp up the top and caramelize the preserves, adding a mouthwatering sweetness and crunch. This ginger roasted pork recipe is sure not to disappoint.
This is wonderful served with mashed potatoes and perhaps some roasted vegetables. You might want to arrange some chopped veggies around the pork and roast them together. Leftover pork can be served with potato salad and some baby salad leaves the following day perhaps, or used to make sandwiches.
Swap the Ginger for Another Flavor if You Want
If you prefer to use another kind of preserves rather than the ginger, then that would be OK. Try some kind of dark berry such as blackcurrant or black cherry, or even apple preserves. The thyme can be omitted if you don't have any or else why not try marjoram instead?
An Important Tip for your Ginger Roasted Pork
It is important to let the pork rest for 10 minutes when you take it out of the oven. This allows the juices to redistribute in the meat and makes for a better, juicier result. This recipe is really easy and you will love how the pork tastes. Pork is cheap, tasty and full of flavor. It makes a great change from the quick and easy pasta, pizza and chicken recipes you might often find yourself making mid-week for lack of other inspiration.
Continue reading →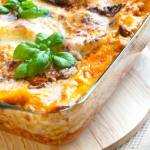 This delicious lasagna with ricotta and Italian sausage is a snap to make and it freezes well too if you wrap individual portions in plastic wrap and then aluminum foil. Simply unwrap and reheat any time you want to enjoy this ricotta lasagna again. If you want to use ground beef rather than the Italian sausage, go ahead.
Tasty Lasagna with Ricotta and Italian Sausage Additions
Some people like to add some sage to the sausage or use sweet sausage instead of the hot kind and add some red chili flakes. You know which you like best, so go ahead and choose your favorite kind when preparing this lasagna with ricotta and Italian sausage. If you want to use a ready-made, herbed tomato-based sauce rather than the tomato sauce and canned tomatoes, again go ahead.
As well as our basic ingredients in this lasagna with ricotta and Italian sausage recipe, which are the meat, 3 cheeses, lasagna noodles and tomatoes, we are using garlic, parsley, oregano, basil to add aromatic accents to the overall flavor of this dish. After preparing the various components we are going to layer them in a glass lasagna dish, then bake the lasagna in the oven.
Continue reading →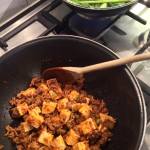 Mapo tofu, which is sometimes written mapo doufu, is a delicious Chinese recipe from the Sichuan province in China. It is comprised of tofu in a reddish, spicy bean and chili based sauce. The tofu is usually cooked with ground meat, either beef or pork, along with fermented beans. There are variations of course, and everyone has their own way of making it. Discover how to make mapo tofu and you will fall in love with this dish!
Why is Mapo Tofu Called That?
So how did mapo tofu get its name? Well the 'ma' refers to 'mazi' which is pockmarks, and the 'pa' refers to 'popo' meaning old woman or grandmother. So interestingly mapo tofu means pockmarked grandmother or, better, pockmarked grandmother's beancurd. This presumably refers to the old lady who first invented the dish. Learning how to make mapo tofu means you can relay this interesting history at the dinner table.
The Flavors of Mapo Tofu
This recipe is traditionally fiery, as many Sichuan dishes are, and this dish in particular is described using 7 Chinese adjectives, namely numbing, hot temperatures, spicy hot, fresh, soft and tender, flake, and aromatic.
The most important ingredients are the beancurd (tofu), salty bean paste or chili broad bean paste, fermented black beans, chili oil, garlic, green onions, rice wine, Sichuan peppercorns, and chili flakes. There might also be some starch to thicken up the sauce and often some kind of ground meat.
Continue reading →
Other Posts You Might Like