Pork
Pork loin steaks or chops are ideal for this recipe, and these tend to be very affordable when compared to some other types of meat. This pork steaks in mustard sauce recipe is perfect for a weeknight dinner and you'll find them to be popular with the whole family.
Pork is juicy and tasty, and it is also quite versatile, making an appearance in everything from spicy recipes to mild ones or even fruity ones. Pork goes nicely with apple. The following pork steaks in mustard sauce recipe features a mustard sauce though, proving that pork also works with piquant flavors.
Choose Your Cream and Mustard Types
Choose from regular sour cream or crème fraîche or the reduced fat type to make this, depending on what you have and what you prefer. Dijon mustard is the best type but again you can use another kind of mustard if that is what you have. Continue reading →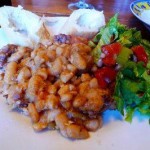 A cassoulet is a slow-cooked casserole with meat (usually pork sausage, duck, mutton or goose) as well as white haricot beans and pork skin. This dish originated in the South of France, and is named after the casserole dish it is made in. Discover how to make a cassoulet the French way and you will be able to rustle up this wonderful meaty treat any time comfort food is the order of the day.
There are lots of regional variations on cassoulet, although all of them feature white beans. Crackling (crispy fried pork rind) and fried bread cubes are often scattered on top before serving.
Is your mouth watering yet? If not, keep reading and it will happen, especially when you see the pictures and discover what mouthwatering ingredients are in this classic French dish. Continue reading →
Some More Hot Content For You
These bacon wrapped avocado appetizers are absolutely gorgeous and you can serve them as an appetizer or side dish. They are low in carbs (if you leave out the sugar) but high in flavor.
Spicy or Mild, Your Choice
Use the chili or cayenne pepper if you wish, or just have the bacon wrapped avocado appetizers without if you want a milder finish. These are great to pop into the oven when you have something else cooking on the stove.
I wasn't sure these would work the first time I made bacon wrapped avocado appetizers. I have made bacon-wrapped shrimp before, and bacon-wrapped cheese, but this is the first time I used avocado. Although avocado is usually served raw, you can cook it or at least heat it. It also freezes well if you puree it with sweetened condensed milk, to make ice cream. Continue reading →
Other Posts You Might Like