Venison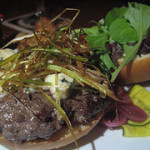 If you are in the mood for a change from your usual homemade burger recipes, why not consider a venison burger recipe instead? These blue cheese stuffed venison burgers are very special indeed. Venison is very lean which means it is best to add some fat to the patties. This ensures they will come out juicy and succulent instead of dry. Some people add bacon trimmings to their blue cheese stuffed venison burgers while others will ask their butcher for any pork fat they don't need (they might give it to you free!)
Venison is very tasty and doesn't need to be seasoned a lot. A little salt and black pepper along with the meat (and some added fat if it needs it) is enough, but in the following blue cheese stuffed venison burgers recipe we are adding blue cheese and shallots, along with some more flavors, for a gourmet venison burger result! Whatever you are adding into the patty mixture, make sure you don't over-mix else the burgers will come out tough and that of course isn't what you want to have.
What Else Goes into Our Blue Cheese Stuffed Venison Burgers
In the following blue cheese stuffed venison burgers recipe we are combining the meat with garlic, cream and herbs, then adding a blue cheese filling to make them extra-special. This recipe makes 4 venison burgers but double the amount if you are having a crowd over. Leftover patty mixture can always be shaped into meatballs and cooked the next day then served with pasta or spaghetti.
You can cook these blue cheese stuffed venison burgers on the barbecue or in a ridged griddle pan. They will take a couple of minutes per side to cook through. Top the burgers with any toppings and sauces you like or, if you are making these for a crowd, have the toppings in separate dishes so people can top their own. This recipe is particularly nice with a creamy, homemade potato salad.
Continue reading →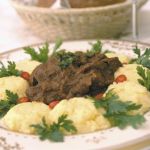 This Hungarian venison goulash stew is a real winter warmer of a recipe, offering amazing comfort food for those chilly fall and winter evenings. An authentic Hungarian recipe, this is sure to fill even the hungriest belly, and it is easy to make as well, even if you are new to cooking venison, new to making stews, or just never made this particular recipe before. The results will be great.
Serving Hungarian Venison Goulash Stew
Serve this Hungarian venison goulash stew with mashed potatoes, fluffy white rice, dumplings, vegetables, or anything else you want. Personally I like garlic mashed potatoes with plenty of butter mashed into them! Leftover stew can be reheated the following day if you want to enjoy this lovely dish twice. You  might be surprised by the amounts of onions and paprika but the onions soften and cook down and the paprika lends an amazing flavor, mellowing as the dish cooks.
You can swap the venison stew meat for another type of stew meat if you wish – lamb, beef, goat or rabbit are all good. Mushrooms would work for a vegetarian take on the dish. Ensure your paprika is fresh too – it should be bright red and fragrant for a perfect result. If you have old paprika and it's losing its color and aroma toss it out because that isn't much good for anything apart from a colorful sprinkling on the top of deviled eggs or similar, for presentation only.
Some More Hot Content For You
Other Posts You Might Like