Pasta
The following crockpot recipes for weight loss are perfect for making in a slow cooker. One of the benefits to using a crockpot is you can tip the ingredients in there in the morning, then go to work or out for the day. When you get home your meal will be ready! This mean you don't have to stand over the stove, nibbling on snacks you shouldn't be having, but you can eat your healthy meal right away.
A crockpot, also known as a slow cooker, is an electrical appliance used to gently simmer food. The temperature is kept low so your food slowly cooks over a period of hours. A basic model should have a low and a high setting while others might have a warm setting or even 'keep warm' which means once your dish has finished cooking it will keep warm. This is why preparing crockpot recipes for weight loss is so easy.
Which Crockpot Recipes for Weight Loss to Make in There
Crockpot recipes for weight loss come in all shapes and sizes including mini ones which you might use to cook a chicken breast for one person or a small amount of hot dip, right up to huge ones to make a batch of soup for freezing in portions or a meal for 8 people.
You can choose from round ones or oval ones which are good for cooking, say, a whole chicken, and you can choose from different brands and price tags depending on the features you want your crockpot to have.
Continue reading →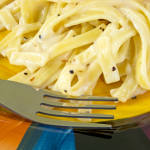 Although pasta goes great with all kinds of sauces, the gentle aromatic appeal of a white wine pasta sauce is something incredibly special. White wine pasta sauce is so easy to make and other ingredients which go well with the wine include garlic, butter and parsley.
A lot of these white wine pasta sauce recipes might include olive oil instead of the butter, or alongside it, and you can make such a sauce even if you don't really drink white wine, since you are just using it for a rich flavor and typically only need a splash.
When making a white wine pasta sauce, it is important to use a white wine you would drink, not something labeled 'cooking wine' or something you don't like, the reason being this is one of the main flavors in the finished dish, so use good quality ingredients and the resulting white wine sauce for your pasta will have a nice taste and not disappoint you.
Although whole wheat pasta is popular these days because of its fiber content, I like to use white pasta, and I also feel it goes best with a light, aromatic pasta sauce because white pasta has a more neutral taste so the flavors in the sauce will be more evident.
Continue reading →
Some More Hot Content For You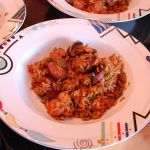 There are not many exact recipes in Cajun cooking, because most of it is done to taste not to measurements, and the same dish can be prepared a different way each time, even by the same chef. This is because Cajun cuisine is an art form and the result of the dish depends on the mood of the chef as well as what happens to be in the refrigerator and cupboards. This means creating classic Cajun food is largely about getting a 'feel' for the ingredients and flavors.
Although there are plenty of adaptations and tweaks you can make when making classic Cajun food, if you do want to follow a recipe it can be hard to find the right ingredients outside the New Orleans area. The fresh spices and seasonings can be hard to get, along with ingredients like Andouille sausage and fresh crawfish.
If you want to learn how to make classic Cajun food though, it is essential to get the ingredients so check grocery stores with Cajun seasonings or visit a specialty food market. A lot of Cajun recipes need time to simmer so set the scene with some jazz music and prepare for a wonderful eating experience like no other.
Continue reading →
Comfort food tends to be hot, thick and tasty, and it can apply to both sweet and savory dishes. What is your favorite comfort food? Do you love winter comfort food recipes as much as I do?
Are you into burgers and fries, homemade mac and cheese, onion rings with a creamy dip, a bowl of chili, or how about apple cobbler with vanilla ice cream?
Homemade bread is wonderful, as is pizza. Winter comfort food recipes might not be the healthiest of food but balance it out by eating healthy meals at other times, and it can be part of a balanced diet.
Although American food is what many of us think of when considering comfort food recipes, other cuisines are equally good at cheering the body and soul on a chilly day or evening.
Pizza and calzone are Italian favorites, along with mac and cheese, while a hearty crockpot beef stew with European seasonings might also be just what you need, or how does a Swiss cheese fondue recipe sound?
Continue reading →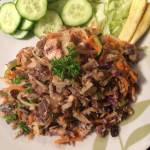 Pasta con le sarde is a typical Sicilian dish. The name translates to mean 'pasta with sardines' and the sardines along with fennel are the main 2 ingredients in there, those which give it the characteristic taste. Saffron, currants or raisins, pine nuts, and toasted almonds or capers also enrich the dish, offering a unique and special flavor in the finished meal.
There are different pasta con le sarde recipes, some of which include tomato pulp and others which do not. Some are finished off in the oven for a few minutes so the pasta can finish cooking in there.
When to Make a Pasta con le Sarde Recipe
Make this pasta con le sarde whenever you want, but I would recommend March to September as the ideal window just because that's the best time to get harvested wild fennel and fresh sardines at the market. Prepare the dish then add some toasted breadcrumbs to finish it off. You might want to use macaroni rather than bucatini or spaghetti, and in fact that would be more traditional in Sicily.
Continue reading →
Try this seafood fettuccine with lemon and dill recipe if you are out to impress. This is the perfect go-to recipe for a dinner party because it pairs seafood with pasta and it looks like a true gourmet dish on the plate, although to be honest it is really easy to put together. As well as the fettuccine pasta you will need mixed seafood, and for your flavors you will be adding lemon, dill and a touch of Tabasco sauce – flavors which are amazing with seafood.
For this seafood fettuccine with lemon and dill recipe, the pasta is cooked in one pan while the seafood mixture is cooked in another. You then have the choice of either combining them or serving them separately, depending on the look of the dish you have in mind.
Pasta tends to cool quickly and become gummy, so warm the plates up first before plating up the dish. I usually do this by putting them in a 200 degrees F/100 degrees C oven for 20 minutes. Just warm it up then turn it off and pop the plates in there. Not all plates are ovenproof but I think most are.
Continue reading →
Other Posts You Might Like