Salad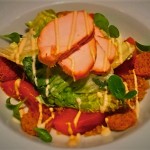 This easy chicken and peach salad takes mere minutes to put together and it's a great way to use up leftover cooked chicken. I've made it with chicken breast but you could use other cooked chicken pieces or some deli chicken slices. You could even use rotisserie chicken to make this (perhaps, still warm – yum!)
This easy chicken and peach salad is made on a bed of iceberg lettuce, but of course you can switch the iceberg for any variety. Baby salad leaves would be good or chopped romaine. I like to add some lamb's lettuce or a contrasting variety as well. Then you have the chicken on top, plus some peach for juicy sweetness, and then some crispy, crunchy croutons for a contrasting savory flavor and different texture.
Easy Chicken and Peach Salad Dressing
The easy chicken and peach salad dressing is an interpretation on Marie Rose sauce or thousand island dressing. The whisky in our easy chicken and peach salad dressing is optional (but throw some in if you have it) or you can use brandy. Actually this sauce is normally served with seafood recipes such as prawn cocktail but it goes just as well with chicken thanks to the chicken's neutral, simple taste.  Continue reading →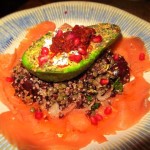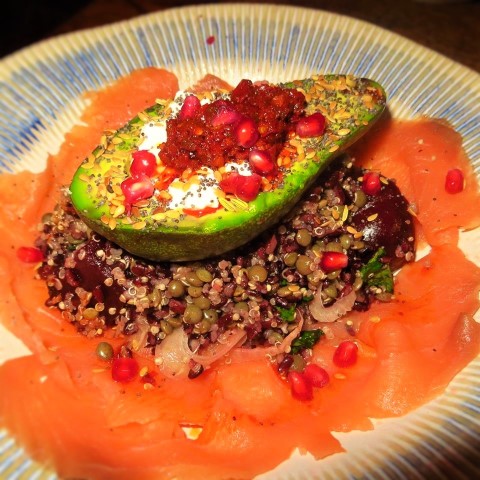 My husband and I had lunch at the Jamie Oliver restaurant in Cardiff last year and it was really good! I had the avocado superfood salad with smoked salmon and it really made an impression. I loved all those flavors and it looked gorgeous too. I wanted to recreate it so I came up with this Jamie Oliver superfood salad copycat recipe. It's not identical but pretty close!
What's in It?
The Jamie Oliver superfood salad copycat salad is made with avocado, beets, grains, kale, toasted seeds, and a tasty harissa and lemon dressing. On top of that you have avocado, pomegranate and poppy seeds. The following recipe is a copycat attempt, in case you wish to recreate some of this wonderful meal, but I can't say it is totally accurate since I'm just going by what I remember.
In the restaurant you can order free-range chicken or smoked salmon on the side, or some feta cheese if you want. I am all for tweaking recipes so take the following Jamie Oliver superfood salad copycat recipe and tweak it to your heart's content. Consider adding walnuts, olives, capers, cucumber, grated carrot, baby spinach, or anything else. Consider this recipe as a starting point and lovingly make this recipe your own. Continue reading →
Some More Hot Content For You
A ploughman's lunch is a wonderful treat, best enjoyed in the beer garden of an old country pub, with a cold pint of cider or real ale. You can order a traditional English ploughman's lunch in many English pubs, and you'll never be disappointed.
Dating back to the 1930s, a traditional English ploughman's lunch is comprised of crusty bread and butter, English cheese, pickled onions, pickles and chutney, and it might also include ham, apple, radishes, hard-boiled eggs or Scotch eggs, celery, cherry tomatoes, and other cold ingredients. Now you know why a traditional English ploughman's lunch is so good.
Farm workers used to take their lunches out into the fields with them and eat it there, and a ploughman's was a picnic-type lunch which was great for eating al fresco. Continue reading →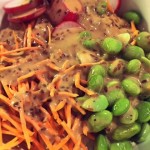 This is my current favorite crunch Asian salad with sesame dressing recipe. It contrasts crunchy and soft ingredients and boasts a wonderful Asian flavor in every mouthful. What really finishes it off perfectly is the roasted sesame dressing. I like to use rice noodles for this, although egg noodles would also work, or even thick udon noodles.
For the vegetables in this Asian salad with sesame dressing, I like to use edamame beans, grated carrot and radish. You can either thaw some frozen shelled edamame beans or use fresh shelled ones, as you prefer.
Buy grated carrot to save time when making an Asian salad with sesame dressing, else you can shred or grate your own in, maybe in a food processor or using a julienne peeler. If you want to use other ingredients instead, consider blanched broccoli florets or asparagus spears. Continue reading →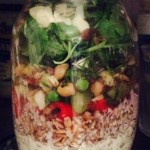 Mason jars have many uses, such as canning, storing grains, shaking cocktails, and more, but one of the best ways to use them, and something very popular right now, is making mason jar salad recipes. There are plenty of layered mason jar salad ideas to consider. You have the dressing at the bottom and then vegetables, then other ingredients and finally your lettuce or salad greens. Keep the jar upright and you will keep the greens away from the dressing until you tip the whole delicious lot on to a plate at lunchtime.
This type of salad lasts for days in the refrigerator (depending on what you put in there) so you can make all your weekday lunches on Sunday night! If you are using perishable proteins like chicken, eggs or avocado, you can add the final ingredient the evening before taking the salad with you instead of adding it days ahead. Choose from a wide variety of layered mason jar salad ideas to get the taste and texture you crave.
Layered Mason Jar Salad Ideas – What to Put in There
Greens, cucumber, many dressings etc are fine to be used a few days ahead and the salad will still taste great. Knowing how to prepare mason jar salads for the week will save you lots of time and ensure you always have a healthy lunch to enjoy.
As for the mason jar salad order, you should pack the heaviest, nonabsorbent items first, and end up with the lightest ones. As long as you don't tip the jar over, the delicate salad greens will be protected from the dressing and heavier ingredients until you are ready to eat the salad. And consider different layered mason jar salad ideas for every day of the week to keep things fresh,\.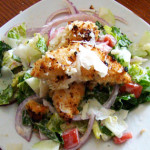 Sometimes the best salads are those which team contrasting ingredients. Take this one, for example. The crispy warm chicken contrasts with the cool kale salad perfectly. I often used mixed salad leaves instead of kale, but my husband loves kale so I use that whenever I can. This crispy chicken on kale salad is so good!
The Perfect Contrast
The chicken is coated in a tasty panko and parmesan mixture and baked in the oven until it is golden brown and crispy, then you can slice it and serve it on top of the tangy honey-mustard dressed salad. This crispy chicken on kale salad sounds good but tastes even better.
This is filling, nutritious and really satisfying. Panko, or Japanese breadcrumbs, are perfect for everything from shrimp to chicken, to add a really crispy coating. We are using Italian dressing to help the coating stick to the chicken, but use a beaten egg if you don't have the Italian dressing, since that does the same job.
Other Posts You Might Like