Salad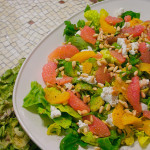 This Mexican Christmas salad recipe is traditional in both Old and New Mexico, although we are adding a twist with the charred lettuce wedge. Although romaine (known as cos lettuce in some places) really comes to life on a grill, the delicate leaves do not always stand up to the temperature needed by the rest of the food on the grill, and nobody wants a wilted mess on their plate.
Thanks to the blowtorch you can control how much heat you use and where it is directed. Besides, who wants to stand outside shivering over the grill on Christmas day, knee-deep in snow? Er, no thanks!
How Mexican Christmas Salad is Prepared
In this Mexican Christmas salad recipe, romaine hearts are coated in extra-virgin olive oil and parmesan and then scorched until the cheese browns. You can scorch the lettuce as little or as much as you wish, although we suggest using a blowtorch until the parmesan flakes have melted and you can see golden brown patches on the romaine.
So when is this Mexican Christmas salad good for? Well you could serve this as an appetizer on Christmas Day or save it until Boxing Day when your belly is begging you for a lighter lunch after all those heavy holiday dinners. I know that feeling! Basically, this Mexican Christmas salad is tasty, nutritious, well balanced and really worth making, so give it a go!
Continue reading →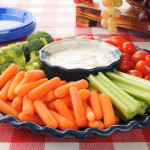 This buttermilk ranch dressing with sour cream is one of the best salad dressing recipes I've made in a while. I just had it with baby kale, deli beef, parmesan, crispy fried onions and raisins, and it made a really nice meal. If you use low-fat mayonnaise you can get a large serving of this buttermilk ranch dressing with sour cream for about 90 calories, or else you can use regular mayo if you prefer.
A Perfect Ranch Flavor
I didn't have fresh chives when I first made this buttermilk ranch dressing with sour cream so I used dried. I think fresh would work better, so I will make sure I have some of that next time. I used the Tabasco sauce even though it is optional. I just like the spicy kick it gives the dressing.
As for the vinegar, you might want to add a little bit (only a tiny bit!) to add that characteristic 'tang' to the ranch dressing, but it might not need it, so add that right at the end in case you don't have to. Continue reading →
Some More Hot Content For You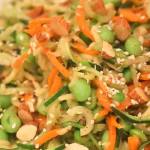 This edamame noodle salad is a fantastic recipe and boasts wonderful Asian accents in every mouthful. Making this edamame salad recipe couldn't be simpler. You just need to prepare and combine the salad ingredients, whisk all the dressing ingredients together then combine the lot to make a colorful, healthy salad. This is a vegetarian edamame salad but swapping the honey for agave nectar makes this a vegetarian edamame salad if you want to do that instead. If you aren't vegetarian or vegan, feel free to add some shredded cooked chicken breast to the mix.
This edamame noodle salad makes a great lunch and because there are no creamy ingredients in there or anything that means it needs to be refrigerated all the time, you might want to take it to work and have it for lunch. It certainly makes a change from sandwiches anyway! You could even serve this with meat or seafood as a side dish.
You can find edamame already shelled in the freezer aisle. Just thaw it overnight in the refrigerator then drain off any water that comes off. You can also buy these beans in their shells but then you will have to cook and shell them, which makes more work for you.
Continue reading →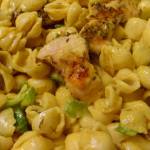 Pasta is not the first ingredient that should come to mind when you think about Indian cuisine because of course it is an Italian ingredient. However that is the beauty of fusion cooking. This Indian pasta salad offers some exciting flavors, all of which go together nicely. When combined they offer an exotic flair in what would otherwise just be a basic pasta salad.
You can find all kinds of ingredients in this Indian pasta salad which come together wonderfully. The neutral flavor of pasta along with its firm al dente texture means a spicy, aromatic dressing is sure to suit it instead of clashing. In the following recipe we are teaming our pasta and chicken breast with a fragrant Indian inspired dressing.
Taking inspiration from the classic English Coronation chicken recipe, this salad boasts plenty of exotic flair. Learn more about how British Indian cuisine began and grew and you will soon see how such dishes gained such popularity in the UK.
Serving Tips and Tweak Ideas for Indian Pasta Salad
This Indian pasta salad pairs well with a bunch or red grapes. Alternatively you could serve it over a bed of lettuce, or even just as it is for a 'lunch in a rush' at your desk. Feel free to tweak the ingredients. Perhaps you prefer to use turkey (or have some left over) instead of chicken. Maybe you'd like to swap the celery for green bell pepper or the slivered almonds for cashews.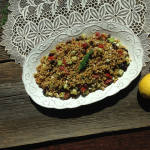 Before you think about making this easy freekeh salad you might be wondering about this grain. What is freekeh, you might be thinking, and that is a very good question because a lot of people have never heard of this particular grain. Freekeh can also be spelt frikeh, and it is known as farik as well. This cereal food is made from green wheat which goes through a roasting process. It is traditional in Arabian cuisine along with North African and some other cuisines.
The wheat is harvested while the seeds are soft and the grains are yellow, and then it is sun-dried. Piles of freekeh are set on fire and the straw and chaff burn, leaving the seeds intact. The roasted wheat is then thrashed and dried more in the sun to get the right color, flavor and texture. The seeds are then cracked to resemble green bulgur and this is what goes into our easy freekeh salad recipe.
The earliest mention of freekeh was in the early 1200s in a Baghdad cookery book. In that particular recipe, meat is fried in oil, then braised with water, cinnamon bark and salt.
Next, dried coriander is added and then the dish is served with cinnamon, cumin and lamb fat. Freekeh is served as a pigeon stuffing in Egypt and it is made into a soup in Tunisia. One famous Syrian freekeh dish is made with roast lamb, spring peas and pine nuts. This grain is also enjoyed in Israel. So there are many alternatives to our easy freekeh salad.
Continue reading →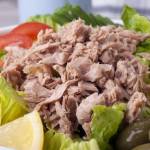 The classic French tuna nicoise salad is made with tuna, tomatoes, eggs, and nicoise olives. It can be served on a platter or on single plates. Some people like to serve it on a bed of salad leaves while others do not. You can use cooked or canned tuna.
Perhaps you have had this before in a French restaurant, in which case it would have been made with ahi tuna (or canned tuna if it was a more casual setting). The following recipe shows you how to recreate this wonderfully balanced dish yourself.
Optional Ingredients in Tuna Nicoise Salad
Optional ingredients in tuna nicoise salad might include shallots, sweet red peppers and artichoke hearts. You will not find cooked vegetables in this salad though, apart from the potatoes and green beans.
This is a very tasty tuna nicoise salad recipe, and you can tweak it if you wish, making it with fresh ahi tuna rather than canned, or making any other adjustments you want. The following recipe is ideal served for lunch or you could serve it as a light evening meal.
Other Posts You Might Like