Side Dishes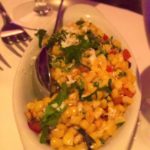 Corn is always good especially when you cook the fresh kind and slice it off the cob in sweet, juicy slices. I love this Monterey style sweet corn recipe as a side dish because it seems to complement just about everything from chicken or seafood to steak or game meats.
Why You Should Make This Monterey Style Sweet Corn Recipe
This dish is easy to prepare, attractively bright colored and is sure to appeal to even the youngest members of the family – those who are normally picky about vegetable-based sides!
I find about a tablespoon of jalapeno enough to give the the Monterey style sweet corn a bit of a bite, but of course some people prefer to add more while others want to omit all traces of spice from their food, so you be the judge here and adapt it to suit your own palate.
If you need to rustle this up in a hurry, you could use well-drained canned corn but honestly that doesn't really do this south of the border inspired dish justice, so get some fresh ears of corn and make it from scratch. That way you will have a real explosion of flavor in your mouth with every mouthful.
Continue reading →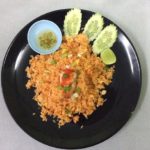 This is a wonderful side dish to have with chicken, pork or another kind of meat, or you could enjoy it by itself for lunch or a light evening meal. Thai fried rice with egg is similar to the Chinese egg fried rice you might be more familiar with. We are just including typical Thai flavors instead of Chinese ones.
This only takes about 5 minutes to make because you are warming up the rice, cooking the vegetables to al dente (which doesn't take long) and cooking shrimp (which doesn't take long either!) If you prefer to use chicken or another protein, shredded cooked chicken can be tossed in at the end with the green onions, and just warmed through. You can also omit the chicken for a vegetarian version of the dish.
What Else is in Thai Fried Rice with Egg?
Known as khao phat in Thai (since khao means rice and phat means stir-frying) this dish is often made with shrimp, chicken or crab, along with onion, garlic and perhaps tomatoes as well.
Traditionally Thai fried rice is made with Thai jasmine rice, but you can use any kind of leftover cooked rice to make it. Fish sauce and soy sauce are typical flavorings, and we also love a little oyster sauce in the mix. A pinch of sugar is good if you want to add sweetness. Continue reading →
Some More Hot Content For You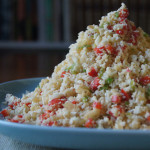 Cauliflower rice, also known as cauli rice, is a low-calorie, low-carb alternative to regular rice. You can make it with a food processor or, if you don't have one, a cheese grater. There are different ways to cook cauliflower rice recipes too, such as on the stove, in the oven, or even in the microwave. Although cauliflower obviously doesn't share the exact same flavor as rice, you can get the appearance and texture very close.
It is well worth knowing how to make cauliflower rice recipes, even if you are not trying to reduce your carb or calorie intake. Cauliflower is rich in protein, thiamin, niacin, riboflavin, phosphorus, magnesium, vitamins C, K, B6, potassium, manganese and pantothenic acid. It is very low in cholesterol and saturated fat.
Whether you are looking for a paleo cauliflower rice, Mexican cauliflower rice or coconut cauliflower rice recipe, or something else, there are certainly a lot of different recipes to choose from, both mild and spicy, traditional and exotic, vegetarian, vegan and anything else you can think of.
Continue reading →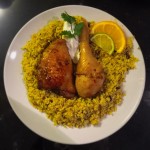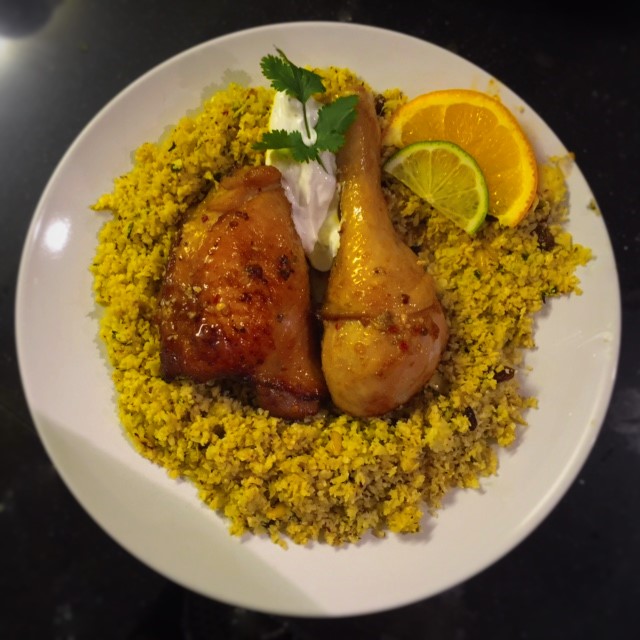 Cauliflower rice, or cauli rice as it is affectionately  known, is a wonderful substitute for rice, offering a mere fraction of the calories and carbs or rice, yet offering a very similar texture and a neutral flavor. You can do so much with it and there are plenty of cauliflower rice recipes to choose from. This cauli rice with orange, lime and cilantro recipe is easy to prepare and it's yummy!
I like to use a medium or strong-flavored sauce to disguise the cauliflower flavor – not that cauliflower has much of a taste at all, but just to make it as rice-like as possible. Try Chinese rice with cauliflower instead of rice, or consider Mexican cauli rice or Italian flavors.
It is easy to prepare this cauli rice with orange, lime and cilantro recipe if you have a food processor. Simply break a fresh cauliflower into florets and whiz them in the food processor until rice grain-sized. If you don't have a food processor that is okay, just use a cheese grater instead. It will take longer and you will get a similar result. Continue reading →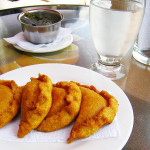 There are easy 3 ingredient recipes for every occasion, season and palate. Perhaps you are in the mood to make a hearty meat dinner or something fancy with fish. It could be that you are looking for easy 3 ingredient recipes for the crockpot because you are going to be out all day and you know you'll get home late and want to eat dinner and fall into a comfy chair in front of the TV with something already made.
Or what about making three ingredient sauces or dips for your meat, fish or chips? Some of our drinks recipes are sure to tempt you too. There are recipes for every skill level, whether you have barely set food in the kitchen before or whether you like to rustle up exciting treats for your family on a daily basis.
Some of these easy 3 ingredient recipes might be good with a grinding of salt and pepper over, or with some mayonnaise on the side or another embellishment, but if that is the case I will suggest it in the matching recipe. They are great as they are, or you can always add more, to personalize the meal exactly how you like it. Continue reading →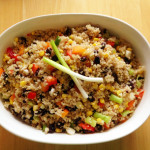 Quinoa is quickly becoming a popular food in America and throughout the world. The fast spread of this low-fat superfood grain has led to people wondering how to cook it at home. Chances are you've probably eaten it at a restaurant or at a friend's house. Now you're wanting to know how to cook this amazingly tasty food for you and your family and you want to know how to cook quinoa on the stove.
The good news is that quinoa (pronounced keen-wah) is really easy to cook at home. It's certainly no more difficult to cook than rice or buckwheat, which is good news for all of you that want a taste of this superfood without having to pay the high prices restaurants usually charge for it.
Prepare the Quinoa First
The first thing that you need to do is soak your quinoa in a large bowl of water for 15 minutes. The outside coating of quinoa has a bitter substance called saponin. This is the plant's way of ensuring that birds don't steal its precious nutrients. The bitter taste makes birds think twice about chowing down on it. Drain and rinse the quinoa using a fine mesh strainer after it has been soaked. You'll want to do this once or twice for a minute or two. This is the final process of getting rid of the saponins.
Other Posts You Might Like