Side Dishes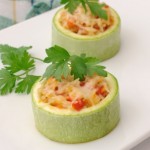 This is a great recipe for stuffed zucchini, or stuffed courgette if that's what it's known as in your neck of the woods. You can cut your zucchini in to 'boats' or lengthwise strips or into wide slices. Perhaps you can get mini zucchini, or 8-ball zucchini, in which case one of those makes one serving. For the filling we are using rice, vegetables and walnuts, along with some garlic, thyme and cheese for added flavor. Feel free to tweak any of the ingredients in this rice stuffed zucchini . Pecans would work in place of the walnuts, or you could sub parsley, basil or even mixed dried herbs for the thyme.
First we are going to take the pulp out of the zucchini and just leave ½-inch or so on the skin. Then the vegetables are sauted and combined with the aromatic ingredients. Add in the zucchini pulp and rice, and spoon this mixture into your prepared zucchini pieces. You can then bake them in the oven, covered with foil so they don't burn or dry out. Take the foil off at the end for a while so the cheese on top can melt and turn golden brown. When the cheese is golden brown and bubbling, the rice stuffed zucchini is ready to serve.
Rice Stuffed Zucchini – How to Serve It
This rice stuffed zucchini makes a nice main dish for a vegetarian or you could serve one slice alongside meat for a carnivore. Either way, the flavor will be great, and this goes with any kind of side dish, or as a side dish for some kind of meat, poultry or seafood entrée. Once you have made this, you might like to swap some of the ingredients to make it the next time. Honestly, all kinds of filling ingredients work here – mushrooms, spinach, fresh herbs, any kind of nuts, raisins – just add whatever you like and make the rice stuffed zucchini  recipe your own. If you want to serve this as a main dish, feel free to add some chopped cooked ham, chicken or shrimp into the mix. Add it when you add the rice to the pan.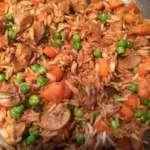 Nasi goreng means 'fried rice' in Indonesian as well as Malay, and it can be fried rice, a meal with stir-fried rice, or a salted dried fish mixture with rice. The main ingredient in an authentic nasi goreng recipe is always the rice, so if you are looking for something to make with leftover rice, keep reading and discover this wonderful Indonesian dish.
Authentic Nasi Goreng Recipe Ingredients
Known as the national dish of Indonesia, the best nasi goreng recipe is whichever mixture you like, perhaps rice with kecap manis (sweet soy sauce), egg, chicken, shrimp, garlic, and shallot, or perhaps you favor mushrooms and peas, or even beef and chilies.
Take a look in the refrigerator and cupboards before making an authentic nasi goreng recipe. If you have rice and some kind of vegetables you can make this. You can even switch the seasonings to make it fit what you have. There is no set recipe because it is a dish of various leftovers.
Beginning life similar to Chinese fried rice – a good way to use up leftover cooked rice – it was discovered that frying it could kill any microbes (which was important before the days of refrigeration). Nasi goreng is traditionally made from rice leftover from the evening before, and served for breakfast in Indonesia, although in the West we tend to prefer rice-based recipes for lunch or as an evening meal.
Continue reading →
Some More Hot Content For You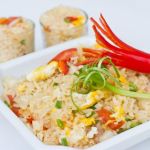 Egg fried rice without soy sauce is a dish lots of people want to make but since soy sauce is one of the key ingredients it can be puzzling working out how to get around that. Fried rice is one of the best-known Chinese dishes, but the authentic recipe is quite different to what you might be used to. For example, have you tried making egg fried rice without soy sauce? That is how it is made in China, well in many parts of the country, and the more authentic option in many cases.
Egg Fried Rice without Soy Sauce: Such a Tempting Dish to Make
Egg fried rice is the dish to make when you want to use leftovers to rustle up something quick and easy, something comforting and tasty, something literally anyone can make regardless of culinary expertise or cooking experience.
This egg fried rice without soy sauce dish is easy, folks, and delicious too! But before you grab your wok and leftovers, you need to know a few tips about how to make the best egg fried rice recipe ever.
Egg fried rice is found all over the globe, either the authentic version or something more tailored toward the country in question. In China, egg fried rice is considered a meal rather than a side dish, and it might be enjoyed for breakfast, lunch or dinner.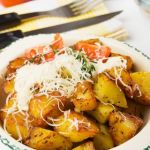 There are thousands of potato recipes, and many ways to prepare roast potatoes, including this spicy roast potatoes recipe. One of the nicest things to do with them is spice them up before roasting, and then you will be able to enjoy the aromatic spices and the potatoes too with their crispy outsides and fluffy hot insides.
The following spicy roast potatoes recipe is very simple to make. You will need floury potatoes like King Edward, Yukon Gold, Charlotte, Maris Piper, or Duke of York.
Floury varieties are better for mashing, fry-making or roasting, while non-floury potatoes suit boiling better.
If you try to boil a floury potato it is likely to disintegrate, but the dry, fluffy texture of floury potatoes make them idea for roasting when you want the outside to crisp up to golden brown perfection and the inside to be perfectly fluffy.
Continue reading →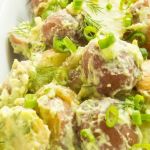 Have you ever tried avocado in your potato salad? If not, make some avocado potato salad now because it is really tasty! The avocado adds a creamy, nutty, decadent touch to the potato salad which works so well.
This avocado potato salad goes beautifully as a side dish alongside chicken, burgers or any other meat, or try it with fish or something else. Make this once and you are sure to want to make it again and again, and don't be surprised if everyone asks you for the recipe.
Which Potatoes to Use in Avocado Potato Salad
We are using baby red-skinned potatoes here but you can use brown-skinned ones if you wish, or even larger potatoes cut into cubes. They should be boiled until they are just tender, no more else they will fall apart too easily in the avocado potato salad and that is not what you want.
Use freshly squeezed lemon juice for the tastiest result and if you have some leftover potato avocado salad then squeeze extra lemon juice into it, to help preserve the bright green avocado color and prevent browning. You can keep any leftovers (although there usually aren't any!) in a covered container in the refrigerator for 2 or 3 days.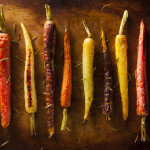 When I first spotted rainbow carrots at the market, I was intrigued. What would they taste like? Would the different colors have different flavors? I just had to buy them and find out for myself, and honestly I was really pleased with the result of my roasted rainbow carrots recipe!
Of course there are different ways to cook carrots, perhaps the worst way being roughly chopping them and boiling them to mush. I recommend roasting the carrots for the very best results. They will take a while to become tender because they are quite dense. But allow sufficient time and your result will be a wonderful side dish which is as healthy as it is tasty.
What Colors are There?
In my package of rainbow carrots I had yellow, light orange, mid-orange and purple ones. I tasted them raw first. The yellow one was quite sweet, and the light orange one was halfway between the flavor of the yellow one and a regular orange carrot. I expected them all to taste the same when making roasted rainbow carrots, but they really don't.
Continue reading →
Other Posts You Might Like