Side Dishes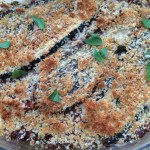 Eggplant has a unique flavor and it works really well as a gratin, when you add a crispy crumb topping and get it really crispy and golden brown. This eggplant gratin could be a side dish for chicken, fish, meat, or even a vegetarian entree served with bread or another starch on the side.
Tasty Versatile Eggplant Gratin
Eggplant, known as aubergine in some places, is easy to find, and you can do plenty with it such as making the classic dish moussaka, in which it is layered with ground meat, or you can batter it and deep-fry it for a crispy snack, or even take a look at the following eggplant gratin recipe and discover this brand new idea for eggplant.
Continue reading →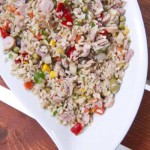 Learning how to make rice salad is very easy and there are so many different ways you can prepare this delicious dish. Rice salad is perfect for lunch or as part of a buffet, and you can also serve it alongside steak or with chicken or fish. Absolutely anyone can make rice salad recipes and once you are familiar with the recipe you can experiment with other ingredients to make the dish taste different.
How to Make Rice Salad: Simple Yet Perfect
There are not many steps you need to make this dish, which is why it is so simple. If you enjoy being creative in the kitchen you will love making it because you can be imaginative with what goes into it. That's right, learning how to make rice salad is supremely simple.
First you need to cook your rice in a pot on the stove, then drain it and let it cool. Stir in some mayonnaise or another kind of dressing, then add meat, fish, seafood, chicken, vegetables, fruit, herbs, spices, or anything else you fancy. The resulting dish will be unique and wonderful.
Different Rice Salad Recipes
Perhaps you fancy a creamy rice salad made with mayonnaise or sour cream, adding some crunch with peanuts and some fruity sweetness with banana or strawberry slices, or perhaps you would prefer to make a healthy rice salad with lemon vinaigrette and some finely chopped raw veggies and herbs.
Continue reading →
Some More Hot Content For You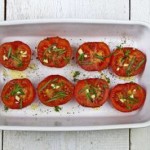 This oven roasted tomatoes with garlic recipe is perfect if you want a side dish. Combining the natural sweetness of fresh tomatoes with garlic and herbs, this is such a simple recipe and it makes a change from the usual platter of roasted root vegetables, mashed potatoes, corn on the cob or broccoli.
Not that there is anything wrong with those of course but sometimes it's nice to have a change of pace. Everyone loves tomatoes whether they are canned, fresh, cherry, plum or another kind, because this vegetable (well, technically a fruit) goes with just about everything. Try this oven roasted tomatoes with garlic dish and you'll see how delicious they can be.
Very easy to prepare, you simply need to slice your tomatoes and then add the oil and seasonings and roast them in the oven. Tomatoes do not take long to cook because they are soft and high in water content. Continue reading →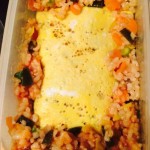 Also known as omurice or omu-rice, omuraisu is a typical Japanese dish featuring fried rice and omelet, and often some ketchup too. Omuraisu is a contraction of the Japanese words for omelet and egg. This omuraisu recipe is not hard to make and you will love the flavor.
This dish can be found in Western style restaurants in Japan as well as in Japanese homes, and it was also introduced to Korea under Japanese rule. You can find it in Taiwan too which was also under Japanese rule for some time. This dish has been around since the early 1900s.
Different Kinds of Omurice
Chicken rice, chicken and vegetable rice or beef rice can be wrapped in a thin fried egg sheet to make an omuraisu recipe. Sometimes ketchup or white sauce is added to the rice. Continue reading →
These delicious spicy Thai corn fritters are so quick and simple to put together and they make a tasty appetizer or side dish.
All you need to make these is some corn kernels (you can use drained canned corn, or even thawed corn kernels), a little flour and an egg. Then to finish off you just need some minced or finely chopped chili pepper and a little Thai fish sauce.
How to Serve Thai Corn Fritters
Try these as a side dish or appetizer, or make them as the main dish, perhaps with some tasty salad on the side. You might like to make a batch of Thai appetizers to showcase these, so everyone can try different Thai treats, or else just make these as they are and serve with rice or else just a simple Thai dipping sauce. Continue reading →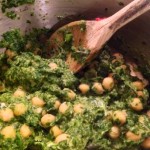 This is a quick and easy side dish which is very low in calories but goes perfectly alongside any Indian meal, especially if it is something creamy. Try this spinach chickpea side dish with a curry or even over rice.
Often, with Indian food, you will want to contrast your dishes, so for example if you have something creamy you will want something very savory or even acidic to go alongside it.
If you are serving something spicy, you might wish to serve something sweet with it. Contrasts make the whole meal harmonious and well balanced.
The following spinach chickpea side dish recipe features spinach and chickpeas (or garbanzo beans, as they are also called). I wanted to make something which would go well with chicken tikka masala but didn't want to take the rice/noodles/naan bread route, so I came up with this dish which was incredibly good. Continue reading →
Other Posts You Might Like