Side Dishes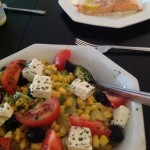 Boasting all kinds of delicious ingredients from lettuce and tomatoes to corn, olives, oregano, and a stunning oil and vinegar dressing, this salad offers a true taste of the Mediterranean, and it makes a lovely side dish for any fish, meat or poultry dish. Consider this healthy Mediterranean salad recipe if you want a fresh and seasonal side dish.
Alternatively you can serve it as an appetizer. I can't stress enough how important it is to wash your lettuce properly because there might be little worms or caterpillars in there (yes, I found one last week!)
So separate the leaves and use a salad spinner after rinsing the lettuce in cold water. Make sure all that excess water is out, so the lettuce stays nice and crisp in this healthy Mediterranean salad. Continue reading →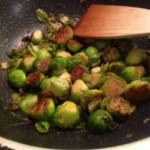 When I remember Brussels sprouts from my childhood, unfortunately the memory makes me grimace a bit! I assumed Brussels sprouts were supposed to be soggy and flavorless but actually I have discovered a new way of cooking them. That's right, read on to discover an easy sauteed Brussels sprouts recipe which might just convert even the most die-hard sprout hater!
Although a lot of people just boil them, adding a pinch of bicarbonate of soda to keep them vivid green, sauteing them (cooking them in a pan with some oil or butter) is a much better way to go.
I like to trim off the bottom, remove a few outer leaves and then slice them horizontally a few times. Then I toss them in the wok with my oil, butter or oil/butter mix, and cook them, stirring often, until they are al dente or tender. Depending on what I am serving with them, I might add a pinch of nutmeg or some curry powder. That's how I like to prepare my easy sauteed Brussels sprouts recipe. Continue reading →
Some More Hot Content For You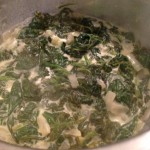 Creamed spinach makes a lovely side dish and it is very easy to prepare. Try out this easy creamed spinach recipe if you want to make your own from scratch. It really is good. Grab a bag of spinach and then just add some cream cheese and seasonings. The recipe also features some optional ingredients so you can ensure your creamed spinach comes out perfectly for your palate.
I usually buy the unwashed spinach and soak the leaves in cold water for a few minutes but you can also get pre-washed fresh spinach.
Do use fresh spinach for this recipe for the brightest color and freshest flavor. I haven't made this with the frozen kind but I probably wouldn't. This easy creamed spinach recipe goes with anything, especially a delicious marinated T-bone or ribeye steak. Remember the baked potato or mac 'n cheese on the side as well. Continue reading →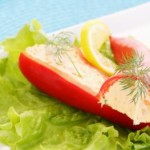 These cream cheese stuffed sweet peppers are gorgeous and I often make them as a side dish. I like to use the long pointy red peppers, both because of their nice, sweet flavor, and also because of how they lie flat on the plate and don't fall over. You can use bell peppers if you want, or even chilies if you have a taste for them. Roast these in the oven or broil them if you prefer. Keep an eye on them. You will be able to see when they are done.
Tweak if You Wish
It is perfectly possible to tweak this cream cheese stuffed sweet peppers recipe based on what you have. I have made these with just the peppers and the cream cheese before because I didn't have any sour cream. You can also add minced garlic, minced green onion or anything else you fancy. If you are making these as an accompaniment for Mexican food, perhaps add some chopped cilantro or a pinch of chili powder to the filling mixture.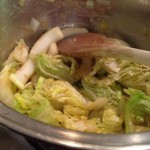 I made this Chinese Napa cabbage side dish recipe using half a cabbage and half the ingredients, and it made a great dish for 2 people. I made soy sauce chicken to go with it.
To make that, you need to slice chicken breast in half across the width, then soak it in soy sauce for an hour and cook on the griddle until cooked through.
The 2 dishes together were lovely. You could also serve noodles or rice on the side but I didn't. This recipe is very easy and it really brings out the Chinese Napa cabbage side dish flavor. Even if you aren't sure whether or not you are a cabbage fan, this dish is worth trying, and cooking cabbage in this way means it not only makes a good Asian side dish but it also tastes good! Continue reading →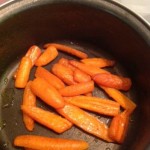 Learn how to make caramelized carrots because this winning side dish goes with everything. This very easy recipe makes a lovely side dish. Carrots offer a natural sweetness but adding butter and a little sugar to the carrots gives them a wonderful crunchy glaze. Pair these with meat or poultry, adding some mashed potatoes too, for a great dish.
I like to peel and chop mine into fat matchsticks but it's up to you whether or not to peel, and also whether to cut them into slices, chunks or strips. The thinner they are cut the less time they will take to cook.
How to Make Caramelized Carrots: Honey or Sugar
I have made this recipe before using honey instead of the sugar but I found the honey flavor too strong. You can experiment with it if you want, or try brown sugar, but I think it's better with white sugar. That's just something I discovered when learning how to make caramelized carrots. Continue reading →
Other Posts You Might Like