Soup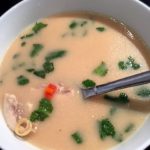 This delicious Thai tom kha gai soup recipe is made with 10 ingredients only plus a few optional extras for serving. We are using chicken and mushrooms to make this, along with typical Thai ingredients like galangal, lemongrass, lime, coriander, coconut, fish sauce and palm sugar to make it.
This is a tasty, filling Thai chicken soup recipe and it's also therapeutic if you're under the weather or suffering from a cold or the flu. The chicken and vegetables are nourishing while the steam from the soup helps with decongestion.
As for the garnish, we like to present this traditional tom kha gai soup recipe with cilantro, chilies, lime leaves and lemongrass but feel free to omit one or all of those, as you prefer.
How to Serve Our Tom Kha Gai Soup Recipe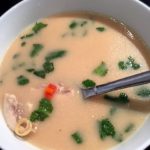 This makes a great lunch or evening meal, perhaps served with something crunchy as an appetizer. Egg rolls or spring rolls would be fine, or you might like to have something seafood-based to begin the meal instead. Because this is a spicy soup, consider following up with something creamy to cool the mouth, perhaps mousse or ice cream.
While the Spice is Nice in Thai Chicken Soup… Tweak as Needed
Feel free to alter the amount of spice in this tom kha gai soup recipe. Not everyone likes the chilies although they are popular in many Asian cuisines so those cultures are more accustomed to them.
A lot of traditional Thai recipes are quite spicy but when making your own you are in charge of what goes in there, so alter the recipe as you see fit. If you are a fan of Thai recipes, try our Thai fried rice or Pad Thai dishes. Continue reading →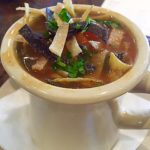 Chicken tortilla soup is one of my favorite soups. I love everything about it – the juicy chicken, the tomato-ey broth, the crisp tortillas on top, the cheese, just… everything! I like to keep my soup recipes simple, so you will see the following is as streamlined as I could make it. Grab the ingredients you need and make this. I promise, whether you want a light lunch or simple supper, you're going to love it. There are lots of different chicken tortilla soup with Rotel tomatoes recipes to try but I happen to like this one just because it is so easy.
What You Need to Make It
Along with the cooked chicken and Rotel tomatoes you will need refried beans, chicken broth, corn and either some fried tortilla strips or broken tortilla chips, whichever you have.
If I am jazzing this up, I might add a scoop of sour cream and some avocado on top, and I like to add a good amount of shredded Mexican blend cheese as well. Those additions to the basic recipe make all the difference, but they are purely optional. So just add what you want to have.
This chicken tortilla soup with Rotel tomatoes makes a great meal and it's surprisingly filling too. There are crockpot chicken tortilla soup recipes too, but honestly if you're using leftover shredded chicken you might as well simply mix the ingredients together in a pan and cook the soup in a matter of minutes. Continue reading →
Some More Hot Content For You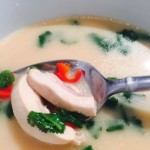 Yesterday I decided to get a Thai massage. I suffer from a stiff neck and shoulders. For some reason, I hold all my tension in there! I love a good hot oil massage but the Thai massage is, well slightly different. More 'painful' but today I can move really freely and feel great! The woman was literally walking up my legs and back, digging her knees and elbows into me and making me yelp! However, 'no pain no gain' as they say, and today I can honestly say I feel great after it. And yes, all that gave me the inspiration to make this authentic Thai chicken soup recipe.
Thai Food Inspiration
While I was having this massage, I was listening to Thai music, gazing around the room at Buddha statues, candles and Thai pictures, and afterwards sipping a Thai tea. So I guess I got a craving for Thai food! For this reason I decided to make tom kha gai, or Thai chicken soup, for lunch once I got home. I had most of the ingredients already, I just needed to grab some chicken and cilantro.
I found this authentic Thai chicke soup recipe quick and easy to put together and the flavor was wonderful. Making the chicken broth before sieving the 'bits' out and using it to make the actual soup is recommended. Just begin with all the ingredients laid out, plus one pot, one sieve and a serving bowl and spoon, and you will find this an absolute breeze to prepare.
Pho is a delicious Vietnamese noodle soup made with rice noodles, broth, meat, seafood or a vegetarian alternative, and herbs. Beef and chicken are the most popular flavors but you can make a great vegetarian pho with tofu. This easy tofu pho is just gorgeous and you'll love the flavors.
This is a well-loved street food in Vietnam, and the Southern Vietnamese enjoy it for breakfast or lunch, while those in the north of the country have it at any time of the day or evening.
History of Pho Soup
This dish dates back to the early 1900s and refugees introduced it to the rest of the world after the Vietnam War. There is no proof of the cultural influences responsible for this soup or where the word pho comes from, because it is not well documented. There are Saigon and Hanoi styles, each made with different width noodles, herbs and broth sweetness, and other types of pho such as fusion varieties in experimental restaurants. Try our easy tofu pho recipe if you're new to pho and don't want to use meat. Continue reading →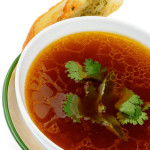 Bone broth is a slow-cooked soup made from animal bones which are filled with magnesium and calcium, along with collagen. This beverage is a great addition to any diet, especially if you have skin problems, immunity issues or digestive trouble, because it can help with those. There has been a lot of talk lately about how to make bone broth recipes, with people wondering not only how to get the ingredients and make it, but also why it is so popular and what nutrients it includes.
Combined with apple cider vinegar (to coax the minerals out of the bones) and seasonings or vegetables, bones make a tasty, nutritious broth which will keep for about 4 days. It will also freeze, so why not make a big batch of bone broth recipes for the whole family? The meaty flavor is nice and this is a snack or drink that you can have anytime for extra energy. Oh, and bone broth recipes taste pretty good too!
Bone Broth Recipes are Popular Everywhere
Broths and stocks made from bones are given emphasis in Asia, and they are also prized in Europe for being the foundation of cooking. Keep a slow cooker full of bone broth on low (it will only cost a few cents a day to let it run) and you can ladle some into a pasta or rice dish, use it as the basis of a gravy or sauce, or simply help yourself to a cup of it whenever you want a healthy drink. You are sure to love bone broth recipes, especially the homemade kind. Use bone broth to braise meats or veggies, or just use it whenever you need a savory liquid to add to cooking, or an energizing, nutritious drink.
Continue reading →
Comfort food tends to be hot, thick and tasty, and it can apply to both sweet and savory dishes. What is your favorite comfort food? Do you love winter comfort food recipes as much as I do?
Are you into burgers and fries, homemade mac and cheese, onion rings with a creamy dip, a bowl of chili, or how about apple cobbler with vanilla ice cream?
Homemade bread is wonderful, as is pizza. Winter comfort food recipes might not be the healthiest of food but balance it out by eating healthy meals at other times, and it can be part of a balanced diet.
Although American food is what many of us think of when considering comfort food recipes, other cuisines are equally good at cheering the body and soul on a chilly day or evening.
Pizza and calzone are Italian favorites, along with mac and cheese, while a hearty crockpot beef stew with European seasonings might also be just what you need, or how does a Swiss cheese fondue recipe sound?
Continue reading →
Other Posts You Might Like