Soup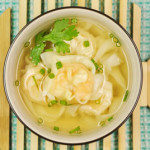 These flavorful pork wontons feature shrimp, ginger, green onion and more. Try pork and shrimp wonton soup for your supper tonight and enjoy the fresh flavors. Pork and shrimp wontons are usually served in authentic wonton soup recipes and if pork and shrimp go together better than you might imagine. If you have ever tried bacon-wrapped shrimp, you will know this is a match made in heaven. Pairing pork and shrimp means you will have a delicious wonton filling for your wontons. In addition to the pork and shrimp, the wontons feature ginger, soy sauce, Chinese rice wine and more, for a traditional wonton feel and a mouthwatering finish.
How to Make Pork and Shrimp Wonton Soup
For this pork and shrimp wonton soup, first you need to make the wonton filling, then fill and seal the wonton wrappers and finally simmer then in chicken stock for a bit. The finished soup is light yet satisfying and if you are looking for wonton soup recipes which are easy enough for a beginner to master immediately, this might be a nice one to start off with. The wonton soup is hearty and satisfying, so it would be perfect for a cold evening, but it is also light and delicate enough to work well as a spring or summer meal.
This free wonton recipe gives you an idea how easy it is to make authentic wonton soup to delight your family, and it is quick to make too. Everyone will love this pork and shrimp wonton soup. The wonton filling mixture should be left to stand for half an hour, to intensify and blend the flavors, but once the chicken stock reaches a simmer, you can drop the wontons in, and they only take about four minutes to cook. The soup is then ready to be ladled into bowls and served piping hot. Continue reading →
Hot and sour soup is a lovely Chinese dish, featuring chili, vegetables and more, but this recipe takes the recipe to the next level adding squid to the mix, so you can enjoy the wonderfully soft texture of that in the soup. A hot and sour squid soup might sound like an exotic recipe but it is really easy to make.
Take a look at the following hot and sour squid soup recipe and you will see how anyone could put this together. Feel free to make it as spicy or as mild as you like. If you are feeling under the weather or you think you are getting a cold or the flu, up the spices to help fight it off!
You can make this soup as an appetizer or have it for lunch. If you want to try the classic hot and sour soup recipe you can find a traditionally Chinese and squid-free way of making it at http://victoriahaneveer.com/recipes/soup/hot-and-sour-soup-chinese-style/ Continue reading →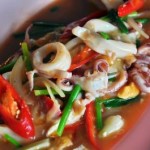 This is not a stuffed squid recipe like many of our other soup recipes with squid but it is too good not to include on here. Oh yes, Spanish squid soup is one of the best soups I know, and it's worth learning the recipe. The recipe features squid of course, and also potatoes, onion and tomato. Aromatic flavor comes from the chilies, thyme, garlic and balsamic vinegar. The green beans are optional but they look attractively colorful so if you want to use them then just throw them in after topping and tailing them.
The Spanish squid soup recipe is very simple to prepare. Once all the ingredients are in there you need to let it simmer for 3 or 4 hours so the flavors can really meld, and so the squid can tenderize.  Just imagine how wonderful this is going to smell while it's cooking! Try serving this with warmed crusty bread, since that is how it would be served in Spain. You will know when it is ready. The squid will be tender not chewy, so just taste a bit and see how it is. If it is not tender enough, give it more time. You need to ensure the squid in this Spanish squid soup is perfect.
Spicing Things Up
It is up to you how much chili you add. In fact you can leave it out altogether if you wish, or use sweet bell pepper instead for a milder result. This is a wonderful way of using squid and if you want a tasty Spanish squid recipe but do not mind it not being stuffed then why not try this? Because of the extended cooking time it's not the kind of dish you can decide to make 10 minutes before eating, but begin it after lunch then let it simmer gently until dinner time. You will be very glad you chose to make this Spanish squid soup because the taste is magical. Continue reading →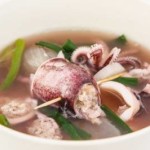 This Thai stuffed squid soup recipe is a favorite of mine. It is very special because of its simplicity. Although this Thai stuffed squid soup dish is rarely found on a restaurant menu you quickly and easily prepare it yourself. You need some chicken or pork bouillon, and homemade is best if possible.
If you do not have homemade bouillon then make sure you use a high quality one. The filling for the squid is made with pork, soy sauce, black pepper and garlic, and you will need smallish squid for this, no more than a couple inches long. When you have stuffed the squid it is time to warm up your bouillon and then you poach the squid in there for 8 minutes. Serve it nice and hot.
Comfort Food, Really!
This Thai stuffed squid soup recipe is great if you have a cold or the flu or you just fancy something warming. It is also really quick to make and if you have the baby squid you probably have all the other ingredients too. Keep some ground pork and baby squid in the freezer and you can make this any time you have a craving for it. Serve this stuffed squid soup as an appetizer or make it for lunch and have it with some salad on the side. If you only have larger squid you can use a couple of those instead but the baby squid gives you a nicer presentation and it just looks more elegant in the bowl.  Continue reading →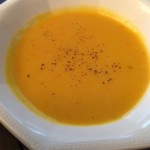 Pumpkin soup is a real favorite in this household but I never buy it, I always make it! There are two main ways to prepare this soup – leaning either towards the savory or towards the sweet. This lightly spiced pumpkin soup appeals to anyone who loves pumpkin and is neither too savory nor too sweet.
Personally I like my pumpkin soup sweet although I add savory ingredients to it such as onion and garlic. Although roasting the pumpkin first is something most people do, if you are in a rush, you could just add it to the pot and let it simmer in the stock until tender. The flavor will not be that different. But if you want the best possible experience do roast it first.
Lightly Spiced Pumpkin Soup Tips
It is often better to take more care. When you make a wonton soup recipe for example it is better to cook the wontons then add them to the soup. The flavor is better. Roast vegetables before adding them to the soup just so you get a nicer flavor. Continue reading →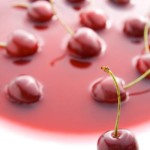 The following chilled cherry soup recipe features lemon and cinnamon to highlight the wonderful cherry flavor and lend a gourmet touch to this soup, while the flour thickens it up a bit and the sour cream adds a nice tang.
A Starter or a Dessert
This chilled cherry soup recipe would be excellent served as a starter recipe or for dessert, whichever you like. It is light enough not to fill people too much before their main course, which is always something you want from starters. What is the point of filling people up so much they don't want their main course! You won't have that problem here.
The chilled cherry soup recipe is served cold, which means it is cooked them cooled to room temperature and finally chilled in the fridge. The finished soup has a silky smooth consistency with the cherries being the only texture in there. It is hard to describe the magic of this soup – you just have to make it and see. Continue reading →