Soup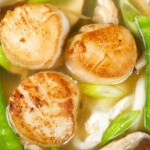 Light and aromatic, this Japanese scallop soup recipe is easy to make and makes a lovely appetizer, lunch or light evening meal. It can be made very quickly using whichever veggies you happen to have.
The base of the Japanese scallop soup is chicken or vegetable stock and miso, then there are udon noodles and scallops in there too. You will be wowed by this recipe and want to make it again and again, because the flavor is so good.
What are Udon Noodles?
Have you tried udon noodles before? They are white, thick and a little chewy. Wheat-based, udon noodles are one of my favorite Japanese exports. You can get them fresh from the refrigerated section in the Asian store, or dried. If you don't have them you can use linguine or another kind of noodle or pasta. Continue reading →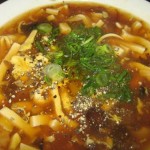 Hot and sour soup Chinese style is always good. It is sure to warm you up when you are feeling chilly, it offers a true Asian flavor in every sip, and it makes a lovely appetizer.
There are different styles of hot and sour soup recipes to choose from, ranging from Chinese to Thai, from mild and aromatic to fiery hot. I love them all, or at least I love trying them all. Sometimes they are just that little bit too spicy for me! The good thing about making your own versions of hot and sour soup Chinese style though are that you can add as little or as much spice as you like.
The following hot and sour soup Chinese style recipe makes a delicious and authentic Chinese hot and sour soup, and it is very easy to make. Just get your ingredients together and add them to the pot in the right order. The final touches are drizzling beaten egg into the soup, so it cooks in strands, and garnishing with green onion. Continue reading →
Some More Hot Content For You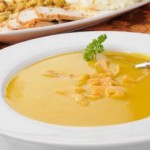 A nice rich butternut squash soup is a lovely option for the chillier months. There are plenty of things you can do with this naturally sweet vegetable though, not just soup.
Try stuffing it with risotto or pilaf, cubing it and adding it to your next stew or curry, pureeing it to make a change from mashed potatoes, or using it to make a wonderful winter warmer of a soup.
You can tinker with the rich butternut squash soup, adding more ingredients if you want. Some people like to swap half the butternut squash for pumpkin or potatoes, or even carrots. Doing this will change the flavor slightly and the color of the finished soup. Adding broccoli or anything green will give it a brownish hue.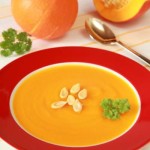 Thick and creamy pumpkin soup is a winter favorite. There are many ways to make it and a lot of people like it thick, rich and sweet, but there are also more savory options.
In some parts of Europe, for example, the soup will include onion, garlic, bacon and herbs. In other parts of the world this soup is made very sweet and can almost be compared to a dessert. No wonder thick and creamy pumpkin soup is so popular with the kids.
Personally I love the 'comfort food' kind of pumpkin soup and I love adding maple syrup, cream and other wonderful ingredients to bring out the flavor of the pumpkin. I like to roast my pumpkin before making the soup, just because it brings out the natural sweetness and enhances the flavors that are in the pumpkin.
Continue reading →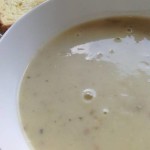 This delicious cream of cauliflower soup recipe is thick and creamy. If you want to make the best cream of cauliflower soup recipe, this is a very nice recipe to choose. Each serving offers 150 calories, 12g carbs, 4g protein and 10g fat. This makes a very nice lunch or appetizer.
I often make curried soups but occasionally I like to make something creamy, and cauliflower is really good. Mashed cauliflower (like mashed potatoes but with cauliflower) is also very good, and I like to add cauliflower to curries.
Cream of Cauliflower Soup Recipe: So Simple and Good
What makes this cream of cauliflower soup recipe special is the simplicity of it. The focus is all on the cauliflower and the other ingredients are used to complement it. So if you are wondering what kind of soup to make, you might like to try this one. It really is yummy. Continue reading →
Other Posts You Might Like