Wonton Soup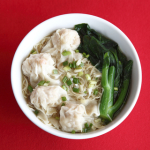 Traditional Chinese food recipes are fascinating and following these will allow you to prepare the meal as it has been made and enjoyed for centuries. Every element of the authentic Chinese wonton soup recipe including the ingredients, preparation and serving suggestions are authentic.
The original style of preparing and cooking the Chinese recipes are incredible, and will allow you to indulge in top quality Chinese foods, keeping things traditional at every stage.
Ensuring that Chinese Food Recipes are Traditional
You may enjoy Chinese food, but what you purchase in the local takeout or eat at a Chinese buffet is unlikely to be traditionally Chinese. This means if you have the opportunity to experience traditional Chinese recipes as they should be prepared, you will be surprised. The taste, texture and preparation methods are likely to be incredibly different. Try this authentic Chinese wonton soup to start your taste buds off on your culinary journey.
Continue reading →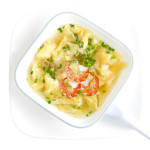 Some people make wonton soup by dropping their filled wontons into their prepared stock and letting them simmer in there but others prefer to cook the wontons in water and then add them to the soup, so as not to make the soup cloudy. Since you are the cook and the one who is going to be eating the dish, it is totally up to you. You can prepare your cilantro shrimp wonton soup however you prefer.
The first few times I made cilantro shrimp wonton soup I put the wontons directly in the soup mixture and let them cook in there, but then I experimented with cooking them in water and then lifting them into warmed serving bowls using a slotted spoon and ladling the hot soup over the top. Both ways are good, the second perhaps more authentic. You will just need an extra pot.
This cilantro shrimp wonton soup recipe features shrimp (both whole ones to garnish the soup and minced ones inside the wontons) as well as plenty of sesame oil and cilantro. The stock for this shrimp wonton soup recipe is made by infusing ginger, cilantro and more in a basic chicken stock and then sieving out the additions. It is important to serve a tasty stock with your wontons. Continue reading →
Some More Hot Content For You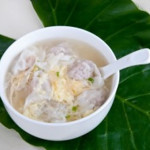 This flavorful chicken wonton soup with cabbage also has green onions, sesame oil and more. If you are looking for an alternative to pork wonton soup recipes you might enjoy this one. You can make the filling up to 2 days in advance if you like. This flavorful chicken wonton soup recipe makes a healthy dinner or a warming lunch and you can even enjoy it as a snack in the middle of the morning of afternoon, whenever you aren't ready for a meal but you want something more substantial than just a cup of coffee, which is not going to fill you up too much but still warm your belly and put a smile on your face.
Chicken wonton soup recipes are every bit as tasty as pork wonton soup, but ground chicken does make a change. This chicken wonton soup with cabbage is really good. Paired with flavorful Napa cabbage or another variety, as well as green onions and ginger, these wontons have an exciting filling which means you will enjoy eating it as well as putting the recipe together.
It is best to use a low-sodium broth for this chicken wonton soup with cabbage recipe, since the recipe also contains soy sauce and that can be quite salty too. It is easy enough to add a little extra seasoning to the soup afterwards but there is not much you can do if it is too salty to begin with. The soft wontons floating in the hot soup give it appeal and texture and anyone you serve this to is sure to love it. Kids like chicken wonton soup as much pork wonton soup too. Continue reading →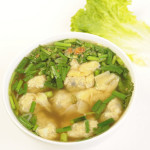 There are hundreds of different wonton soup recipes to choose from and you can even make your own variations by switching one kind of meat for another, using different vegetables or even using a different kind of stock or broth for the wonton soup.
The word "wonton" literally means "swallowing a cloud" and that is what the floating wontons are meant to resemble in the soup. You can serve wonton soup recipes for lunch or dinner, or serve small portions as an appetizer.
One of the more unusual wonton soup recipes is duck wonton soup and the following recipe shows you how to make this delicious dish. You can make this duck wontons recipe up to 6 hours ahead, if you keep them covered in the refrigerator. You can freeze the soup stock if you like.
Feel free to change the ingredients. This recipe calls for garlic chives and Chinese broccoli, ingredients which not every home cook will be able to locate nearby. The main ingredients are the wonton soup stock and the wontons themselves, so just use whatever you have. Continue reading →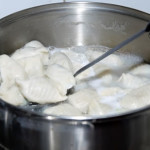 This exciting Hoisin celery wontons recipe features a flavorful broth containing homemade pork, hoisin and Chinese celery wontons. It couldn't be simpler to make and this makes a warming meal for the whole family. You can even make extra wontons and freeze them for next time.
This Hoisin celery wontons soup recipe calls for soy sauce paste. Soy sauce paste is similar to soy sauce but thicker. If you can't get it, just use the regular kind. Be careful not to add too much sesame oil; a little really does go a long way.
You can find Chinese celery in any Asian grocery store and it is sweeter than regular celery. If you can't get it then try adding chopped Napa cabbage or black mushrooms instead. This Hoisin celery wontons soup is going to be so good!
Use a food processor to combine the filling ingredients if you want but use the "pulse" setting because it's best to leave some texture in the shrimp and meat. You don't want them to vanish into a puree. You should be able to see the different ingredients when you bite into the wonton. Use egg wonton wrappers or the ones without egg; either works fine here. Continue reading →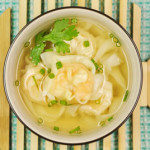 These flavorful pork wontons feature shrimp, ginger, green onion and more. Try pork and shrimp wonton soup for your supper tonight and enjoy the fresh flavors. Pork and shrimp wontons are usually served in authentic wonton soup recipes and if pork and shrimp go together better than you might imagine. If you have ever tried bacon-wrapped shrimp, you will know this is a match made in heaven. Pairing pork and shrimp means you will have a delicious wonton filling for your wontons. In addition to the pork and shrimp, the wontons feature ginger, soy sauce, Chinese rice wine and more, for a traditional wonton feel and a mouthwatering finish.
How to Make Pork and Shrimp Wonton Soup
For this pork and shrimp wonton soup, first you need to make the wonton filling, then fill and seal the wonton wrappers and finally simmer then in chicken stock for a bit. The finished soup is light yet satisfying and if you are looking for wonton soup recipes which are easy enough for a beginner to master immediately, this might be a nice one to start off with. The wonton soup is hearty and satisfying, so it would be perfect for a cold evening, but it is also light and delicate enough to work well as a spring or summer meal.
This free wonton recipe gives you an idea how easy it is to make authentic wonton soup to delight your family, and it is quick to make too. Everyone will love this pork and shrimp wonton soup. The wonton filling mixture should be left to stand for half an hour, to intensify and blend the flavors, but once the chicken stock reaches a simmer, you can drop the wontons in, and they only take about four minutes to cook. The soup is then ready to be ladled into bowls and served piping hot. Continue reading →
Other Posts You Might Like