Tofu
Pho is a delicious Vietnamese noodle soup made with rice noodles, broth, meat, seafood or a vegetarian alternative, and herbs. Beef and chicken are the most popular flavors but you can make a great vegetarian pho with tofu. This easy tofu pho is just gorgeous and you'll love the flavors.
This is a well-loved street food in Vietnam, and the Southern Vietnamese enjoy it for breakfast or lunch, while those in the north of the country have it at any time of the day or evening.
History of Pho Soup
This dish dates back to the early 1900s and refugees introduced it to the rest of the world after the Vietnam War. There is no proof of the cultural influences responsible for this soup or where the word pho comes from, because it is not well documented. There are Saigon and Hanoi styles, each made with different width noodles, herbs and broth sweetness, and other types of pho such as fusion varieties in experimental restaurants. Try our easy tofu pho recipe if you're new to pho and don't want to use meat. Continue reading →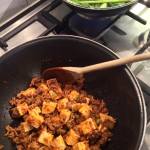 Mapo tofu, which is sometimes written mapo doufu, is a delicious Chinese recipe from the Sichuan province in China. It is comprised of tofu in a reddish, spicy bean and chili based sauce. The tofu is usually cooked with ground meat, either beef or pork, along with fermented beans. There are variations of course, and everyone has their own way of making it. Discover how to make mapo tofu and you will fall in love with this dish!
Why is Mapo Tofu Called That?
So how did mapo tofu get its name? Well the 'ma' refers to 'mazi' which is pockmarks, and the 'pa' refers to 'popo' meaning old woman or grandmother. So interestingly mapo tofu means pockmarked grandmother or, better, pockmarked grandmother's beancurd. This presumably refers to the old lady who first invented the dish. Learning how to make mapo tofu means you can relay this interesting history at the dinner table.
The Flavors of Mapo Tofu
This recipe is traditionally fiery, as many Sichuan dishes are, and this dish in particular is described using 7 Chinese adjectives, namely numbing, hot temperatures, spicy hot, fresh, soft and tender, flake, and aromatic.
The most important ingredients are the beancurd (tofu), salty bean paste or chili broad bean paste, fermented black beans, chili oil, garlic, green onions, rice wine, Sichuan peppercorns, and chili flakes. There might also be some starch to thicken up the sauce and often some kind of ground meat.
Continue reading →
Some More Hot Content For You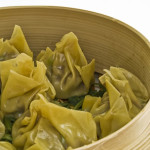 This recipe combines tofu, cabbage and carrot with delicious seasonings like hoisin sauce, sesame oil and more, for sensational steamed wontons. Whether you are a vegetarian and therefore looking for vegetarian wontons, or whether you just like tofu, there is no doubt this steamed wontons with tofu recipe is fantastic. Tofu is really versatile and you can stir-fry it, bake it, grill it (the firm kind anyway) or use it in a vegetarian wonton recipe as a substitute for another kind of protein, and it will soak up all the other flavors in the dish, and offer a pleasing texture as well.
Maybe you are wondering how to use a bamboo steamer and the good news is they are easy to master. You can either line the steamer with lettuce or banana leaves, or simply use some spray oil so your tofu dumplings do not stick. Bring half an inch of water to a boil in a wok and sit the steamer on top so it doesn't touch the water. That's pretty much all there is to steaming and you will find this steamed wontons with tofu recipe easy to master.
How to Serve Them
Serve these steamed wontons with tofu as an appetizer or as part of an Asian dinner and sit back while the compliments come! Perhaps you already have a steamer or maybe you are wondering whether it is worth getting one. Steamers are often purchased, used a few times and then abandoned in favor of other pans and the deep fryer, but steaming is really healthy and steamed wontons have a lovely soft texture, so definitely try this recipe. Continue reading →
Other Posts You Might Like