Vegetables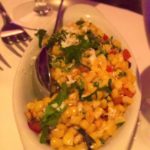 Corn is always good especially when you cook the fresh kind and slice it off the cob in sweet, juicy slices. I love this Monterey style sweet corn recipe as a side dish because it seems to complement just about everything from chicken or seafood to steak or game meats.
Why You Should Make This Monterey Style Sweet Corn Recipe
This dish is easy to prepare, attractively bright colored and is sure to appeal to even the youngest members of the family – those who are normally picky about vegetable-based sides!
I find about a tablespoon of jalapeno enough to give the the Monterey style sweet corn a bit of a bite, but of course some people prefer to add more while others want to omit all traces of spice from their food, so you be the judge here and adapt it to suit your own palate.
If you need to rustle this up in a hurry, you could use well-drained canned corn but honestly that doesn't really do this south of the border inspired dish justice, so get some fresh ears of corn and make it from scratch. That way you will have a real explosion of flavor in your mouth with every mouthful.
Continue reading →
I first tried this amazing corn pie in Chile and immediately fell in love with it. The ingredients might sound a little strange but it's really good, I promise! Some people use beef while others use chicken. The corn topping on this pastel de choclo recipe is crisp, sticky and sweet and the eggs, black olives and other ingredients lend authenticity.
Side Dish Options
What is a good side dish for our pastel de choclo? Well, I like it with a simple tomato, garlic and onions salad on the side, or you might want to steam some broccoli or another favorite vegetable instead. This keeps well in the refrigerator for a few days and is easy to reheat in the microwave.
What Kind of Corn to Use
Although some people prefer to use fresh corn when making a pastel de choclo recipe, I usually just use the canned kind which is fine in this corn pie as long as you drain it properly. Feel free to adjust the amount of sugar. It helps with the caramelization but my husband is diabetic so I usually use half sugar and half sweetener. Continue reading →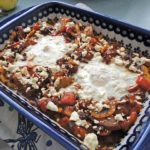 Shakshuka is a Middle Eastern tomato, bell pepper and egg dish. Sometimes it is spelt shakshouka. This Middle Eastern shakshuka recipe actually originated in Northern Africa and there are many different variations on the basic theme.
The feta cheese is not a traditional ingredient, for example, but I love to add it because the creamy tang goes so well with the dish. Leave it out if you prefer though.
How to Serve a Middle Eastern Shakshuka Recipe
It is often served for breakfast in Israel with challah or pita on the side. The dish is also good for brunch or lunch. I like it with pita bread, homemade hummus and other Middle Eastern/Israeli/Arabic dishes.
The sauce is made first and that's easy to prepare on the stove, and then the eggs are gently cracked into the sauce. Finally the skillet goes into the oven so the shakshuka can finish cooking. It is then served hot, with some kind of bread on the side to mop up all the tasty juices.
Good for You Too!
This shakshuka recipe is a healthy dish, boasting the protein form the eggs, the lycopene and antioxidants from the tomatoes, and the vitamin-C from the bell pepper. If you want to make this more substantial add some small lamb meatballs to the sauce. You can also swap the bell pepper for eggplant or grill the peppers first for a richer flavor. Continue reading →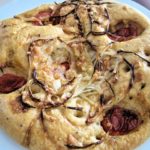 Focaccia is a tasty Italian bread which complements all kinds of dishes. Although you can buy it from the bakery or grocery store, making your own easy tomato and onion focaccia loaf is worthwhile because let's face it – you can't beat freshly baked bread! And this one is certainly no exception.
How to Serve Focaccia
You can serve this easy tomato and onion focaccia as an appetizer, either alone or with dips like sour cream dip or onion dip, or else have it with your main dish. If you are having beef, chicken or similar in a sauce, focaccia bread can be used to scoop up every last drop of those yummy meat juices, making it a worthwhile accompaniment to any Italian meal.
This recipe is simple to follow. Grab some yeast, flour, salt, oil, onion, tomato and oregano to make it, and allow an hour or so time for the dough to rise. This baked Italian bread is similar to pizza dough and is often served with appetizers or tapas in Italian cuisine.
Why Focaccia Rises More
Focaccia uses more yeast than pizza dough though, so it rises more. Serve this easy tomato and onion focaccia flat bread with your appetizers, alone with aperitifs, with dips (fusion style) or alongside your Italian inspired meat or fish dish, and you're sure to have a winner on your hands. Continue reading →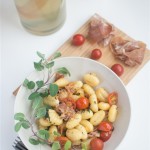 Gnocchi makes a change from pasta or pizza but is just as Italian. So if you are in the mood for Italian food but not something too, well, obvious, consider gnocchi! This dish, which comprises potato gnocchi, cherry tomatoes and mozzarella, is also known as gnocchi alla sorrentina. Gourmet gnocchi makes such a nice dinner. It's the perfect balance between satisfying and delicate.
I like to add prosciutto to the dish but you could add serrano ham or regular ham instead (the thinly shaved kind) or else just leave it out, for a vegetarian result. You could even get creative here, adding shredded cooked chicken or similar, as a way of using up leftovers from last night's meal.
What is Gnocchi Exactly?
Gnocchi is like a little dumpling made of potato and flour. You can make your own or grab a package from the pasta and rice aisle in the grocery store. Obviously it's far easier just to grab some ready-made. If you add plenty of fresh ingredients you can restore a homemade flavor to the dish. We are adding cheese, tomatoes and ham, and this adds plenty of flavor and color, and it's also really easy to make this simple Italian staple into a gourmet gnocchi meal ready to knock your partner's socks off with big, bold flavors!
Serve this with some crusty bread, preferably ciabatta or another kind of Italian bread if you can get it, along with butter. Add a baby leaf salad and some kind of basic dressing like extra-virgin olive oil and red wine vinegar or balsamic vinegar, and you have a delicious entree which everyone will love. This certainly makes an exciting change from the usual pasta recipes. Continue reading →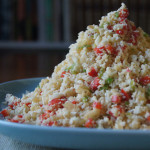 Cauliflower rice, also known as cauli rice, is a low-calorie, low-carb alternative to regular rice. You can make it with a food processor or, if you don't have one, a cheese grater. There are different ways to cook cauliflower rice recipes too, such as on the stove, in the oven, or even in the microwave. Although cauliflower obviously doesn't share the exact same flavor as rice, you can get the appearance and texture very close.
It is well worth knowing how to make cauliflower rice recipes, even if you are not trying to reduce your carb or calorie intake. Cauliflower is rich in protein, thiamin, niacin, riboflavin, phosphorus, magnesium, vitamins C, K, B6, potassium, manganese and pantothenic acid. It is very low in cholesterol and saturated fat.
Whether you are looking for a paleo cauliflower rice, Mexican cauliflower rice or coconut cauliflower rice recipe, or something else, there are certainly a lot of different recipes to choose from, both mild and spicy, traditional and exotic, vegetarian, vegan and anything else you can think of.
Continue reading →