Vegetables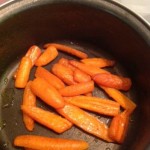 Learn how to make caramelized carrots because this winning side dish goes with everything. This very easy recipe makes a lovely side dish. Carrots offer a natural sweetness but adding butter and a little sugar to the carrots gives them a wonderful crunchy glaze. Pair these with meat or poultry, adding some mashed potatoes too, for a great dish.
I like to peel and chop mine into fat matchsticks but it's up to you whether or not to peel, and also whether to cut them into slices, chunks or strips. The thinner they are cut the less time they will take to cook.
How to Make Caramelized Carrots: Honey or Sugar
I have made this recipe before using honey instead of the sugar but I found the honey flavor too strong. You can experiment with it if you want, or try brown sugar, but I think it's better with white sugar. That's just something I discovered when learning how to make caramelized carrots. Continue reading →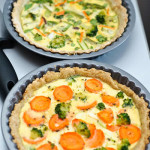 Few things are as delicious as a good vegetarian quiche, and learning how to make vegetable quiche is something that any home cook can do with ease.
You can include as few or as many veggies as you like, and choose from various types of crusts and fillings, to make your vegetarian quiche recipe perfect for your palate.
Once you discover how to make quiche you will want to experiment with diverse crusts and fillings. Not only will you love the resulting quiche but your family are sure to love it too.

Quiche is a healthy option, boasting the protein from eggs, the nutrients in the veggies, and it is also really filling and will keep you satisfied until your next meal so discovering how to make vegetable quiche is very worthwhile. Continue reading →