Vegetables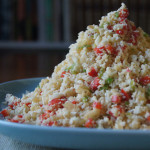 Cauliflower rice, also known as cauli rice, is a low-calorie, low-carb alternative to regular rice. You can make it with a food processor or, if you don't have one, a cheese grater. There are different ways to cook cauliflower rice recipes too, such as on the stove, in the oven, or even in the microwave. Although cauliflower obviously doesn't share the exact same flavor as rice, you can get the appearance and texture very close.
It is well worth knowing how to make cauliflower rice recipes, even if you are not trying to reduce your carb or calorie intake. Cauliflower is rich in protein, thiamin, niacin, riboflavin, phosphorus, magnesium, vitamins C, K, B6, potassium, manganese and pantothenic acid. It is very low in cholesterol and saturated fat.
Whether you are looking for a paleo cauliflower rice, Mexican cauliflower rice or coconut cauliflower rice recipe, or something else, there are certainly a lot of different recipes to choose from, both mild and spicy, traditional and exotic, vegetarian, vegan and anything else you can think of.
Continue reading →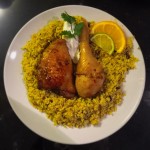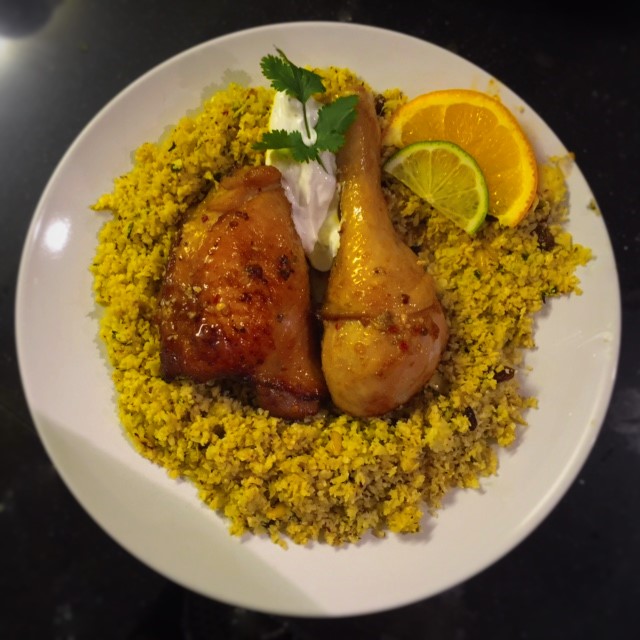 Cauliflower rice, or cauli rice as it is affectionately  known, is a wonderful substitute for rice, offering a mere fraction of the calories and carbs or rice, yet offering a very similar texture and a neutral flavor. You can do so much with it and there are plenty of cauliflower rice recipes to choose from. This cauli rice with orange, lime and cilantro recipe is easy to prepare and it's yummy!
I like to use a medium or strong-flavored sauce to disguise the cauliflower flavor – not that cauliflower has much of a taste at all, but just to make it as rice-like as possible. Try Chinese rice with cauliflower instead of rice, or consider Mexican cauli rice or Italian flavors.
It is easy to prepare this cauli rice with orange, lime and cilantro recipe if you have a food processor. Simply break a fresh cauliflower into florets and whiz them in the food processor until rice grain-sized. If you don't have a food processor that is okay, just use a cheese grater instead. It will take longer and you will get a similar result. Continue reading →
Some More Hot Content For You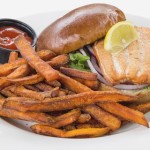 Sweet potato fries are always good and they pair well with many a snack – with sandwiches, burgers, ribs, or even just some ketchup to dip them in! However, many of us have the problem of homemade sweet potato fries being, well, not crispy enough. That's why you need to know the secret of crispy sweet potato fries.
I've never had real success with my oven baked sweet potato fries but what I have discovered is a great recipe to get them super-crispy using a deep fryer and I am sharing my recipe with you below.
Why Use Sweet Potatoes for Fries
The reason I use sweet potato fries is my husband is diabetic and white potatoes tend to send his blood sugar soaring. Carisma potatoes (the diabetic-friendly potato) don't fry that great (although they mash like a dream!)
Feel free to tweak the spices you are using. Also, if you don't have soda water just use plain tap water. I have done that and it doesn't make a lot of difference to your crispy sweet potato fries.
The batter gives the fries amazing crispness and the seasonings taste amazing in these as well. Serve these crispy sweet potato fries hot alongside your favorite meal and wait for all those compliments to come your way! Continue reading →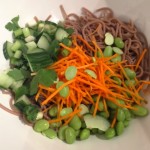 I love all kinds of noodles but soba noodles are my favorite. The word 'soba' means 'buckwheat' in Japanese and it also refers to thin, buckwheat noodles. In Japan the word refers to any thin noodles. These can be served hot or cold, with a dipping sauce or in soup or you could make an easy soba salad. Buckwheat can be harvested 4 times a year because it takes 3 months to reach maturity and be ready for harvesting.
Soba noodles are sold at railway stations in Japan, and they also feature on the menus in high-end restaurants, making them a versatile component in a variety of dishes, not just easy soba salad recipes.
Soba noodles are often drained and chilled in the summer, or served hot with a soy dashi broth in the colder months. Easy soba salad is a popular summertime treat. They might be served with soba tsuyu, a type of dipping sauce, on the side, and maybe bits of dried nori seaweed on top.
The diner will use chopsticks to pick up some noodles and dip them in the sauce. Green onions and wasabi might be mixed into the sauce. Hot broth changes their consistency, which is why a lot of people prefer to have them cold. In Japan, the water in which the noodles were cooked is often drunk after the noodles have been eaten, with the leftover sauce mixed in for flavor. Continue reading →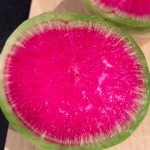 What is a watermelon radish, you might be wondering. It could be you have spotted watermelon radishes at your local market and you are curious what to do with such a vegetable. What kind of watermelon radish recipes are there? Maybe you are looking for a good watermelon recipe. Well I purchased some of these at my local market, and I have been experimenting!
First of all, what is a watermelon radish anyway? Well, this vegetable is an edible globular root with green leaves and thin stems. The outside is whitish and the flesh is bright pink. It is tender-crisp and firm in texture. It tastes mild and a little peppery. You might taste some almond in there when enjoying your watermelon radish recipes.
This vegetable varies in size between a golf ball and a softball, and you should choose ones which have smooth crack-free skins. You can get watermelon radishes all through the year, although spring and late fall are the peak season for them. This heirloom Chinese daikon radish belongs to the mustard (brassica) family. A watermelon radish is a good source of vitamin C, especially when you enjoy it raw. Continue reading →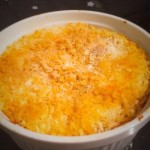 So what do you do when you have leftover mashed potatoes? It's a waste to throw them out, but who wants to reheat them and risk cold lumps or dried out mash? Let me come to your rescue with my best leftover mashed potatoes recipe ideas.
Through experimenting I've come up with a really good way to use up leftover mashed potato, and this recipe is easy to make and really good. It goes with everything! I made the original mashed potatoes using half Carisma and half sweet potato (my husband's diabetic so we avoid regular mash) but as usual I made too much!
One of the Best Leftover Mashed Potatoes Recipe Ideas
I mashed a little sour cream into the leftovers, then spread them in a baking dish, topped with parmesan and panko breadcrumbs, and baked in the oven until hot, and until the panko was golden brown. The flavor is really good. The potatoes are piping hot and the texture stays the same. It doesn't taste like reheated leftovers. Trust me, this is one of the best leftover mashed potatoes recipe dishes you can make.
There are other things to do with leftover mashed potatoes, such as combining them with leftover vegetables, covering in flour and pan-frying in oil until crispy, but this crispy panko mashed potatoes dish is especially good.
The following best leftover mashed potatoes recipe doesn't mention quantities because I don't know how much leftover mash you have, but just use a little sour cream then add parmesan and panko to cover in a thin layer. If the panko browns too fast, wrap some foil around the baking dish. If it doesn't brown enough give it a couple minutes under the broiler at the end.
Continue reading →
Other Posts You Might Like