Vegetables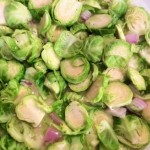 I admit I used to hate Brussels sprouts as a child, largely thanks to the way they were presented in an over-boiled, mushy heap (apologies to my mother if she's reading this) but seriously, sprouts are not only healthy, they can be yummy too, as long as you cook them right! So, find out how to cook Brussels sprouts like a pro and make the best Brussels sprouts side dish of all.
In the old days, this vegetable used to be boiled to soggy death in water, then plonked on the plate alongside the meat or poultry of choice, and kids everywhere (myself included) would leave them on the plate until they were cold, hoping they would just… disappear or something! No wonder sprouts have a bad rep when people everywhere just boil them.
The Magic of Pan-Frying
Now the first time I enjoyed sprouts pan-fried or sauteed was a real eye-opener. This little green vegetable, which may be compared to a miniature green cabbage, can be sliced and cooked with wonderful ingredients like red wine or red wine vinegar, walnuts, parmesan and nutmeg, and these ingredients help to bring out a brand new side to them. This inspired me on how to make the best Brussels sprouts side dish. Continue reading →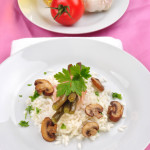 This easy mushroom risotto with truffle oil recipe combines rice with mushrooms, and you can use any kind of mushrooms you want. Last time I used button mushrooms, but you can also use assorted wild mushrooms if you want, or another kind. We are also using dried mushrooms in the mushroom risotto with truffle oil, which you will reconstitute before proceeding with the recipe.
Different Types of Risotto
There are lots of different type of risotto, including shrimp, chicken and vegetable types. I like asparagus risotto with plenty of parmesan. Everyone has their own favorite. I like to use arborio rice to make mushroom risotto with truffle oil but you may use carnaroli or another risotto rice if you prefer.
Mushroom Risotto with Truffle Oil Tips
This is a simple recipe which makes enough for 4 entree-sized servings. The key to a great mushroom risotto with truffle oil is adding a little liquid and letting it soak into the rice and disappear before adding more. Keep doing that and your risotto should have that authentic rich and creamy texture that the dish is known for.
Serve with extra parmesan on the side (freshly grated of course) of this mushroom risotto with truffle oil and a offer mill of black pepper to grind over it. If you want to serve a side dish, consider a simple mixed baby leaf salad with vinaigrette. Make this mushroom risotto with truffle oil recipe with vegetable stock if you want a vegetarian result. Continue reading →
Some More Hot Content For You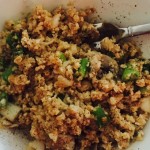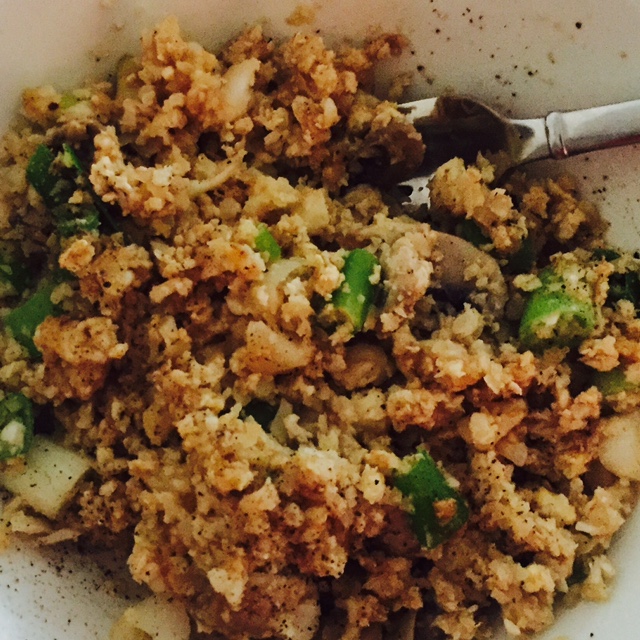 Using cauliflower instead of rice is a great idea if you are looking to cut calories, carbs, or you simply don't want to have rice but you want something similar in texture. Try this egg fried cauli  rice recipe and you will soon see what all the fuss is about!
Pop some cauliflower florets in the food processor, press the button, and a couple of seconds later you will have something resembling rice, which can be transformed into egg fried 'rice' or even something like our yummy Mexican cauli rice recipe (opens in new link) which is low in calories and tastes gorgeous.
Always a Great Meal
I made this egg fried cauli  rice recipe for lunch today and found it quick and easy. This pan-fried cauliflower rice is delicious and you can add anything you like in there. I just used green onion, mushrooms, soy sauce, egg and a dash of sesame oil along with the cauli rice but you may add anything else in there.
Perhaps you have some leftover cooked chicken or shrimp to use up, in which case throw them in and warm them up for a couple of minutes. Did you open a can of corn kernels or peas yesterday? Add a spoonful of those into the cauli-rice mix if you want. Continue reading →
Knowing how to make cauliflower rice is very handy whether you are looking for a low-carb substitute for rice, you are trying to cut down your calories, or you simply want to use up a cauliflower or sneak some added nutrients into your meal. Try this Mexican cauli rice dish for yourself and you'll be amazed how good it is.
This Mexican cauliflower rice recipe is simple to prepare, and it is something you can tweak to your heart's content. The first thing you need to do of course is transform your raw cauliflower into rice-sized pieces, and the easiest way to do this is to put it in the food processor with a blade attachment and whiz it for a few seconds.
How to Make Cauliflower Rice
If you don't have a food processor though, you can do it in the blender or else use a box grater to do it by hand. You can use the whole cauliflower apart from the leaves and the woody part right in the center. Don't use thawed cauliflower for Mexican cauli rice because it is too mushy to separate into the rice-shaped bits. Continue reading →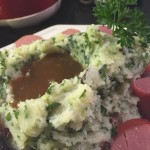 Dutch kale stamppot is a dish I make often, first because my husband is Dutch and grew up with it, and second because it's hot, comforting and delicious! Perhaps you have tried other Dutch recipes such as our slavink recipe, or maybe you are new to this cuisine. Either way, you will find Dutch kale stamppot with sausage very simple to prepare.
You will need mashing potatoes (I use low GI Carisma potatoes because my husband is diabetic) along with kale. Those are the main two ingredients in kale stamppot, known in Holland as boerenkool stamppot.
In addition, I recommend some smoked sausage, known locally as rookworst. This has a similar texture to a thick frankfurter. Use another kind of sausage if you prefer, or even franks if that's all you can get where you are, but look out for the typical Dutch rookworst sausage, because I can't imagine a better match than stamppot and rookworst! Yes, the sausage really makes the Dutch kale stamppot what it is.
Some crispy bacon makes a nice garnish too, although that's optional in this Dutch kale stamppot recipe. The potatoes and kale are drained and mashed with butter, salt, pepper and a splash of vinegar if you like. I like to add raisins too but that's optional. Continue reading →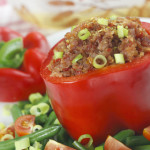 I've always been a fan of stuffed peppers, especially when beef, rice and cheese come together with seasonings to offer a rich and satisfying filling. But this time I wanted to make something without the rice and cheese, and I was curious how to flavor the beef sufficiently so that could be the main ingredient. That is how the idea for these curried beef stuffed peppers was born.
The following curried beef stuffed peppers recipe is made with spices and seasonings to add a light curry flavor to the beef filling, along with walnuts, raisins and other ingredients to add flavor accents. The overall effect is amazing and I am keen to make these curried beef stuffed peppers again soon.
I served the curried beef stuffed peppers with green beans on the side and actually they didn't look much on the plate but, trust me, they are filling! The following recipe makes 2 servings and the amount of filling should be just enough to fill the peppers. Mine was perfect – neither too much nor too little, but of course it depends on the size of your peppers.
Other Posts You Might Like