Cheese Wontons with Homemade Hot Sauce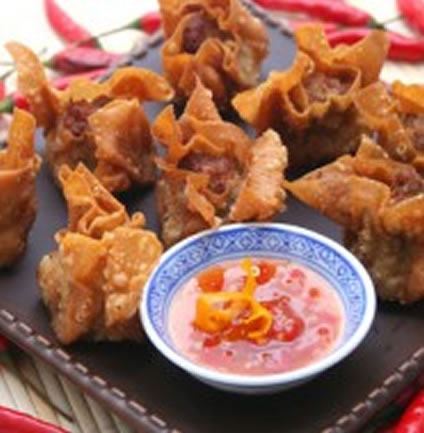 Author:
Victoria Haneveer
4 oz (115g) Monterey Jack cheese
24 wonton wrappers, 2 inch (5 cm) diameter
Vegetable, canola or peanut oil, for frying
⅓ chopped onion
1 tablespoon chopped canned jalapenos
1 ½ tablespoons white vinegar
8 oz (225g) canned tomato sauce
1 tablespoon vegetable oil
1 minced garlic clove
¼ teaspoon each dried oregano, salt and ground cumin
½ cup (120g) seeded chopped tomato
First make the hot sauce. You need to cook the onion and garlic in a pan, then add the other ingredients and cook until hot.Serve this sauce warm with your cheese wontons, for dipping.
Cut the cheese into 24 cubes and put one cube in the middle of each wonton wrapper.
Moisten the wonton wrapper edges with water and fold the wonton wrappers up to seal them.
Pour 1 ½ inches (3 ½ cm) of oil into a pan and heat it to 375 degrees F (190 degrees C). Fry the wontons, 6 at a time, for 30 seconds on each side or until golden brown. Drain on paper towels and serve with the hot sauce.
Recipe by
Victoria Haneveer
at http://victoriahaneveer.com/recipes/appetizers/vegetarian-appetizers/cheese-wontons-with-homemade-hot-sauce/