Simple Cocktail Prawn Recipe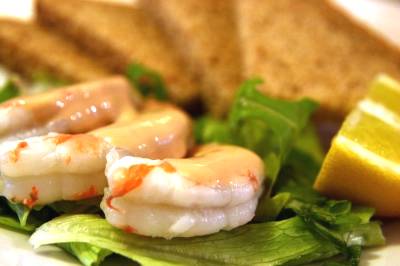 Author:
Victoria Haneveer
3 heads Little Gem lettuce (baby romaine)
1 tablespoon lemon juice
200g (7 oz) Salad Cream (or mayo or ranch dressing)
3 tablespoons tomato ketchup
450g (1 lb) small prawns, peeled and cooked
Few drops Tabasco
1 tablespoon pink peppercorns, crushed (or paprika instead)
Make sure the prawns are well drained.
Combine the ketchup, Salad Cream or dressing, Tabasco and lemon juice.
Tip in the prawns and mix to coat them in this sauce.
Shred the lettuce finely and arrange it as a bed on 6 shallow bowls or plates.
Divide the prawns between the plates, arranging them in pyramid type shapes.
Scatter over paprika or roughly crushed pink peppercorns.
Recipe by
Victoria Haneveer
at http://victoriahaneveer.com/recipes/appetizers/fish-appetizers/basic-prawn-cocktail-recipe/