Moussaka with Potatoes and Eggplant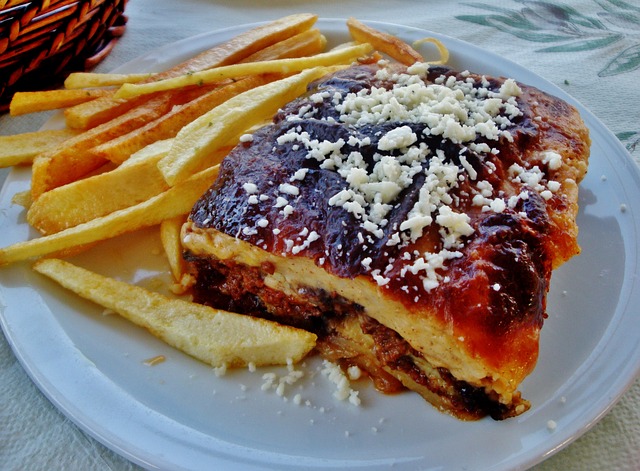 Author:
Victoria Haneveer
¼ cup (60ml) olive oil
2 lbs (900g) ground beef or lamb
2 minced garlic cloves
2 finely chopped yellow onions
2 teaspoons dried basil
1 teaspoon ground cinnamon
1 teaspoon dried oregano
¾ cup (150g) chopped Kalamata olives (optional)
1 teaspoon salt
15 oz (425g) seasoned tomato sauce
¼ cup (60g) butter
2 tablespoons all-purpose flour (plain flour)
¼ teaspoon salt
2 cups (500ml) hot milk
2 lightly beaten eggs
½ cup (55g) shredded Kefalograviera or parmesan cheese
2 lbs (900g) eggplants (aubergines) in ½ inch (1¼ cm) thick slices
2 or 3 potatoes in ¼ inch (6mm) thick rounds or long slices (enough to cover the bottom of your baking pan)
Olive oil, as needed
Salt and black pepper, to taste
1 cup (110g) parmesan cheese
1 cup (110g) kasseri cheese or white cheddar cheese
1 cup (90g) seasoned breadcrumbs
First you need to saute the meat in ¼ cup (60ml) oil with the garlic and onion until lightly browned.
Drain the meat and discard the fat (this is optional but recommended).
Stir in the basil, cinnamon, oregano, olives (if using), salt and tomato sauce.
Cover and gently simmer for 30 minutes, then uncover and gently simmer for another 30 minutes.
Meanwhile you can prepare the béchamel.
Melt the butter in a pan over a low-medium heat, then whisk in the flour and cook for 2 or 3 minutes or until lightly cooked.
Stir in the salt and take the pan off the heat, then whisk in the milk quickly and cook until bubbly and thick, whisking all the time.
Let it cool for 5 minutes, whisking once to stop a skin forming on top, incorporating the eggs and cheese with a wire whisk.
The finished béchamel sauce should be light and fluffy.
Arrange the eggplant slices on a cookie sheet and brush the rest of the oil over it, then broil (UK: grill) until light brown.
Salt the eggplant lightly, then flip and repeat the broiling.
Put a rack in the center of the oven and preheat to 350 degrees F (180 degrees C).
Arrange the potato slices in a 13 x 9 x 2 inch (33 x 23 x 5 cm) baking pan in a single layer, brush with oil and bake for 15 minutes.
Grind some salt and black pepper over them.
Arrange a layer of eggplant on top, then sprinkle over some parmesan, kasseri (or cheddar) and breadcrumbs.
Layer the meat sauce, shredded cheese, breadcrumbs and béchamel sauce until everything is used.
Bake for 45 to 50 minutes or until golden brown on top.
Let it sit for 15 minutes before serving.
You can cut the cooled moussaka into individual portions and freeze them double-wrapped in foil. Thaw overnight in the refrigerator then reheat in the oven or microwave, and serve with green salad on the side for a speedy, easy dinner.
Recipe by
Victoria Haneveer
at http://victoriahaneveer.com/recipes/meat/beef/moussaka-with-potatoes-and-eggplant/