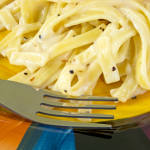 Although pasta goes great with all kinds of sauces, the gentle aromatic appeal of a white wine sauce is something incredibly special. White wine pasta sauce is so easy to make and other ingredients which go well with the wine include garlic, butter and parsley.
A lot of these sauces might include olive oil instead of the butter, or alongside it, and you can make such a sauce even if you don't really drink white wine, since you are just using it for a rich flavor and typically only need a splash.
When making a white wine sauce for pasta, it is important to use a white wine you would drink, not something labeled 'cooking wine' or something you don't like, the reason being this is one of the main flavors in the finished dish, so use good quality ingredients and the resulting white wine sauce for your pasta will have a nice taste and not disappoint you.
Although whole wheat pasta is popular these days because of its fiber content, I like to use white pasta, and I also feel it goes best with a light, aromatic pasta sauce because white pasta has a more neutral taste so the flavors in the sauce will be more evident.
Continue reading →