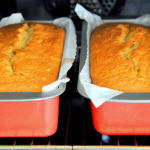 This incredible recipe is made by combining bananas with applesauce, eggs, vanilla and flour. Some sugar, baking soda, baking powder and salt also go into the mix. Making this is very straightforward because you just have to combine the ingredients in a bowl, transfer the resulting mixture into a greased loaf pan, and then you can bake it until done.
Such a Tempting Snack
Served hot with butter and honey, this makes the most amazing snack, and it is a great comfort food. Homemade banana bread appeals to all the family from the youngest to the most senior, and there are all kinds of tweaks you can apply, such as adding chocolate chips, walnuts or raisins.
The applesauce increases the sweetness without having to use extra sugar, and it also helps keep the bread moist and dense, which good banana bread should be.
Continue reading →