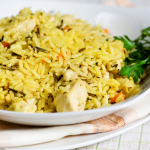 Indian is one of my favorite cuisines and I just love the food. I have traveled around India and tasted the dishes how they are supposed to be made, because westernized Indian food really isn't the same at all.
Indian food features all kinds of proteins from pork to chicken, fish, seafood, lamb and eggs, although beef isn't used much in India, not at all in most places, because the cow is seen as holy in India.
Indian curries are cooked over an open flame traditionally, and include plenty of aromatic spices as well as some kind of oil or fat. Boiled or fried rice is a traditional accompaniment, along with flatbreads such as naan, chapatti or roti, breads which are made from flour or wheat dough and served warm with the main dish.
A salad with tomatoes, onion, cucumber and lemon makes a refreshing side dish and helps cut through the spice in the curry, and yogurt is also a popular condiment, contrasting with the heat of your entrée. Combine yogurt with grated cucumber, onions, cilantro and a pinch of chili powder to make a raita, similar to Greek tzatziki.
Continue reading →