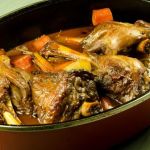 Lamb shanks are a wonderful thing to serve on a cold day, so as fall arrives and winter rolls in, stock up on these meaty treats and you can braise them to make the most delicious meals. Braising means slow-cooking in liquid, and you can choose from beer, wine or other liquids. There is plenty of meat on a lamb shank and the flavor is phenomenal.
So Much Appeal in this Dish
Lamb shanks smell incredible while they cook and the flavor will drive you half-crazy with anticipation! The following recipe is easy to make and the ingredients are easy to find. The lamb is browned then cooked with onion, carrots and celery, garlic, bay leaves, peppercorns, and red wine.
Use a casserole dish on the stove and in the oven, or else use a heavy pot on the stove and transfer the mixture into an ovenproof casserole to bake. It just depends what you have to hand.
This is excellent served with mashed potatoes and this recipe makes 4 portions, but you can always double it if you are feeding a crowd. Once you have experienced the amazing flavor of this braised lamb in red wine recipe you will certainly want to make it again.