Baked Wonton Chips with Sesame Seeds
You can use black sesame seeds, white sesame seeds or gosiamo to make these baked wonton chips with sesame seeds. Gomasio is a mixture of sesame seeds, seaweed and salt. Have you seen these in your local store? If not, ask. The worst that will happen is the store doesn't carry them in which case head to an Asian or international food store or else simply buy some white seeds and some black ones and make your own mix.
These baked wonton chips with sesame seeds are so simple to make and you probably already have the required ingredients for them, since all you need are wonton skins, sesame seeds, oil and pepper. These wontons are baked to keep them healthy and also to give them a nice crunch. Whether you serve them alone or with a flavorful dipping sauce, baked wonton chips always make a great snack. They are a nice alternative to potato chips, corn chips or pretzels, and they look colorful and exotic with the black and white sesame seeds on them.
If you have never made baked wonton chips with sesame seeds before, just filled wontons, these are going to blow your mind. Their crispiness, flavor and simplicity are amazing and you will want to make these again and again. If you are looking for a simple appetizer, these are sure to hit the spot. You can keep them in an airtight container for a few days so make a big batch of them, and they probably won't last anywhere near that long.

Crunchy Baked Wontons
Wonton wrappers are so versatile. You can wrap them around sweet or savory fillings, and choose from deep frying, steaming or cooking in soup. In this recipe they are coated with sesame seeds for crunch.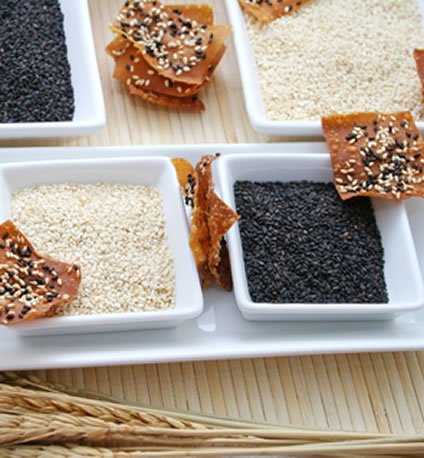 Author:
Victoria Haneveer
Prep time:
Cook time:
Total time:
Ingredients
Wonton wrappers
Sesame seeds or gomasio
Olive oil
Black pepper
Instructions
Preheat the oven to 350 degrees F (175 degrees C).
Line a baking tray with aluminum foil and lightly oil it.
Arrange the wonton wrappers on the foil and brush oil over them. Sprinkle sesame seeds or gomasio, and a little black pepper, on top and bake for 3 minutes.
Rotate the tray and bake for 3 minutes more. Let them cool and then serve, alone or perhaps with a dipping sauce.
These baked wonton chips with sesame seeds are simple to prepare and their flavor and texture are amazing. Whether you are looking for a healthy alternative to potato chips or just investigating different wonton recipes, these are certainly worth making.
Use black sesame seeds, white ones, or a mixture of the two, and serve these warm from the oven or at room temperature. You will have to make a few batches unless you have a huge oven, since they should not be allowed to overlap on the baking tray. Baked wonton
Some More Hot Content For You
Other Posts You Might Like