How to Make Satay Sauce in 2 Minutes Using 3 Ingredients
You only need 3 ingredients to make the best satay sauce recipe. It is so easy! Learn how to make satay sauce and you will want to make this often. Satay sauce can be served with chicken or beef kabobs or fries, or you can serve this easy peanut sauce recipe as a dip for pretty much anything. If you're making some kind of fried rice dish like egg fried rice or nasi goreng, microwave this for 45 seconds or until hot then let it cool for a minute (so it thickens back up) and it will be an amazing accompaniment.
How to Make It Like a Pro
When you know how to make satay sauce, you will want to perfect this skill. The key to making it is to combine the 3 ingredients, using equal measures of each one, then taste it and add a bit more of 1 or 2 of them.
You just need to get a nice balance of flavors. This satay sauce is mild but if you wish to make a spicy one just add a few drops of hot sauce or some minced chilies. That would make it a 4 ingredient satay sauce instead of a 3 ingredient one but that really doesn't matter.
What to Dip
Try dipping prawn crackers, chips, vegetable crudites (maybe carrot, celery or raw mushrooms) or slices of French bread. Satay sauce recipes can be thick or thin, but make your sauce thick and it is better for dipping. Nothing is as delicious as homemade satay sauce. Yummy! Find out how to make satay sauce in record time and serve it hot, warm or chilled. This fabulous sauce is worth adding to your repertoire so you can rustle it up whenever you have a craving for it.
My Homemade Satay Sauce
I have a guilty pleasure. Sometimes late at night I crave fries. I heat up the oven to 400F and add some oven fries. I use the extra crisp ones, they're like the deep fried kind but less fattening. It's bad enough eating fries at night without having to eat fattening ones!
And what do I fancy with my fries? Ketchup? No, not really. Mayonnaise? Nope. I know – homemade satay sauce!
The fries take 25 minutes to bake but the satay sauce is ready within 2 minutes, sometimes 1 minute. Yes it's that quick to make. And all you need to make it are 3 ingredients. The peanut butter can be crunchy, smooth, reduced-fat, whatever you have. The soy sauce can be regular or reduced sodium. The honey should be the runny type not the pale yellow set kind. Now you know how to make satay sauce, you can try this wonderfully quick and easy recipe.

3 Ingredient Satay Sauce
The satay sauce you can buy is loaded with sugar, so why not make your own? This recipe calls for just 3 ingredients and you can make it in a few minutes. So simple!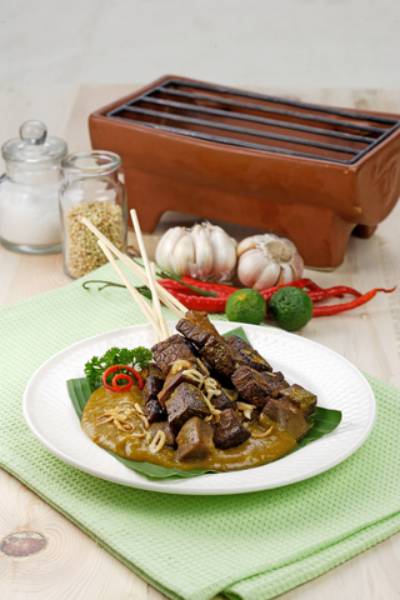 Author:
Victoria Haneveer
Ingredients
Peanut butter
Soy sauce
Runny honey
Instructions
Add some peanut butter, soy sauce and honey to a dish or measuring cup. You will need about the same measure of each item - a couple tablespoons per person.
Grab a fork and beat the mixture until smooth.
Taste it and see what you can taste. The main flavor should be the peanut butter and the honey should add a little sweetness while the soy sauce adds a touch of salt.
If it is too sweet, add a little more soy sauce. If it's too salty, add more honey. If it's just right, well done.
You did it. Yummy!
See, I told you it was easy!
Use your own judgement when making a homemade satay sauce recipe. Think it needs spicing up a little? Add more chili. Think it's too thin? Cook it a little longer. Think it's not sweet enough? Add brown sugar. Play around with the recipe to find the perfect balance.
If you love satay sauce you might like to try some wonton recipes soon becuase they are sure to be a treat for your taste buds too. Once you try homemade satay sauce you will fall in love with it.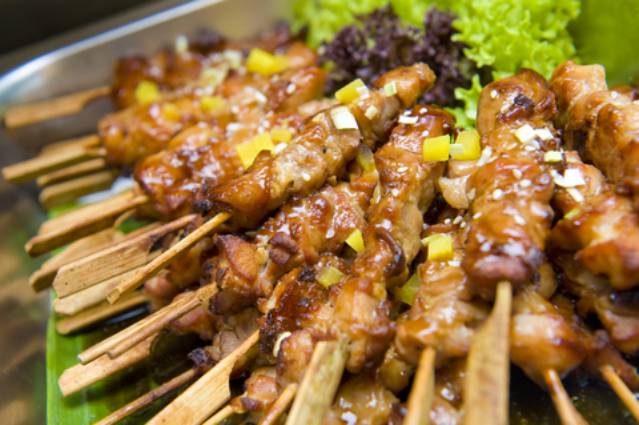 Some More Hot Content For You
Other Posts You Might Like