Anchovy Wrapped Olives
This anchovy wrapped olives recipe is very simple and shows you how to make anchovy wrapped olives.  The recipe is perhaps one of the simplest you have seen, since you only need two different ingredients to make it, and this basic salty snack is beautiful whether you enjoy it with a cold beer, a glass of wine, a soft drink or even a warm beverage.
Anchovies are salty, fishy and have an interesting texture, while olives are smooth, soft and the pimento filling is somewhat sweet.
Anchovy Wrapped Olives: Making Your Own
When paired, these two ingredients offer a beautiful savory flavor and a wonderful balance. These anchovy wrapped olives are just so delicious and they are one of the yummiest appetizers I can think of. Serve them with little crackers and some hard cheese perhaps, and don't forget the wine! They sell anchovy wrapped olives in the deli near where we live but they are cheaper (and fresher tasting) if you make your own. With an anchovy wrapped olives recipe this simple you can't go wrong.
It is not really necessary to fiddle with this recipe because honestly it is perfect just as it is, but if you wish to try something new then try lemon- or onion-stuffed olives rather than the pimento kind, but I have done this and seriously the pimento ones look best and taste best! They sell these at the deli but making your own works out a fraction of the price.

Anchovy Wrapped Olives
Wrapping salty, fishy anchovies around tasty pimento-stuffed olives gives you a delicious snack which is beautiful served with wine or beer. One is never enough!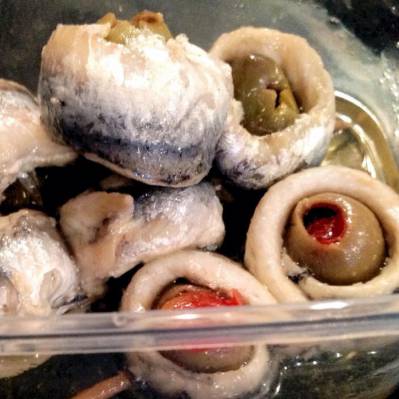 Author:
Victoria Haneveer
Ingredients
24 drained anchovy filets in oil
48 drained pimento-stuffed green olives
Instructions
Cut the anchovies in half across the middle.
Wrap each anchovy half around an olive and use half a toothpick to secure them.
Notes
If you use longer anchovy pieces or chill them for more than an hour the toothpicks are not necessary.
Nutrition Information
Serving size:
12
Calories:
37
Fat:
3g
Saturated fat:
0g
Unsaturated fat:
2g
Trans fat:
0g
Carbohydrates:
1g
Sugar:
0g
Sodium:
423mg
Fiber:
1g
Protein:
2g
Cholesterol:
7mg
Some More Hot Content For You
Other Posts You Might Like