Basic Prawn Cocktail Recipe
A classic starter recipe, prawn cocktail is delicious and often features as a starter on Christmas day or another special occasion. This salad uses Salad Cream (a British condiment) but you can use mayonnaise in this basic prawn cocktail recipe if you prefer.
Optional Tweaks
There are lots of different prawn cocktail recipes and you can add halved cherry tomatoes or thin cucumber slices if you want. As long as the prawns are well drained, this recipe keeps well in the fridge for a few hours before serving.
This is a very basic pawn cocktail recipe so if you are looking for something more elaborate, you might prefer to look at our classic prawn cocktail recipe instead.
Choose small to medium size prawns for making this, nothing too tiny but not the great big ones either. You know yourself what is going to look good. Anything that needs to be cut smaller before going into the mouth is too large. The focus should be on the prawns so make sure you choose good ones.

Simple Cocktail Prawn Recipe
This is prawn cocktail with a difference, and that is using Salad Cream, a UK dressing, instead of mayonnaise, and also adding pink peppercorns and lemon juice. Prawns are juicy and taste served this way.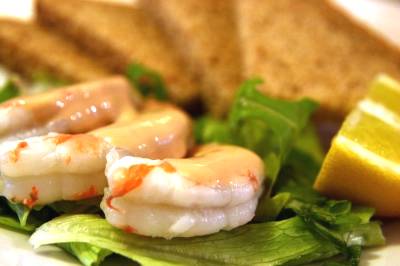 Author:
Victoria Haneveer
Ingredients
3 heads Little Gem lettuce (baby romaine)
1 tablespoon lemon juice
200g (7 oz) Salad Cream (or mayo or ranch dressing)
3 tablespoons tomato ketchup
450g (1 lb) small prawns, peeled and cooked
Few drops Tabasco
1 tablespoon pink peppercorns, crushed (or paprika instead)
Instructions
Make sure the prawns are well drained.
Combine the ketchup, Salad Cream or dressing, Tabasco and lemon juice.
Tip in the prawns and mix to coat them in this sauce.
Shred the lettuce finely and arrange it as a bed on 6 shallow bowls or plates.
Divide the prawns between the plates, arranging them in pyramid type shapes.
Scatter over paprika or roughly crushed pink peppercorns.
You can't go wrong with a basic prawn cocktail recipe. A quintessential English dish, this recipe is just perfect. Combining juicy prawns with a Marie Rose sauce and other salad ingredients brings you a wonderful flavor sensation. Prawn cocktail is a great starter and although this classic dish might have enjoyed its heyday in the 1980s there is nothing wrong with retro starter recipes so why not bring some vintage charm to your dinner table and serve this up before the main course to bring back all those special memories of family meals years ago?
Photo by FreeDigitalPhotos.net
Some More Hot Content For You
Other Posts You Might Like